Archive for
May, 2012
0
What some people don't realize about PersonalizationMall.com's wide selection of personalized gifts is that they offer more than meets the eye!
That's why A Personal Touch is here to help offer some unique and alternative uses for our personalized gifts with "Think Outside The Gift Box" posts!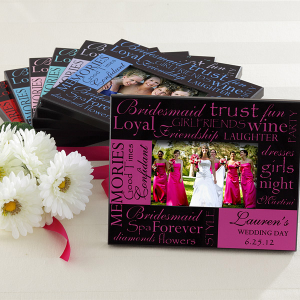 Today I'd like to show you a great way to use the Bridesmaid© Personalized Photo Frame as a tool to accomplish a more unique, intimate and welcoming atmosphere for your bridal shower.
This elegant frame is the perfect bridal party gift for your bridesmaids because the design features a collage of cute "girly" terms like, "Girls Night," "Laughter," "Martini," "Style," "Friendship," and comes with the choice of 7 color options so you can personalize the frame to match your wedding colors! The frame costs only $24.95 (great for brides on a budget!), and becomes even more memorable when you add your own personal 2-line message and wedding date to showcase the special bond you share.
0
We were so excited to see that the new groomsmen and usher gift trend has a fun, creative and do-it-yourself twist!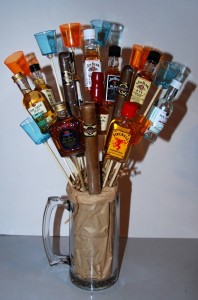 As you can see from the photo we came across on Pinterest (at left), the new gift idea that is becoming more and more popular is creating a "Groomsmen Bouquet" full of "man favorites" such as mini bottles of liquor, cigars, shot glasses, beef jerky, and much more!
The idea is to arrange the goodies in a way that all the different items can be seen and well presented – just like a bouquet of flowers.
In order to create this gift, all you have to do is attach a wood skewer on the back or bottom of all the different goodies you've gathered by using a strong type of tape or glue (make sure the shot glasses are secure so they don't topple over!).
0
If you're planning a wedding and aren't on Pinterest yet – go join now! We find the best ideas from various wedding boards; including our inspiration for this Wedding Party Gift Guide's Bridesmaid Edition post.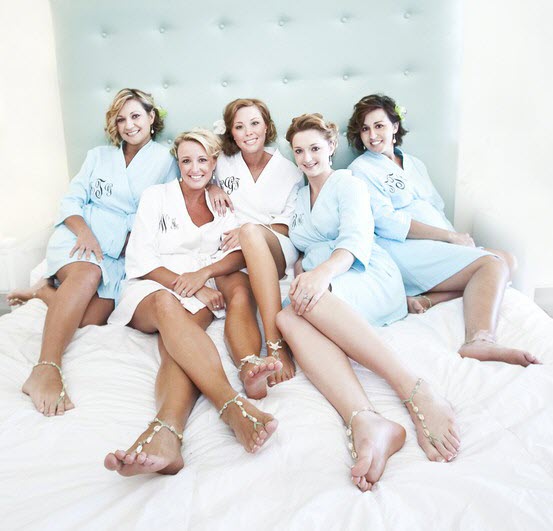 One of the new wedding trends that we see popping up everywhere is personalizing robes as a bridal party gift for bridesmaids and posing in them for pictures before the ceremony - it's adorable and we can't get enough of it.
Personalizing robes is such a smart idea – you're sure to get your money's worth because it's a gift that both you and your bridesmaids will love!
For starters, as you can see from this picture that brides love giving personalized robes as gifts because it creates a cute new wedding photo opportunity that is truly unique! Instead of having pictures taken of you and your bridesmaids in old, mismatched t-shirts or tank tops while you're getting your hair and makeup done, you can have beautiful pictures that look more elegant, girly and just plain fun.