Archive for
August, 2012
0
We LOVE to put a creative, personalized and unique spin on everything. So you can imagine how excited we are now that we're seeing couples thinking outside-the-gift-box when it comes to their wedding guestbook! Instead of setting out plain ol' guestbooks, brides and grooms are getting creative and coming up with unique items and ways for people to sign in — and we can't wait to tell you all about them!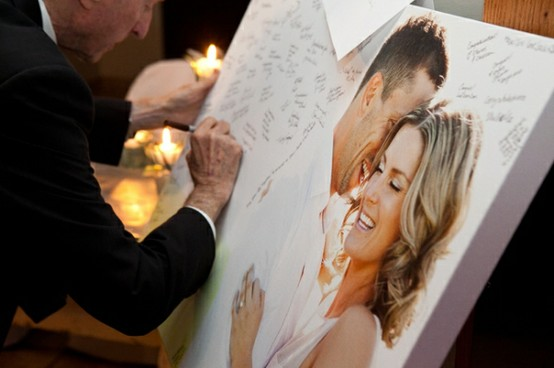 We stumbled upon our favorite idea from Pinterest. We saw this photo and were thrilled to see that people are personalizing canvases for weddings, with one of their engagement pictures and having people write a little message and signing their names–instead of in a guestbook.
We love the idea that it's more personal and people get to leave special notes for you but also because once everyone signs the canvas you have a beautiful, one-of-a-kind keepsake that you can hang in your home! It's like getting 2 things for the price of 1 … and who doesn't love that!?