Archive for
December, 2012
1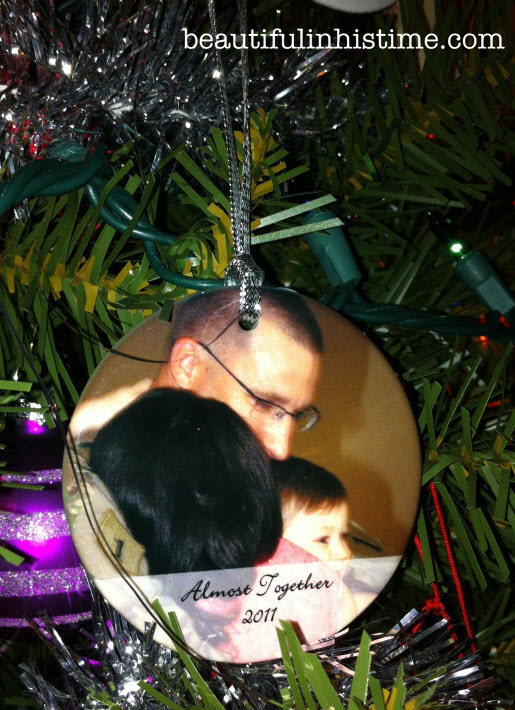 Recently one of PMall.com's fans shared a story on our Facebook Fan Page. Her name is Aprille and her story was so touching we knew that we had to share it will all of the rest of our fans (please continue reading for the link to Aprille's full blog post below).
Aprille, who is a Military Wife and Mother, has started her own family tradition by creating at least one new PMall.com Personalized Photo Ornament each Christmas.
She remembers her first ornament fondly as it was the first Christmas she spent with her husband.
Then there are the ornaments she personalized with the words "Almost Together" to capture the heartbreaking Christmas that she and her son had to celebrate without their husband and father because he was deployed. 
Last year she decided that her "Almost Together" ornament needed a sequel so she personalized a new ornament that featured a beautiful family photo and the words, "Together Forever" to celebrate the Christmas they shared as a family.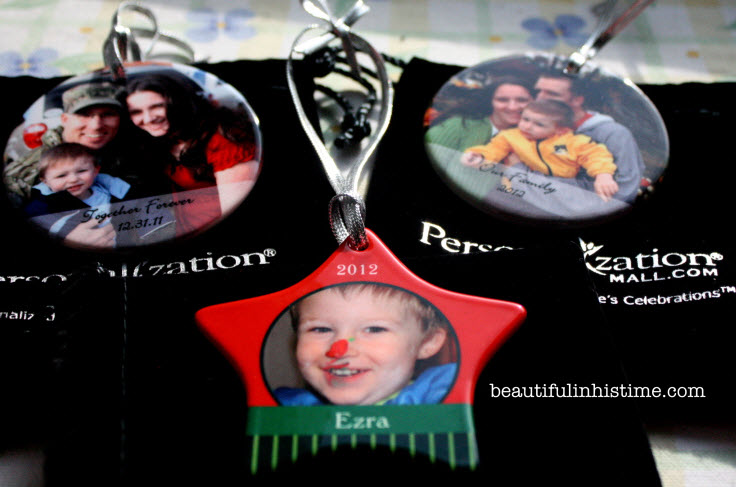 One evening this year she turned to her son who had been painting at the table and saw that he had put red paint on his nose.
She was thrilled to be able to serendipitously capture that moment and turn that into another ornament that she will always treasure.
We are so thankful to Aprille for sharing her story and the photos of all her ornaments and we are honored that we are able to play a small role in her beautiful new Christmas tradition!
Check out Aprille's full story, "Our Christmas Ornament Tradition" from her Beautiful In His Time Blog, by clicking the previous link. When you get to her blog you'll be able to see photos of all the ornaments she has personalized and you'll be able to hear the touching story straight from her!
We'd like to say Thank You again to Aprille for sharing her story and if any other PMall fans out there have stories about any of the gifts they've personalized from PMall.com we'd love to hear them! Email your stories to social@pmall.com.
From everyone at PMall.com and A Personal Touch - we hope you have a Merry Christmas and a wonderful New Year!
0
It's the most wonderful time of the year! Unless you're a college student, that is. While most of us are already feeling the Christmas spirit and have started our shopping, decorated our Christmas trees, or began baking Christmas cookies, etc., there are a bunch of college students out there who are so wrapped up in studying for finals and completing semester projects that they're missing out on all the fun. That's why we wanted to offer some great gift suggestions for parents of college students who would like to bring Christmas to the college dorms! There's nothing better than receiving a package when you're away at school and we have just the things to help bring a smile to your student's face during this stressful time.
PMall.com's Personalized Christmas Gifts Store has all sorts of great home decor that would look great in the dorms!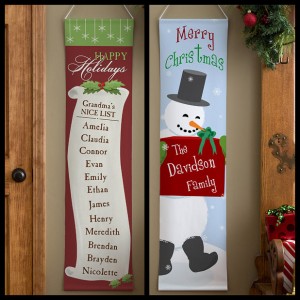 Personalized door banners like the Christmas Nice List (far left) and the Merry Christmas designs (left) are the perfect decorations for the dorm because they can be hung on the door and won't take up any space in their already-cramped living quarters.
You can personalize the Nice List design with all the names of his or her friends who live on the floor and your student can hang a marker so their friends can write and leave messages that they'll treasure year after year. The Merry Christmas design, which features an adorable snowman, can be personalized with your student and their roommate's names or personalize it with the new club, fraternity or sorority they recently joined!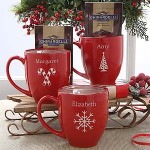 Help make your student's all-nighter tolerable by including one of our Personalized Coffee Mugs in your Christmas care package. We have several designs to fit everyone's taste but we recommend sticking with the Christmas theme and personalizing the Ghiradelli® Hot Cocoa Personalized Bistro Mug because not only will they receive a merry and bright new mug, they'll love getting their own packet of double chocolate gourmet hot cocoa to warm their heart and their senses! If they're going to be up all night studying, they may as well be doing it while enjoying delicious hot cocoa that will help give them a welcome boost at all hours of the night!
While PMall.com's Christmas Gifts Store is full of great gift ideas to send to your son or daughter in the dorms, we thought we'd leave you with a great gift idea that will help you save money, too!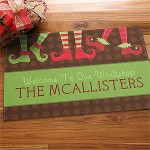 PMall.com's Personalized Doormats are always a favorite among our customers and our Personalized Christmas Doormats have some of the cutest designs out there! Our doormats, like the adorable Welcome To Our Workshop design which features little elf feet, not only spread the Christmas cheer, they can also help you save some money by giving your student and their friends a place to wipe their boots and hopefully helping you get back some of your security deposit at the end of the school year! After all, taking all those trips to their classes, the library and the cafeteria can get boots pretty muddy. With a cute personalize doormat, you can prevent them from tracking all of that winter slush into their dorm room and ruining the carpet.
It's time to start putting together a care package for your son or daughter in the dorms! Head over to our Personalized Christmas Gifts Store and have fun picking out what's best for your student. Think of how nice it will be for them to take a break from studying and get a little taste of home this holiday season … you'll be a hero!