Archive for
January, 2013
0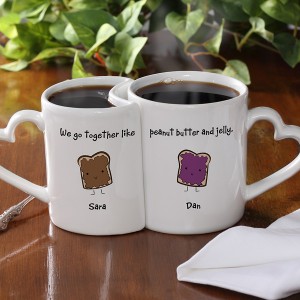 While PersonalizationMall.com's Valentine's Day Store has its own Whimsical Gifts Department, we thought we'd pick out a special personalized gift to focus on during the most romantic time of the year.
The We Go Together Like…© Personalized Coffee Mug Set has become more and more popular with our Pinterest followers and with all these adorable phrases and design options, it's easy to see why!
Have fun deciding how well you go together as a couple when you browse through the 8 exclusive design options that will be featured on each of the mugs.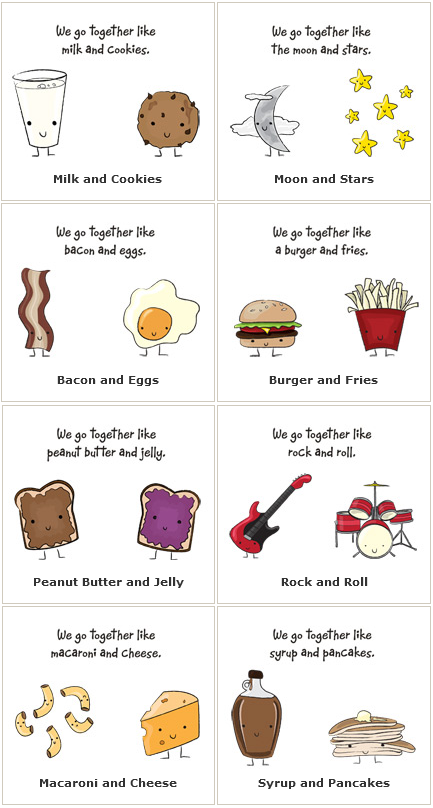 Choose from Peanut Butter and Jelly, Milk and Cookies, Macaroni and Cheese, Rock and Roll, Pancakes and Syrup, Bacon and Eggs, the Moon and Stars, or a Burger and Fries! You even get to choose which name will be scripted on the larger and smaller mug!
The two mugs are created to fit together perfectly - just like the two of you! The sculpted heart handles help to complete the romantic design making it the best Valentine's Day gift idea for Him or Her. It's a gift that both of you will love and actually get to use – not to mention it's incredible affordable at only $24.95 for the set!
But you don't have to take our word for it – check out the Fan Photo Album that we keep on our Facebook Fan Page and you'll find a photo of the mug set that one of our fans shared with our fans. She personalized the set with the Bacon and Eggs design a while back and her and her fiancé loved the mug set so much that they used it at their wedding (the photo she shared was taken at her wedding and actually shows the mugs right next to the groom's tie). You can read about how much she loves it by checking out her official photo entry to the Me & My Romantic PMall Gift Photo Contest Page that we have going on right now on our Facebook Page. While you're there, be sure to enter the contest – everyone who submits an eligible photo will automatically win a valuable coupon code and three lucky winners will be awarded PMall Gift Cards!
Be sure to also enter our Gifts From The Heart Pinterest Sweepstakes for your chance to win big prizes, too! They're easy to enter and win so be sure to head on over now and take advantage of these fun Valentine's Day Contests!
If you're a fan of the cute designs featured on our mug set, you may also be interested in our We Go Together Like…© Personalized Greeting Card or the We Go Together Like…© Personalized Valentine Cards, which are great because instead of picking one design, you get to personalize an entire set that features them all!
We hope you have fun browsing through all the unique and creative gifts in our Whimsical Gifts Department when you're shopping for your Valentine – and don't forget to enter our contests after you shop, too!
0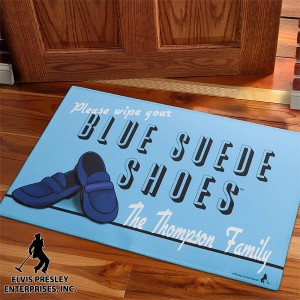 Today, January 8th, is Elvis Presley's Birthday!
All you Elvis fans out there may be remembering "The King" on his 78th birthday by listening to his music or watching his movies but did you know that you can also celebrate one of the greatest entertainers of our time by adding Personalized Elvis Presley® Gifts to your memorabilia collection!?
It's true! Now you can honor the rock n' roll icon by personalizing gifts that display designs featuring some of his most popular songs!
Every Elvis fan out there would love to have the Blue Suede Shoes™ Personalized Doormat gracing the doorway of their home! This fun design can feature any 1-line message which will appear under "Please wipe your Blue Suede Shoes." You can display the doormat inside with the rest of your collection or show it off outside your from door where it's sure to bring smiles to the faces of all your guests – whether they're huge Elvis fans or not!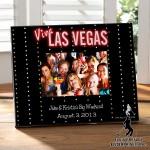 The Elvis Viva Las Vegas™ Personalized Picture Frame is another great piece to add to your collection of Elvis memorabilia. The frame features the name of one of Elvis' most recognizable songs along with any 2 lines of personalization you would like to add below the photo. You can display photos of your trips to Graceland or one of your memorable nights out in Las Vegas!
It also makes a great gift idea for milestone birthdays and bachelor/bachelorette parties, too!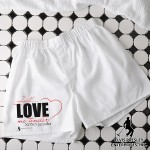 The Elvis Love Me Tender™ Personalized Boxer Shorts are the perfect gift to personalize for him, especially since Valentine's Day is just around the corner! You can personalize the boxers with any 2 lines so he can take a piece of Elvis and you with him everywhere he goes! They're made of comfortable 100% cotton so he can be comfortable as he relaxes at home listening to his favorite Elvis songs!
Our collection of Personalized Elvis Presley® Gifts features several Love Me Tender™ gifts plus other product designs that showcase his popular hits, such as "Are You Lonesome Tonight?™," "Burning Love™," "Let Me Be Your Teddy Bear™," "All Shook Up™" and "Jailhouse Rock™."
These pieces of personalized memorabilia are the perfect gift to give to the Elvis fan who has everything! And all you Elvis fans are in luck because if you click the "Like" button on PMall.com's Facebook Fan Page and visit our Deal Of The Week page you can get a coupon code worth 40% off all of our Personalized Elvis Gifts now through Sunday, Jan. 13th!
We hope that all of you Elvis fans have fun celebrating The King's birthday today and enjoy browsing through PMall.com's Elvis Gifts Collection!
Thank you, thank you very much!