Archive for
February, 2013
0
It's almost time to shake your shamrocks!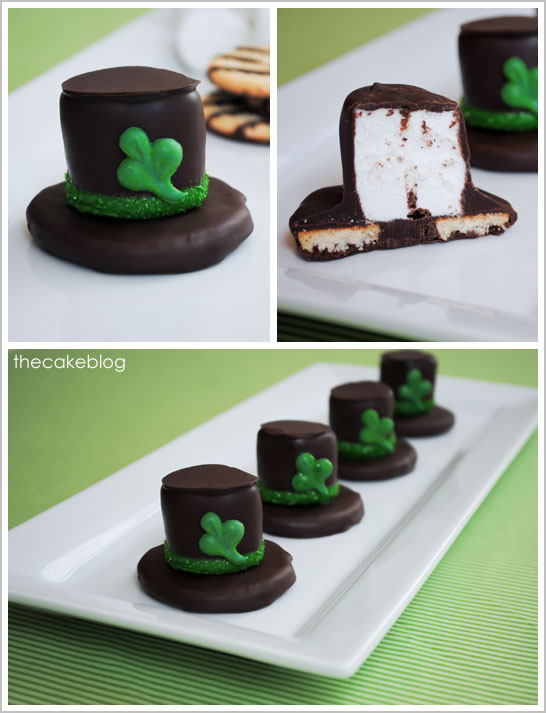 St. Patrick's Day is coming up and whether you're Irish or not, you and your kids will love our ideas for how to celebrate this fun holiday!
Since St. Patrick's Day is on a Sunday this year, we thought it would be fun to spend the day together making festive treats for your kids to bring in to school the next day.
We think these Leprechaun Hat S'mores that we saw on Pinterest are the perfect dessert to help you and your family celebrate the holiday (click the link to be directed to the Hostess With The Mostess Blog for the recipe). 
We love how they're whimsical and bite-sized – perfect for the kiddies. And since they're so easy to make, you can turn it into a family project that even the little ones can help with.
There's nothing like spending quality time together with your family on a holiday … especially when the outcome includes delicious desserts!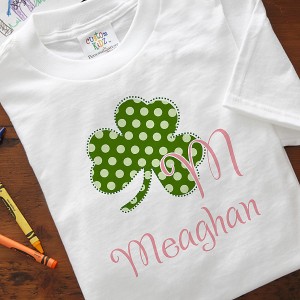 Once the holiday arrives that Monday, make sure that your children are wearing the Shamrock Initial For Her or For Him Personalized Clothes when you send them to school with their treats.
They'll have the biggest smiles on their faces when they see that you customized the fun shamrock design on a t-shirt, sweatshirt or baby bib with their name and they'll have a blast showing off their St. Patrick's Day gear to all their friends!
Have them wear their new gear to the St. Patrick's Day parade for a great photo opportunity, as well! While this design is our most popular, you can also check out the Lil' Shamrock Gifts Department in our St. Patrick's Day Gifts Store to see all of the adorable design options that we offer (we even have apparel for your dog!).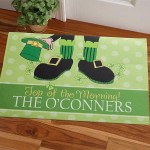 The leprechaun love doesn't stop there – our Leprechaun Personalized Doormat is sure to also add to the fun this St. Patrick's Day thanks to the warm welcome it offers. This cartoon-like design can be personalized with any 2 lines, however our favorite suggestion is to use your family name with "Top Of The Morning!" personalized right on top! No matter which personalization you decide on you're sure to spread cheer to all your family and friends – they'll love it so much they may even do a little jig!
For those of you who are Irish (or even if you're not Irish) and want to proudly display your heritage on St. Patrick's Day and throughout the entire year, you may be interested in our Irish Home Gifts Department. Browse through all of our slate plaques, picture frames, garden flags, barware, afghans, stationary gifts and more that feature an array of different Irish design themes. We have plenty of options so you're sure to find a design that fits in well with your existing home-decorating style!
We hope you have fun preparing your home and children for fun this St. Patrick's Day! If you have any other St. Patrick's Day dessert recipes that you'd like to share, feel free to comment below or email us at social@pmall.com.
0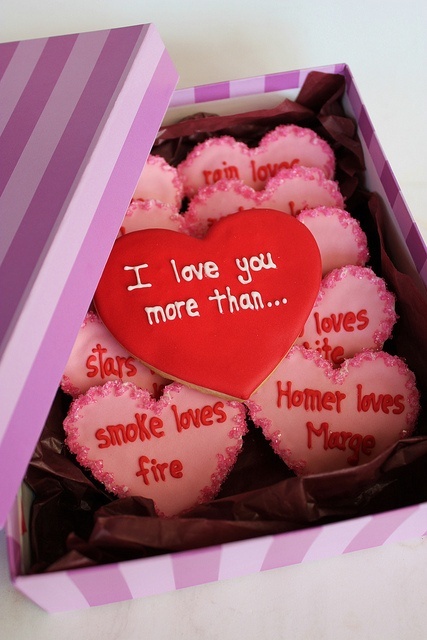 The only thing better than giving your loved one a personalized gift this Valentine's Day is giving them a personalized gift with a personalized treat inside of it!
We instantly fell in love with the personalized cookie idea after we caught a glimpse of this photo (at left) on Pinterest - we just can't believe we never thought of it ourselves! As you can see, the idea is to decorate one large cookie that says "I love you more than …" and have it laying on top of a dozen or so cookies that are each personalized with an example.
There are endless possibilities that you can work with when you're decorating the cookies for your loved one, but one thing's for sure – we know the perfect way to send or present them this Valentine's Day …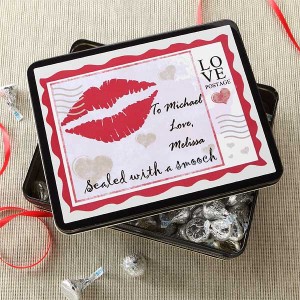 in our Sealed With A Smooch© Personalized Gift Tin! This adorable tin can be personalized with any 3-line message along with any 1 line of text at the bottom. For $26.95 you can personalize the gift tin so that it is filled with Hershey Kisses, or you can personalize the tin itself for just $19.95.
With the postcard-themed design, this tin is the perfect gift to send to your long-distance love any day of the year. We also love the idea of sending this tin to your boyfriend or husband at work on Valentine's Day. Women are always having flowers, teddy bears, and other gifts delivered to them at work or at home on Valentine's Day – and we think it's about time that there was a non-feminine, romantic gift that was acceptable to send to your man. Men have been publicly expressing their love on this romantic holiday forever and now we have the perfect gift to help you return the favor. While having flowers or teddy bears delivered to his office may embarrass him, receiving delicious cookies in a sweet custom gift tin is sure to be the highlight of his day! We're sure he'll not only love the homemade treats, he'll be proud to show off his wife or girlfriend's baking skills to all of his coworkers, too!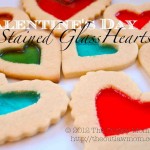 If you're worried about your cookie-decorating skills or if your Valentine prefers chocolate to sugar cookies we also have some other treat ideas to share with you! Thanks to the How To Nest For Less Blog, we found a great recipe for Stained Glass Heart Cookies! These cookies look beautiful and all you have to do is take a heart-shaped cookie cutter to a sugar cookie and fill in the space with pieces of crushed Jolly Rancher candy. After baking you'll have a delicious and colorful cookie to give to your Valentine! Pinterest Tip: As we were browsing through all of the great Valentine's Day dessert ideas on Pinterest we saw how some people had used two different colors of Jolly Ranchers to give their cookies a swirl or tie-dye look!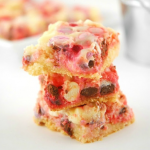 If your loved one is a chocaholic you should check out The Gunny Sack Blog's recipe for White Chocolate M&M's Valentine's Day Cookie Bars. The recipe is super easy because the crust is actually made from a cake mix. The recipe also calls for white chocolate chips and Valentine's Day M&M's – we love how the M&Ms turn the bars pink and red! If these bars don't have enough chocolate for your valentine, we suggest heading over to PMall.com's Valentine's Day Gifts Store where you'll find chocolate fondue sets, candy jars filled with Hershey Kisses and more!
Do you have a special Valentine's Day treat that would also look great in our personalized gift tin? We'd love to hear it! Post your recipe or thoughts in a comment below or send them to us at social@pmall.com.
0
Necco's famous Sweethearts conversation heart candies are cute, sweet and make the perfect Valentine's Day treat! So perfect in fact, that these nostalgic little candies helped inspire a bunch of the personalized gifts in PMall.com's Valentine's Day Gifts Store!
It looks like we weren't the only ones inspired by the famous candy – check out these adorable Conversation Heart Cheesecakes that we stumbled upon while surfing through the latest pins on Pinterest. These mini cheesecakes look just like the real thing – but we bet they taste way better!
We're obviously big fans of personalization so we love that making your own conversation heart cheesecakes at home means that you get to personalize them with any message your heart desires! However we love the classic phrases too, such as "Be Mine", "Kiss Me", "Call Me", "Let's Get Busy", and "Miss You." Get your kids involved and have them help you come up with new phrases for the hearts so you can enjoy them together after your Valentine's Day family dinner. We also think these mini cheesecakes are a more "adult version" of the candy hearts, which makes them the perfect treat to pass out to your coworkers on Valentine's Day, too! 
If your baking skills are lacking but you still want to bring a conversation-heart themed treat to work on Valentine's Day you'll love our Conversation Hearts Candy Jar with Hershey's Kisses®! This exclusive design can be custom personalized on the front with your own special messages creatively etched inside the 5 conversation hearts. You can fill in the hearts with your kids' names, other nicknames, special dates or any message you can come up with. But the fun doesn't stop there – this one-of-a-kind glass jar will come filled with irresistible, individually wrapped Chocolate Hershey's Kisses® – all for just $24.95 (act fast and shop now during our Valentine's Day Sale and you could personalize this jar for only $18.70!). It will be a great festive decoration to add to your desk and your coworkers will love coming to visit you for a delicious treat.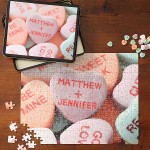 Don't forget about your Valentine – we have a unique conversation-heart inspired gift that we know they'll love! The Conversation Hearts Personalized Puzzle & Tin creatively features your first names custom personalized inside the candy heart design. The 252-piece puzzle comes with a matching tin for storage for just $29.95 (on sale this week for $22.45). You and your valentine will cherish the thoughtful gift and the quality time you get to spend together as you put the puzzle together. You can make it a new Valentine's Day tradition to enjoy eachother's company as you work together to complete the puzzle. If you will be spending Valentine's Day at home with your kids, personalize a Sweet Affections Personalized Puzzle for each of them so quality time with your significant other isn't disturbed. This smaller puzzle is made up of 72 pieces and features a different conversation heart candy theme. You can personalize the candy heart design with your child's name and a sweet sentiment at the bottom for just $19.95 (only $14.95 now during our sale).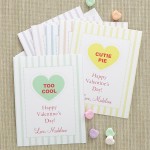 Once your kids help you create the mini cheesecakes and put together their puzzle they'll be huge conversation heart candy fans just like you. When you send them off to school on Valentine's Day make sure you send them with our Candy Hearts Personalized Valentine Cards to pass out to their friends during their classroom party. We'll custom personalize any 3-line message below the assorted messages which are available in 6 different pastel colors that look just like the real thing!
It will save you and your kids the time and headache from hand signing each of the individual valentines and their friends will love the festive designs. The cards are sold in sets of 24 and start at $24.95 (on sale now through Sunday, Feb. 2nd for only $18.70) but the price is reduced for each additional set you purchase (click the link to see the complete price list).
Do you have any other conversation-heart inspired treats for Valentine's Day? We'd love to hear them – please be sure to comment below!