Archive for
March, 2013
0
While bunnies are usually the first animal you think of when it comes to Easter – we're here to make an argument for adorable little chicks and duckings!
You can only eat hard-boiled eggs for so long, which is why these Easter Chick Cupcakes are the perfect sweet to have prepared for your Easter celebration. Desserts don't get much cuter than these little treats! If you click the link you'll be directed to the Bird On A Cake Blog where you'll find the recipe for these Easter treats.
The cupcakes would make a great Easter Basket stuffer or you could even display them on a pretty platter and use them as a centerpiece for your Easter brunch. Make it a family affair and have your little ones help you prepare and decorate the cupcakes for a nice break from hunting down all those Easter Eggs!
0
We want to make sure that you have the most fun as possible when you head to your local St. Patrick's Day Parade so we have compiled a list of items for you to bring to ensure that you have a blast shaking your shamrocks this March 17th!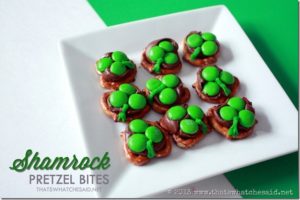 First on the list – food of course!
These Shamrock Pretzel Bites are the perfect treat for you to bring with you to the parade – they're festive, fun, affordable, portable and easy to make (click the link for the full recipe)!
All you have to do is place an unwrapped Hershey Kiss on top of each of the pretzels, bake them for 7 minutes at 200 degrees and when they're finished, pull them out and place 3 green M&M candies on top of the melted chocolate right away. Once it cools, create the shamrocks' stems by adding a line of green frosting to each of the pretzels and there you have it – the perfect St. Patrick's Day Parade Snack!