Archive for
March, 2013
0
While bunnies are usually the first animal you think of when it comes to Easter – we're here to make an argument for adorable little chicks and duckings!
You can only eat hard-boiled eggs for so long, which is why these Easter Chick Cupcakes are the perfect sweet to have prepared for your Easter celebration. Desserts don't get much cuter than these little treats! If you click the link you'll be directed to the Bird On A Cake Blog where you'll find the recipe for these Easter treats. 
The cupcakes would make a great Easter Basket stuffer or you could even display them on a pretty platter and use them as a centerpiece for your Easter brunch. Make it a family affair and have your little ones help you prepare and decorate the cupcakes for a nice break from hunting down all those Easter Eggs!
And if you think the chick cupcakes are cute, wait until you see
PMall's Personalized Quacking Easter Ducks!
These soft, yellow plush ducks come decked out for spring in an Easter Egg t-shirt design that you can personalize with any name. 
Not only is the little ducking cute – it also quacks! Just squeeze them and you'll hear the "quacking" noise! The duck measures nine inches high sitting with orange legs and bill, sporting an equally bright spring bow which is usually sold for $24.95 but if you act fast, you can personalize one of these cute ducks for only $19.95 while they're still on sale! 
Any kid would love to see one of these cuties waiting for them in their basket come Easter morning – personalize one today for each of your little ones so they can treasure them for many Easters to come! We also have the My First Easter Personalized Quacking Easter Ducks which are perfect for the newest addition to the family! Select a duck wearing a pink or blue t-shirt, which features the words "My First Easter" and a cute carrot design and personalize it with the baby's name to create a sweet gift the little one will love to snuggle with.
Check out our Easter Gifts Store for other personalized Easter Basket stuffers, apparel and more that feature Easter Chicks, Ducks and other festive designs that the whole family will love!
0
We want to make sure that you have the most fun as possible when you head to your local St. Patrick's Day Parade so we have compiled a list of items for you to bring to ensure that you have a blast shaking your shamrocks this March 17th!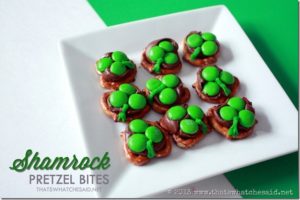 First on the list – food of course!
These Shamrock Pretzel Bites are the perfect treat for you to bring with you to the parade – they're festive, fun, affordable, portable and easy to make (click the link for the full recipe)!
All you have to do is place an unwrapped Hershey Kiss on top of each of the pretzels, bake them for 7 minutes at 200 degrees and when they're finished, pull them out and place 3 green M&M candies on top of the melted chocolate right away. Once it cools, create the shamrocks' stems by adding a line of green frosting to each of the pretzels and there you have it – the perfect St. Patrick's Day Parade Snack!
Both adults and kids will love popping these while they watch the bagpipers and Irish dancers go by.
You'll need something to wash down the Shamrock Pretzel Bites so be sure to bring a cooler of water, pop, beer and/or whatever drinks you'd like. Just make sure to stay in tune with the St. Patrick's Day theme by wrapping them in the Irish Flag or the Irish Pride Personalized Can & Bottle Wraps. The wraps feature Velcro tabs for easy closing and removal plus rubber lining for a secure and snug fit. You'll be able to keep your drinks cold, your hands warm and since you can personalize them with any name, hopefully you'll be able to keep other people's hands off your drink! Both wrap designs are usually $7.95 each, however if you act fast and take advantage of the St. Patrick's Day Gifts Sale we have going on now through Sunday, you can personalize them for only $5.55. You can create one for the kids to use for their pop and create one for the adults to wrap around their Guinness for this year's parade and for many more to come.
If you or some of the other adults prefer to enjoy Irish whisky or stronger spirits on St. Patrick's Day, don't worry – we've got you covered! The Irish Cheer© Personalized Pocket Flask will carry up to 8 fluid ounces of your favorite beverage so you stay warm at the parade and so you can toast your Irish heritage in style! The stainless steel flask is delicately hand etched with any name above the traditional shamrock design on the front for a distinguished Irish look. It even comes with a funnel so you don't waste a drop! It usually retails for $29.95 but it's on sale now through Sunday for just $20.95! This is another St. Patrick's Day accessory that you'll be able to enjoy year after year. The flask and the can wraps also make a great gift idea for the host or hostess of the after party you go to after the parade.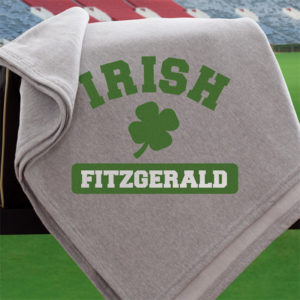 Depending on what part of the country you're from, it may be a little chilly on March 17th so you'll want to make sure you customize your own Irish Pride Personalized Sweatshirt Blanket to keep you and your family warm as you wait for the parade to start. The super soft and comfortable, heathered grey jersey fleece features a simple but bold Irish design that can be personalized with any family or team name. Head over to the parade location early and use the blanket as a space saver to secure your favorite location to watch from – since the blanket displays your name proudly everyone will know which area is "your spot." This new gift is usually listed at $36.95 but if you order before Sunday, March. 10th you can personalize it for just $25.85!
If you check out PMall's St. Patrick's Day Gifts Store, you're sure to find even more awesome parade party accessories. We recommend personalizing a t-shirt or some kind of clothing, like the popular Irish Pride Personalized Apparel, for everyone in your group (even babies!) so everyone in the parade will be excited to walk by your fun section. Don't let your dog feel left out – they can show off their Irish pride too with the Lucky Dog© Personalized Dog Bandana!
With all of these awesome parade accessories your group is sure to stand out from the crowd and have the time of their lives. You'll be having so much fun you'll want to make sure you remember this fun holiday forever, which you can do with the Let the Shenanigans Begin Personalized Picture Frame. You can personalize this frame (or one of the other Irish frames in The Irish Home Gifts Department), with the name of the parade, the year, your family names or anything else you'd like to include in the 3-line message so you can look back and remember all the fun you had with your family and friends.
Make sure to stay safe while you're having all that fun this St. Patrick's Day – and don't forget to take advantage of our St. Patrick's Day Gifts Sale before it ends Sunday.
Cheers!