Archive for
May, 2013
0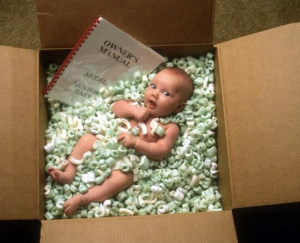 Now that the new baby is here it's time to share an adorable photo of your new bundle of joy with all your family and friends!
When it comes time to picking out a photo to use, it may be hard since you think every photo of your new little one is perfect

! We suggest adding a personal touch to your photos, like the hilarious photo we saw on Pinterest that features a baby in a box of packing peanuts with a book titled "Owner's Manual, Model: Newborn Baby." Or you can always go the adorably cute route and sneak a photo of your precious little one taking a nap like a lot of the other photos we've pinned.
0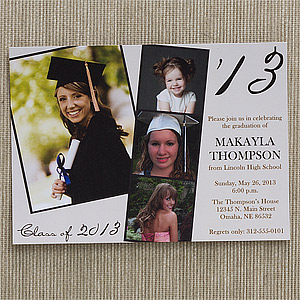 Planning a graduation party? We have you covered with these 5 quick and easy tips that will have you organized for the big day in no time.
Tip No. 1. First thing's first. If you're throwing a graduation party you need to send out invitations! PMall.com's Personalized Graduation Gifts Store has an entire Graduation Invitations & Party Accessories Department that's full of great designs that come in every color you can imagine. The Refined Graduate Personalized Graduation Invitations are one of our favorite designs because you not only get to share the graduate's senior photo, you also can personalize it with 3 additional photos of your choosing. This gives you the opportunity to use 3 photos of the graduate growing up giving all the guests a cute visual story of their journey to graduation! You can even personalize matching Refined Graduate Thank You Cards so your graduate can thank all of his or her family and friends for their lovely gifts!
0
The school year is coming to an end and now is the perfect time to pick out something special for your children's teachers to show them how much you appreciated their hard work this past year.
No matter what your budget may be, PMall.com's Personalized Teacher Gifts Store is sure to have the perfect teacher gifts for the teachers in your life no matter what age they teach. We have designs tailor made for kindergarten teachers all the way up to college professors – after all, teachers at all levels deserve to be shown appreciation!