Archive for
July, 2013
0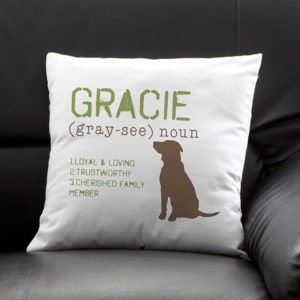 We couldn't believe all of the buzz that our fans were creating after we introduced our new Definition of My Dog Personalized Pillow on our Facebook and Pinterest pages a couple weeks ago.
This fun, new pillow has everyone talking! Our fans love that the pillow can be personalized in 1 of 4 colors and that it also comes with your choice of 12 dog graphics and can be personalized to include "definitions" that best describe their dog.
While tons of fans were falling in love with our new design, (which happens to make a great gift for Pet Lovers!), a couple of our fans made the same request – they loved the design, but they wanted a cat version!
0
With all of the craziness surrounding wedding planning it's easy to forget the people who have been there for you since Day 1 – your parents!
You may have gotten caught up in finding gifts for your bridesmaids and groomsmen but don't worry, we're here to offer some great gift ideas for your parents and future in-laws, too! We think it's a wonderful gesture to present both parents of the bride and groom with a little something special to show your appreciation for their love, support and help with the wedding.