Archive for
December, 2013
0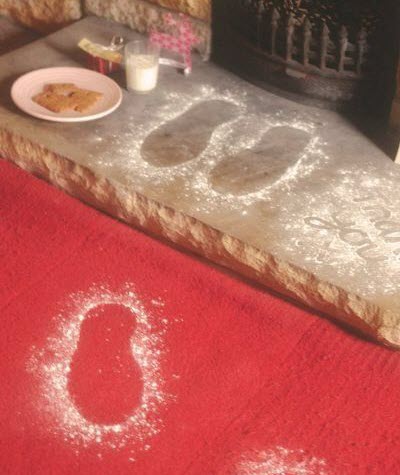 Christmas morning is one of the most magical days of the year and we want to help you enjoy all of the excitement and joy that Christmas morning brings, that's why we've put together some great tips that will help add a little extra magic to your Christmas morning for both you and the kids!
Christmas morning comes pretty early for parents who have been up all night wrapping "Santa" presents, especially because the kids usually wake up earlier due to excitement.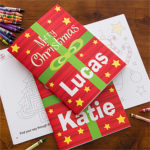 This year, buy yourself a little extra time to sleep in the morning and surprise your little ones by placing a special activity gift outside their bedroom doors, such as the Merry Christmas Personalized Coloring Book & Crayon Set.
This unique coloring book can be customized with your child's name on the front cover and inside pages and you get to choose from 1 of our 4 cartoon characters that you want to be featured throughout the book. The book is full of holiday pictures to color, as well as Christmas-themed games, mazes and puzzles.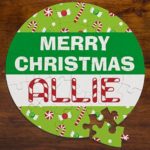 Speaking of puzzles, we have a wide selection of Personalized Christmas Puzzles (including photo puzzles!), that also make great outside-their-door gifts! When they wake up, instead of running straight to your bedroom to pounce on you, they'll be able to spend some quiet time coloring in their new activity book or putting together their new Christmas puzzle!
The door gifts won't be able to hold them off forever so once everyone is awake, make sure to have your camera ready and head over to the Christmas tree.
Surprise them by leaving magical Santa footprints near the cookies and milk they set out the night before (as you can see in the image at top left). To create Santa footprints, put a pair of boots down on the ground and sprinkle flour around them so that when you remove them, all that's left in their place is a snow-like outline of a boot. Sure you'll have to clean up a little mess later on but it will be totally worth it after you see the look of wonder on your children's faces!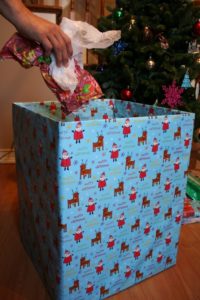 Have the footprints make a trail to the Christmas gifts and let the gift opening begin!
Thanks to Pinterest, we found a great tip for parents to use when the wrapping paper starts to go flying.
Take a large cardboard box and wrap it in Christmas wrapping paper, making sure to leave the top part of the box open.
Place it near the tree and as the kids start unwrapping their gifts, have them throw the paper away in the box. The pretty box (see example photo at right) will function as a trash can but will be disguised like a present so it will still look nice in all of your Christmas morning photos!
The fun doesn't stop after the presents, make Christmas morning breakfast memorable by serving Rudolph the Red-Nosed Reindeer Christmas pancakes!
As you can see from the photo at left, you can use whip cream and blueberries for the eyes, a strawberry for the nose and strips of bacon for the antlers and they won't believe it when they look down and see Rudolph on their plates!
It's the little details that matter and with this easy tips, your Christmas morning is sure to be one you'll treasure for years to come!
0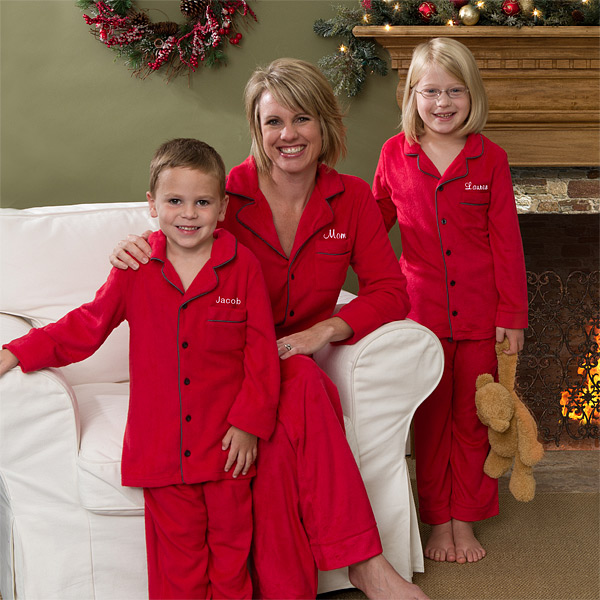 *Visit PersonalizationMall.com's 12 Days of Christmas Magic Page where you'll find even more fun ideas for Christmas!*
Christmas Eve is one of the most special days of the year and with it comes an abundance of excitement and anticipation, so much so that the evening seems to fly by and come to an end before you have a chance to revel in the magic.
Well, we've come up with some great ideas and new traditions that will not only help make your Christmas Eve more memorable, it will also give you and your family the chance to really "be in the moment" and savor every minute of this special night.
For starters, kick off the night with a new tradition by letting the kids open one present on Christmas Eve – new personalized pajamas! Our Holiday Cheer Embroidered Pajama Sets are the perfect PJs because they can be embroidered with any name in both adult and youth sizes so the entire family can match! The kids will love getting a chance to open a gift early and Mom will be happy because it ensures that the kids will be dressed in cute PJs for Christmas Morning pictures!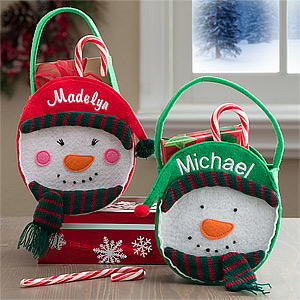 Once everyone is nice and cozy in their new personalized PJs, sit down as a family and read the popular Christmas book The Polar Express by Chris Van Allsburg to get everyone in the mood for the adventure you're about to surprise them with! When you've finished the book, announce that it's time for bed and escort the kids to their rooms.
On each of their beds, hide an Embroidered Snowman Mini Treat Bag under the covers. Choose a boy or girl treat bag design for each of your little ones and have it embroidered with their name.
Have a camera ready because you'll want to capture all of their giggles and screams as they discover their Christmas Eve surprises!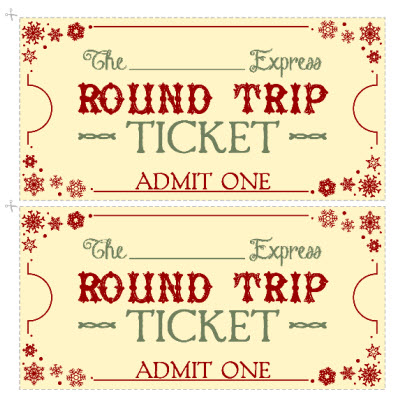 Inside each of the treat bags, include their favorite candy or snacks and most importantly – their special ticket for the "(Your Name Here) Express" (Click HERE for a free printable of our exclusive Express tickets (at left) that you can personalize with your own family name)!
Explain that they've just received a special ticket to go on a magical adventure and have them put on their coats and slippers and head the family car or van with their new treat bag and ticket.
When everyone is lined up, act as Conductor and punch a hole in each of their tickets before they climb into their seats.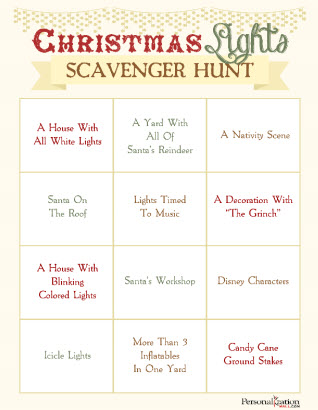 Once everyone is buckled in, hand them their Christmas Lights Scavenger Hunt List (Click HERE for a free printable of our exclusive Christmas Lights Scavenger Hunt List) and a crayon and set out on your Christmas Eve adventure!
Take them on a car ride past all of the best decorated houses in your area so they can find items from their scavenger hunt list.
They can snack on the goodies in their treat bags as they stare out the window in wonder of all the beautiful twinkling lights of the neighborhood.
You can all work together as a family to find everything on the list or make it a friendly competition and suggest that whoever finds all of the items first wins a prize or gets to open the first present on Christmas morning.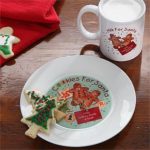 Once you've finished your magical adventure on the Family Express, it's time to make your way home. Before sending the kids off to bed, remind them to set out the special Cookies & Milk for Santa Plate and Mug that you can have personalized with their first names or any 3-line message. They'll love knowing that Santa knows exactly who the cookies are from and they'll head off to bed excited to wake up and see how many he ate!
0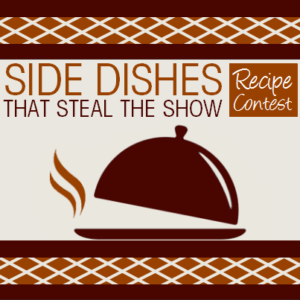 Congratulations to Hidemi Walsh – the winner of PMall.com's Side Dishes That Steal The Show Recipe Contest 2013!
Here is Hidemi's winning recipe for Brown Butter Sweet Potato Crumble:
For the topping:
1/4 cup All-purpose flour
2 cups Granola
2 tablespoons Brown Sugar
1/4 cup Raisins
1 teaspoon Ground Cinnamon
3 tablespoons Butter
For Brown Butter Sweet Potato:
2-3 Sweet Potatoes (about 1 pound)
3 tablespoons Butter
2 tablespoons Honey
Directions: Peel and cut the sweet potatoes in half length-wise then slice them 1/4 inch thick. Put the sweet potatoes on a microwave-safe plate, cover in plastic wrap and microwave on high for 3-4 minutes or until tender. In a skillet, melt butter over medium heat until foaming subsides. Turn off the heat and let stand until browned. Then stir in honey and sweet potatoes. Toss to coat well. Transfer the sweet potatoes into an 8×8 baking dish. Start making the topping in a medium bowl by mixing together flour, granola, cinnamon and brown sugar. Add the butter and work it in with your fingertips until well blended and crumbly. Fold in raisins. Sprinkle the topping over the sweet potatoes. Bake in a preheated oven at 350 degrees F for 25-28 minutes.
Doesn't that sound absolutely delicious!? Thank you again to Hidemi for sharing this tasty recipe with us!
For submitting the winning recipe, Hidemi has won a $50 PMall Gift Card that she can use on any personalized gifts that she'd like!
Thank you to all of our fans who submitted their favorite side dish recipes! Keep checking back here for the latest news and contests from PersonalizationMall.com!