Our New Design is a Huge Hit!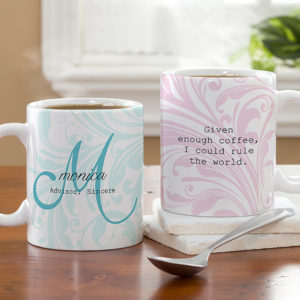 Have you seen our new, hit design over at PersonalizationMall.com?
We recently unveiled the new "Name Meaning" design (as you can see featured on the coffee mug at left) and our fans just can't get enough of it!
The lovely new design has an elegant swirl background and features any initial, name and name meaning in your choice of 4 beautifully soft colors (aqua, pink, purple and green).
One of the best things about this new design is that it gives you the option to write in your own name meaning (or leave it blank and we'll fill in the correct name meaning for you) or you can use the personalization line for any message you'd like.
Our fans have been loving this option because it gives them the opportunity to use the graceful design for all sorts of occasions or recipients.
And because it's such a stunning and sophisticated design that any lady would love, we've rolled out a whole line of personalized gifts that can feature it!
Quickly becoming the new fan favorite, the "Name Meaning" design can be personalized on coffee mugs, keepsake pillows, tote bags, notepads and so much more! To see all of the new "Name Meaning" Personalized Gifts, click HERE.
Tell us what you think of the new design in our comment section below.