Archive for
July, 2014
0
Trading in a lazy summer schedule for a structured school day can be tough on kids, but we've put together some great tips to help make their back-to-school transition go as smoothly as possible.
First thing's first, we suggest breaking the back-to-school news to your kids gently by announcing that it's time for back-to-school shopping! Kids love picking out school supplies and it tends to help soften the blow by reminding them that a fresh new year with endless possibilities lies ahead.
Your children's school should offer a checklist that includes all of the school supplies they'll need throughout the school year, including a backpack, lunch bag, folders, notebooks, a pencil case, etc. You can find all of these items in designs perfect for students of all ages in our Toddler and Youth, Preteen and Teen, or College Student department in the Back-to-School Store!
0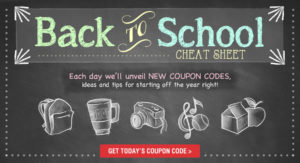 The school year will be here before you know it so we put together a "Back-to-School Cheat Sheet" that's full of valuable coupon codes, great tips and fun ideas that are sure to help both you and your kids start off the year right!
Each day from July 21st through 25th we'll unveil a new article that features back-to-school tips and at least one special coupon code!