03 Oct

Tell Us About Your Sweetie And Win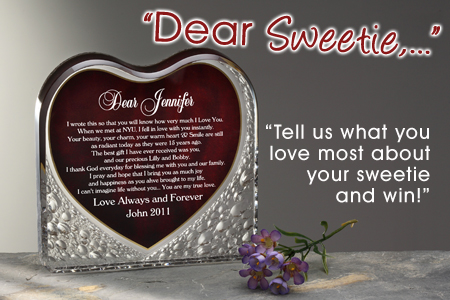 Sweetest Day is coming up on October 15th and PersonalizationMall.com is here to help you make it special by offering the best personalized romantic gifts for up to 25% off as part of the Sweetest Day Sale!
There is a wide selection of gifts to personalize for your loved one, but the sweetest gift of all is to tell your significant other how much you really care about them and A Personal Touch would like to give you the opportunity to do just that with our "Dear Sweetie, …" contest!
We're asking all of our readers and PersonalizationMall.com customers to share their most loving words about their husband, wife, boyfriend or girlfriend!
The most touching submission, as decided by A Personal Touch staff, will win a Your Love Letter© Personalized Sculpture engraved with the loving words that were submitted in the email! We will accept submissions through midnight on October 10th, 2011 and the winner will be announced here October 11th, 2011.
To enter the contest please send an email with the subject line "Dear Sweetie Contest" to Social@pmall.com with the following information:
– Your full name and your Sweetie's full name.
– In 100 words or less, write a letter as if you were sending it to your sweetie, describing what you love most about them – the more specific and original you are the better! (The email should look like you wrote it to your sweetie and just sent us a copy – that way it will read perfectly when it's engraved on the sculpture so you can present it as a gift on Sweetest Day!).
– The e-mail address you would like us to use to contact you if you win the contest.
We're standing by with tissues, ready to hear all of your touching words – good luck to everyone!