0
Happy Veterans Day! On behalf of everyone here at PersonalizationMall.com, we would like to say "Thank You!" to all our Veterans for serving our country and protecting our freedoms.
In honor of Veterans Day, we'd like to highlight the top 3 most popular military gifts from our Personalized Military Gifts Store!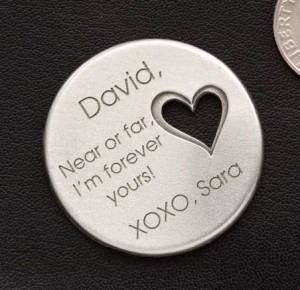 They say "good things come in small packages" and our most popular military gift not only comes in a small package, but also happens to be one of our newest and most affordable gifts! The Military Love Personalized Heart Pocket Token is a beautiful gift that will bring peace of mind to both you and your loved one in the military.
Even though your loved one is far away you can still express your love with sincerity and thoughtful words by personalizing the pewter coin with any name followed by any 3-line message and ending sentiment. Your loving words will be engraved next to the open heart so they can carry a piece of you with them wherever they go! The personalized pocket token is made in the USA, comes presented in a handsome velvet drawstring bag for elegant gift-giving.