Posts tagged
a personalized christmas
0
Congratulations to A Personal Touch reader Michelle Shorter who is the winner of PersonalizationMall.com's "A Personalized Christmas" Gift Contest!
Here is the entry Michelle submitted to the contest:
"The Personalization Mall gift that would be the best for my sister-in-law, Denise Shorter, would be the Winter Wonderland tree skirt (product # 6313). I have one of my own and it's already become a favorite part of the holiday decorating for my family. It's a beautiful and classic design and is high quality and I look forward to using it every year and eventually pass it down to my children. My sister-in-law has 5 children…yes 5! Including 2 year-old twin boys. She works very hard to be a great mother to my niece and nephews. A simple item like this would be loved in her home and it would be an item that would be passed down to my nephews to become part of their holiday decorating and will remind them of the wonderful childhood Christmas memories that my sister-in-law helped create for them when they were young. Personalized items such as this are the type of product that become so treasured in families as it is passed down. The quality of the product as well as the timeless design leave me little doubt that this would become a treasured holiday item for future generations in our family.
Thank you,
Michelle Shorter"
We love the idea of starting family traditions and passing down special keepsakes from generation to generation! Michelle has won the Winter Wonderland Personalized Tree Skirt, which you can see in the background of our contest photo, to give to her sister-in-law Denise!
We would like to thank Michelle and all our readers who submitted entries into the contest … we loved each and every entry and were so touched by your kind words for your loved ones! We hope you all have a Happy Holidays!
0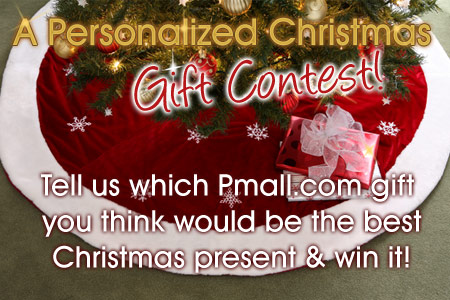 December is officially upon us … let the Christmas shopping begin!
Like the song says, "It's the most wonderful time of the year!" and there's nothing more wonderful than seeing the look on your loved one's face when they open a touching personalized gift that you've made special just for them!
Here at PersonalizationMall.com and A Personal Touch, we can't get enough of all the wonderful stories our customers tell us about how big of an impact our personalized gifts had on their loved one. And with our wide selection of products, you can find a special gift to personalize for everyone on your Christmas list no matter what their loves and hobbies are!
And since we're getting into the Christmas spirit, we'd like you to tell us, "Which PersonalizationMall.com gift would be the best Christmas gift for your loved one and why?" in our A Personalized Christmas Gift Contest!
All you have to do is send an email with the subject line "A Personalized Christmas" to social@pmall.com before midnight December 15th with the following information:
- Your answer to the question: Which PersonalizationMall.com gift would be the best Christmas gift for your loved one and why?"
- Be sure to include the product item# so we know which gift you're writing about.
- Include the name and relation of the loved one you are writing about.
- Your full name and email address for where you'd like to be contacted if you are the winner.
After we've gone through and read all your entries, the A Personal Touch staff will choose the most touching submission and name them the winner!
The winner of the A Personalized Christmas Gift Contest will win the gift that they wrote about in their entry! The winner will be posted here, on the A Personal Touch blog on December 16th and will be contacted by email soon after so that the prize can be shipped before Christmas.
We can't wait to hear all your creative and touching ideas! Head over to PersonalizationMall.com now to start searching for the gift you want to write about!
Good luck!