Posts tagged
back to school ideas
0
Trading in a lazy summer schedule for a structured school day can be tough on kids, but we've put together some great tips to help make their back-to-school transition go as smoothly as possible.
First thing's first, we suggest breaking the back-to-school news to your kids gently by announcing that it's time for back-to-school shopping! Kids love picking out school supplies and it tends to help soften the blow by reminding them that a fresh new year with endless possibilities lies ahead.
Your children's school should offer a checklist that includes all of the school supplies they'll need throughout the school year, including a backpack, lunch bag, folders, notebooks, a pencil case, etc. You can find all of these items in designs perfect for students of all ages in our Toddler and Youth, Preteen and Teen, or College Student department in the Back-to-School Store!
Let your kids have fun looking through our wide selection of designs that are perfect for boys and girls of all ages.
Picking out their favorite school supplies will help them warm up to the idea of going back to school and the personalized folders and notebooks are an added bonus as they will help them (and you!) stay organized all year long!
Personalized school supplies not only help your kids stay organized, they also help prevent your kids from mixing up their belongings with another friend or student's – this is especially important with the new item that's popping up on almost every school's checklist: USB drives.
Most kids will bring in the same black flash drives hard to label and distinguish from the rest, but with our "You Name It!" Bamboo Flash Drive – your kids will never worry about mixing up their school work with another student!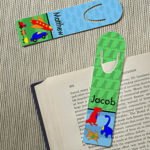 Once you have all the school supplies you need, it's time to prepare your kids' brains to get back in the swing of things. Encourage your kids to do some summer reading and/or brain teasers as soon as possible so they can start flexing their brains (which may have been on cruise control throughout the summer) and be prepared to return to a full day of learning. If you're having a hard time getting your kids to read this summer, try motivating them with one of our Personalized Bookmarks or create a reward system that results with a prize or treat every time they meet one of their reading goals. Starting some reading or light academic work as soon as possible promotes a gradual back to school transition that will help your children feel more comfortable and confident as they start the new school year!
Finally, help your children make a smooth back to school transition by calming any first day jitters they may have. Ask your kids how they're feeling about going back to school and if there is anything that they're anxious or worried about. For example, if your little one is headed to their very first day of school, or their first day at a new school, they may be nervous about navigating through the building or riding the bus.
We suggest helping them calm their nerves by taking them on a "trial run" before school starts. Start by walking them to the school bus and explaining what time the bus will pick them up on their first day. Then take them to the school and walk them through the hallways and straight to their classroom so they know which way to go on their first day. We also suggest showing them around the entire school, including where the bathrooms are located and, if possible, introduce them to their new teacher or school principal. This little "trial run" will answer any "what ifs" they may have and will have them feeling much more confident about their first day of school!
Follow all these tips plus make sure they eat a nice healthy breakfast and get a good night's sleep and your little ones are sure to be fully prepared for their first day back to school!
0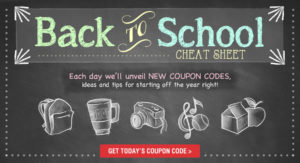 The school year will be here before you know it so we put together a "Back-to-School Cheat Sheet" that's full of valuable coupon codes, great tips and fun ideas that are sure to help both you and your kids start off the year right!
Each day from July 21st through 25th we'll unveil a new article that features back-to-school tips and at least one special coupon code!
All of the coupon codes will help you save big on personalized gifts in our Back-to-School Store, school supplies, coffee mugs, photo frames and more!
We even offer some free printables for you to use in back-to-school photos for your kids!
So head on over to our Back-to-School Cheat Sheet now to take advantage of all the valuable coupon codes and helpful tips!
0
We couldn't stop laughing when we saw this hilarious back-to-school photo on Pinterest (at left)!
We love the idea of taking a "happy mom and dad" back-to-school photo – after all, it's a big day for parents, too! If you like this photo, you should visit our Back to School Pinterest Board where you'll find a couple of other cute parent photos, as well.
We hope this will inspire you to have some fun with your back-to-school photos this year because once you have the perfect photo of your kids in their first day of school outfits, you'll need somewhere special to display them … and we have just the thing!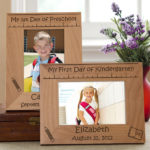 The 1st Day of School Personalized Picture Frame (at right) can be engraved with any line of text nestled in among the ruler design, while any two lines go below your child's photo to commemorate the date, school name, grade, or whatever you choose!
This adorable wood frame is available to be personalized in vertical or horizontal format for just $24.95 (shop before Monday, August 19th and you can purchase the frame for only $18.70 while it's still on sale!).
If you'd like to showcase your cute new back-to-school photo in a more colorful way, the "My First Day Of School" Personalized Full Color Frame (at left) is another great option! Even though the example says "my first day of kindergarten" that's not all this frame can say!
You can personalize the colorful bus design with any line across the top, along with your child's school name and the year which will be cleverly featured within the bus design. Finally, add your little one's name to the bottom and you will have captured an adorable moment in time! This back-to-school frame can be personalized for $28.95 (or shop before Monday, Aug. 19th and personalize it for only $21.70 while it's still on sale!).
For those of you who are looking for a frame for older children, head over and check out all of our Personalized Photo Frames where you're sure to find the type of design that you're looking for.
Before you send your kids off to school, be sure you also check out our Back to School Supplies – you'll find personalized back-to-school gear for kids of all ages, including backpacks, lunch bags, pencils, folders, notebooks, pencil cases and so much more!