Posts tagged
christmas cookie exchange recipe
0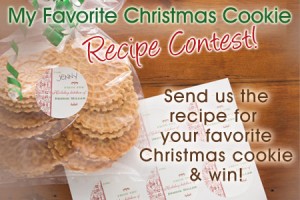 Congratulations to the A Personal Touch Blog's "My Favorite Christmas Cookie" Recipe Contest winner, Jackie Stillion!
Jackie submitted a delicious recipe she used for her own Christmas Cookie Exchange with friends for Chocolate Gooey Cookies!
For winning first place, Jackie has won her very own set of Classic Christmas© Personalized Gift Stickers from PersonalizationMall.com so she can add A Personal Touch to her tasty treats!
Here is her submission for all of you to enjoy:
Ingredients
1 (8-ounce) brick cream cheese, room temperature
1 stick butter, at room temperature
1 egg
1 teaspoon vanilla extract
1 (18-ounce) box moist chocolate cake mix
Confectioners' sugar, for dusting
Directions
In a large bowl with an electric mixer, cream the cream cheese and butter until smooth. Beat in the egg. Then beat in the vanilla extract. Beat in the cake mix. Cover and refrigerate for 2 hours to firm up so that you can roll the batter into balls. Preheat oven to 350°F. Roll the chilled batter into tablespoon sized balls and then roll them in confectioner's sugar. Place on an ungreased cookie sheet, 2 inches apart. Bake 12 minutes. The cookies will remain soft and gooey. Cool completely and sprinkle with more confectioners' sugar, if desired. Makes about 2 dozen cookies!
"I made these cookies for a Cookie Exchange my friends and I did over Christmas. I had to email the recipe to the host and now I am forwarding to you! They turned out YUMMY and were a major hit! Have a great New Year! ~ Jackie Stillion"
Thank you to Jackie and for all the PersonalizationMall.com blog readers for sending in your mouth-watering recipes! We hope you enjoy making these Chocolate Gooey Cookies!
Happy Gifting!
0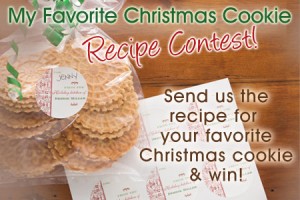 It wouldn't be Christmas without Christmas Cookies! Baking and decorating Christmas cookies with friends and families is one of those fun holiday preparations that help get everyone into the Christmas spirit.
Nowadays more and more people are having Christmas Cookie Exchange parties where everyone brings a set amount of their best batch and everyone can sample, mix and match all the different types of cookies before taking home an assortment of their favorites.  Here at PersonalizationMall.com's gifting blog, A Personal Touch, we love this idea and we also love the idea of making a batch to give out as gifts, too! But we're looking for a new fresh recipe to try out that is not only tasty, but creative, too!
That's why we're launching our newest contest, the "My Favorite Christmas Cookie" Recipe Contest! We want you to share your favorite Christmas cookie recipe for us to try out!
To enter, all you have to do is send an email with the subject line "Christmas Cookie Contest" to social@pmall.com with the following information:
- Your full name and email address for where you'd like to be contacted at if you are the winner. (If you have a picture of your finished cookies we'd love to see that too!)
- The name and recipe for your favorite Christmas Cookies
And that's it! Just make sure you submit your recipe before the contest ends at midnight on Wednesday, Dec. 28th, 2011. The A Personal Touch staff will select the winner who will win their very own set of Classic Christmas© Personalized Gift Stickers, which they can use to add a personal touch to their special batch at the next Christmas Cookie Exchange they attend!
We will announce the winner and contact them by email within a week of the deadline. We can't wait to read all your yummy recipes!
We love to hear about the family recipes that have been passed down, or recipes that include unique ingredients you wouldn't expect to use. The more unique and tasty the better!
Good luck to everyone and Happy Holidays!