Posts tagged
christmas gift ideas
0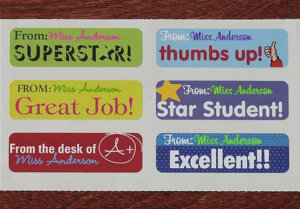 Teachers have one of the hardest jobs out there and it's important to remember them during the holiday season.
That's why teachers are the next group of people from A Personal Touch's Forget-Me-Not List that we are going to offer gift ideas for!
PersonalizationMall.com has a wide selection of Teacher Gifts, however today we'll just be highlighting a few gift ideas we think you'll enjoy most.
If you're looking for just a little something for your child's teacher, in the $10 and under price range, we suggest you take a look at our unique Star Student© Personalized Teacher Stickers which sell in 1 set of 64 stickers for just $9.95! Your child's teacher's name will be printed within each of our 6 exclusive designs indicating who the sticker is from. The teacher you personalize them for will be thrilled you thought of them and will be happy with all the time and hand cramps you'll save them from the next time they're grading papers!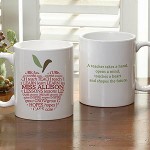 However, if the students in your family are a little too old to be receiving stickers on their papers and you are still looking to stay within a $10-$15 budget, take a look at the Apple Scroll© Personalized Teacher Mug, which you can personalize for just $12.95, or any of our teacher-themed coffee mugs! The teacher's name will be featured inside our apple design filled with repeating teacher words, such as "inspire, learn and care" and on the back, choose from 3 inspiring teacher verses or write your own very special message to add that personal touch! Your child's teacher will think of them every time they take a sip of their morning coffee!
If your child's teacher isn't a coffee drinker and if you have a little more room in your budget, the Inspiring Teacher© Candy Jar with LifeSavers® is a great gift idea for any teacher who has a sweet tooth! Our heartwarming candy jar can be personalized for just $24.95 and features the verse, "Teachers inspire dreams, shape lives and give us hope for the future…" engraved in the shape of an apple with any name engraved in the center. But that's not all! We also fill the jar with the irresistible 13 flavors of LifeSavers that are each individually wrapped! He or she will be able to keep it out on their desk for themselves or they can give out the candies as a reward for answering questions correctly in class or getting good grades on tests!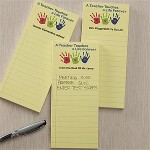 At PersonalizationMall.com we have endless beautiful, personalized gift options like the Set of 3 Touches A Life© Personalized Notepads, which would be perfect for all the teachers on your Christmas Shopping List! So make sure you explore all of the options PersonalizationMall.com has to offer and don't forget to keep checking back here for more gift ideas!
Happy Gifting!
0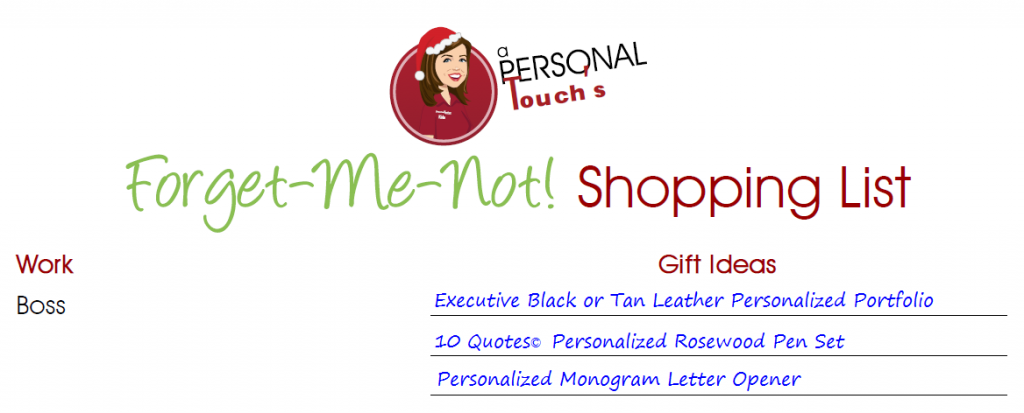 Christmas shopping for your boss can be pretty tricky.
You want to impress them with a gift they'll love, you may not know how much to spend, and you want to make sure it leaves a nice impression of you with them.
Well, PersonalizationMall.com's gifting blog, A Personal Touch, is here to help!
We have a couple of gift ideas in different price ranges to help you give the perfect gift to your boss this Christmas!
Since people tend to spend a little more on their bosses or supervisors we'll start off with a gift idea that is sure to earn some brownie points! The Executive Black Leather Personalized Portfolio is $59.95, is also available in Tan Leather, and makes an impressive statement, especially when you have your boss' full name artfully stamped across the bottom in your choice of silver or gold tone and the choice of block or script font style! The portfolio features a flap, storage and business card pocket and pen holder to help your boss stay organized on the go. Extra brownie points if your boss travels for work!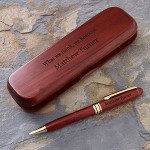 If you're an employee that has a more conservative budget in mind for your boss, we recommend the popular 10 Quotes© Personalized Rosewood Pen Set which is normally $24.95, however if you shop PMall.com's Huge Christmas Gift Weekend Sale this weekend (December 9th-11th) you can purchase it while it's on sale for just $18.70! You can choose from 9 quotes to provide daily inspiration for your supervisor, or if you already know his or her's favorite quote you could write your own! If you aren't comfortable choosing a quote, you can include your company's name, which we will skillfully custom engrave into the top of the Rosewood Case along with any name. We also will engrave your boss' name on the pen, which gives it a sophisticated look that they'll love!
If you were leaning more toward sticking to a $20 budget, you should see our beautiful Personalized Monogram Letter Opener, which is on sale this weekend for just $14.95, marked down from $19.95! Your boss will be truly touched to see you made an effort and had it personalized … not to mention it's a gift he or she can use and display on their desk! They'll love that they don't have to worry about anyone "borrowing" their opener anymore since now they'll will have one with their name on it!
No matter which PersonalizationMall.com gift you end up choosing for your boss you're sure to make a lasting impression because every time he or she looks down to use their gift, they'll think of you! Good luck with all your Christmas shopping and don't forget to shop the Weekend Sale to save big!
Happy Gifting!
0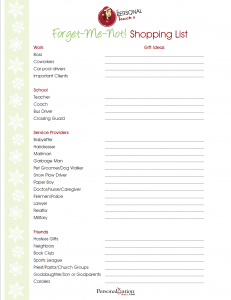 Now that the craziness of Black Friday and Cyber Monday are past us it's time to get organized!
Christmas shopping can me extremely stressful.
There's nothing more embarrassing than forgetting to buy a gift for someone, especially if they've give you one. And there's nothing more annoying than getting home from a long shopping trip and realizing that you forgot something you needed from one of the stores you were just shopping at.
Well have no fear – Pmall is here!
We here at PersonalizationMall.com's blog, A Personal Touch, wanted to help out our fabulous readers so they could stay sane and organized this holiday season. After all, staying sane and organized are your 2 most important tools when you're tackling your Christmas shopping!
That's why we've created a Forget-Me-Not Shopping List and Shopping Planner just for you! Just click on the link for a printable version that you can keep with you throughout the month so you always have your list nearby to edit and use!
The Forget-Me-Not Shopping List is a list of over 25 names of people outside of your family and friends who you may not see everyday, but should keep in mind around Christmas time. This list is a great tool to help you make sure you aren't forgetting anyone when you venture out to the mall. Not sure what gifts to give to the people on the Forget-Me-Not List? We've got you covered! Keep checking back here at A Personal Touch between now and Christmas because we'll be offering gift ideas for people straight off the list! You can add our gifting tips or your own ideas on the space we created for you right next to each of their names.
Once you've used the Forget-Me-Not List to figure out all the people you're buying for, add them and your family and friends to the Shopping Planner we've created for you! Here we've created an organized planner with space for you to write down each person's name, the budget you would like to stick to for each person, and a check list you can cross out after you've bought the gift, wrapped it and sent it! THat's right! A Personal Touch has got you covered from brainstorming the gift idea all the way to making sure it gets in the hands of the recipient.
With a little help from us your Christmas Shopping will not only be a breeze this year – it'll be fun and stress free! We hope you enjoy these tools we've created for you! If there's anyone you think needs to be added to the Forget-Me-Not list please leave a comment here, we'd love to hear your ideas! And don't forget to keep checking back for gift ideas that will help you with your Christmas shopping even more!
Happy Gifting!