Posts tagged
contest winner
0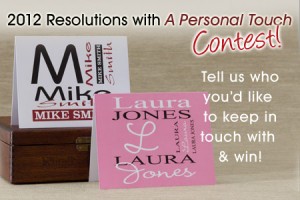 … Leslie Mirkes!
Leslie entered the "2012 Resolutions with A Personal Touch" Contest to tell us about the person she'd like to keep in touch with more in 2012 by using hand-written letters. Here is her winnng entry:
"The person I would like to be in touch with more is my sister-in-law Allison Miller.  We live so far apart, I am in Illinois, she is in Florida. She is pregnant with her second child, and she frequently sends me hand-written notes from herself or from my nephew, and it ALWAYS brightens my day to receive them. I would love to be able to send a little sunshine into get busy life by doing the same for her.
Thanks for considering me,
Leslie Mirkes"
Thanks for submitting such a touching entry Leslie! For being named the winner, Leslie has won her own set of Personally Yours© Personalized Note Cards & Envelopes so she can keep in touch with her sister-in-law Allison!
Thank you to all the A Personal Touch readers who submitted entries – we loved them all!
Keep checking back here for more contests and chances to win great PersonalizationMall.com gifts!
0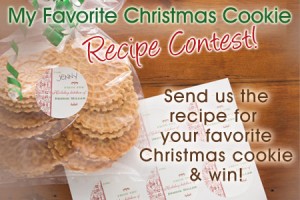 Congratulations to the A Personal Touch Blog's "My Favorite Christmas Cookie" Recipe Contest winner, Jackie Stillion!
Jackie submitted a delicious recipe she used for her own Christmas Cookie Exchange with friends for Chocolate Gooey Cookies!
For winning first place, Jackie has won her very own set of Classic Christmas© Personalized Gift Stickers from PersonalizationMall.com so she can add A Personal Touch to her tasty treats!
Here is her submission for all of you to enjoy:
Ingredients
1 (8-ounce) brick cream cheese, room temperature
1 stick butter, at room temperature
1 egg
1 teaspoon vanilla extract
1 (18-ounce) box moist chocolate cake mix
Confectioners' sugar, for dusting
Directions
In a large bowl with an electric mixer, cream the cream cheese and butter until smooth. Beat in the egg. Then beat in the vanilla extract. Beat in the cake mix. Cover and refrigerate for 2 hours to firm up so that you can roll the batter into balls. Preheat oven to 350°F. Roll the chilled batter into tablespoon sized balls and then roll them in confectioner's sugar. Place on an ungreased cookie sheet, 2 inches apart. Bake 12 minutes. The cookies will remain soft and gooey. Cool completely and sprinkle with more confectioners' sugar, if desired. Makes about 2 dozen cookies!
"I made these cookies for a Cookie Exchange my friends and I did over Christmas. I had to email the recipe to the host and now I am forwarding to you! They turned out YUMMY and were a major hit! Have a great New Year! ~ Jackie Stillion"
Thank you to Jackie and for all the PersonalizationMall.com blog readers for sending in your mouth-watering recipes! We hope you enjoy making these Chocolate Gooey Cookies!
Happy Gifting!