Posts tagged
design
0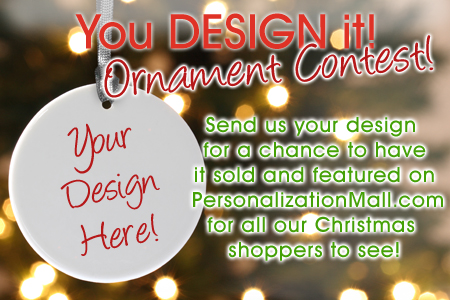 Christmas is so close we can already hear the jingle bells! That's why PersonalizationMall.com kicked off the Christmas Ornament Sale this week! The exclusive 2011 personalized ornament collection is on sale for up to 40% off this week only, which is why we here at A Personal Touch thought it would be a great time to launch the 2011 You Design It Ornament Contest!
That's right! We're asking all our fans to submit their OWN Christmas Ornament design and the winner, who will be selected by PersonalizationMall.com staff and based on originality and creativity, will have their design featured and sold on PersonalizationMall.com for hundreds of thousands of our Christmas shoppers to see!
Whether it's a little kid's crayon drawing of Santa that was scanned and sent in, an experienced artist who is looking to gain a wider audience for their work, or a graphic artist wizard who wants to see their masterpiece hanging from their tree – you're all eligible to win!
To enter, send an email with your attached design image and the subject line "Ornament Contest"  to Social@pmall.com with the following information:
Your full name and age
The email address where you'd like to be contacted at if you are named the winner
A brief description of the design and what inspired you to create it
We're giving you complete artistic freedom so you can come up with any concept your heart desires! The only thing to keep in mind is that the winning design will be featured on a circle porcelain ornament that measures 2 3/4″ in diameter.
What is the prize you ask? The winner will have their name proudly displayed next to their ornament design which will be featured and sold on PersonalizationMall.com for the world to see! The winner will also win 6 ornaments – 1 for themselves and 5 to give out to their family and friends. Just think – if your design is selected as the winner, you'll be able to tell all your family, friends, coworkers, and anyone else you can think of to go to PersonalizationMall.com where they'll see YOUR NAME next to YOUR DESIGN which they can actually buy themselves!
All submissions must be submitted by midnight on Monday, November 14th 2011, and the winner will be announced here on the A Personal Touch blog that week!
It's time to put on your favorite Christmas music and turn on your favorite Holiday movie to get in the Christmas mood so you can begin coloring, painting, photo shopping, drawing or an your ornament design!
If you have any questions please post a comment here and we will get back to you with an answer as soon as possible.
We're so excited to see what you come up with – good luck!
*Contest terms and conditions: By entering this Promotion, entrant agrees to release and hold harmless PersonalizationMall.com and any promotional partners, each of their related companies, and each of their respective officers, directors, employees, and agents (collectively the "Released Parties") from and against any losses, damages, rights, claim or cause of action of any kind arising, in whole or in part, directly or indirectly, out of participation in the Promotion or resulting directly or indirectly, from acceptance, possession, use, or misuse of any prize awarded in connection with the Promotion, including without limitation personal injury, death, and/or property damage, as well as claims based on publicity rights, defamation, and/or invasion of privacy. You must be the sole owner of the copyright of any image submitted. Your submission of the design is your guarantee that you are the author and copyright holder of the design. By entering the contest, entrants agree to have their submitted design displayed and sold on the PersonalizationMall.com website, the PersonalizationMall.com Facebook Page, and PersonalizationMall.com Twitter account and used by PersonalizationMall.com for any purpose, at any time, without any fee or other form of compensation. PersonalizationMall.com reserves the right to make changes to the submitted design or its size before selling it as an ornament on PersonalizationMall.com.
0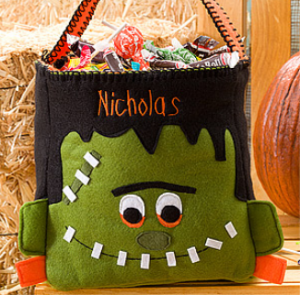 Halloween lands on a Monday this year which means your kids will be stuck in the classroom all day anxiously waiting for the bell to ring so they can head out and start their trick or treating. Just imagine how thrilled they'd be if you were to send them to school with a Halloween themed lunch to help get them through the day!
To start their day off right, surprise them by handing them a Freaky Frankie© Embroidered Trick or Treat Bag or one of PersonalizationMall.com's other popular treat bag designs with their lunch inside! They'll love that you switched up the usual boring brown bags and sent them to school with a lunch bag they can actually use! They'll be able to fill Frankie with the goodies they get from their Halloween party at school and then they can bring him home to use when they go trick-or-treating that night!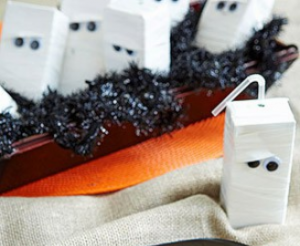 Now that you've wowed them with the actual lunch bag, it's time to find ways to bring some Halloween fun to what's inside! Put together their favorite sandwich and put it to the side for now, we're going to use the side items to carry the Halloween theme for this masterpiece from mom!
The first thing you grab should be their juice box, after all it should be in the bottom so it doesn't smash the sandwich! And thanks to Parents.com's post about "scary sippers," we have a way for you to transform their juice box into a mummy in 2 easy steps! Just pick up some white electrical tape from your local hardware store and wrap it around the juice box, remembering to leave a space open so your son or daughter can still bunch a hole with a straw. Then add a pair of googly-eyed stickers to the front and there you go! A mummy juice box!
We couldn't plan a Halloween lunch without finding a way to incorporate a pumpkin which is why we were thrilled when we came across the Under Construction Blog that suggested coloring oranges or clementines with black marker to make the perfect freaky fruit! Your kids will love the jack-o-lantern in their lunch and you'll be happy knowing your were able to get some healthy fruit into their lunch on the day known for it's supply of sweets!
You can add your own personal touch to the fruit by creating a goofy face, scary face or even adding a note or a simple "Love, Mom" on the back! It's an easy tip that any mom can do, even if you aren't that crafty!
Speaking of crafty, we have the coolest surprise for you to add to your son or daughter's surprise Halloween lunch on October 31st … it's the Happy Halloween© Personalized Coloring Activity Book & Crayon Set!
Personalize the coloring book by going to the PersonalizationMall.com item page here and selecting one of four characters that most resembles your child, then type in their name and click the button that says "click to view your personalized item." There you can see how your child's name will be personalized on the cover and throughout the 24-page activity book!
The book includes an answer key for the games and puzzles and comes with a set of 24 Crayola® Crayons. Your kid will have a ball coloring and playing the games and activities with their friends during lunch or on the bus ride home, too!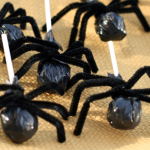 Finally, no lunch is complete without dessert! The spider suckers we saw on ohdeedoh.com were so creepy we had to include them! All you have to do is take a couple of black pipe cleaners, which you can get at any craft store, and twist them around the stick of a lollipop. Bend the pipe cleaners down at the end so it looks like they're actually walking on furry spider legs. Can you imagine the look on their faces when they see these spooky suckers crawling out of their lunch bag? They're sure to be a hit with your kids and their friends!
We hope these tips help bring some fun to your kids' Halloween lunch this year. Even if your child is having a classroom party, you could make any one of these items for the whole class! You'll be the talk of the cafeteria! We'd love to hear what you think of our tips, or if you have any tips of your own that you would like to share please do so by commenting below or by sending an email to us at social@pmall.com. We'd love to see pictures of how your lunches turned out, too!
Happy Halloween!