Posts tagged
DIY
0
With PMall's Christmas in July Sale going on this week I was looking through all of the beautiful Personalized Christmas Ornaments and started to realize just how special some of these ornaments can be!
There are a few unique PMall designs that are extra special because they help you capture a specific moment in time so in the future you'll be able to use the ornaments to remember some of your favorite Christmas moments!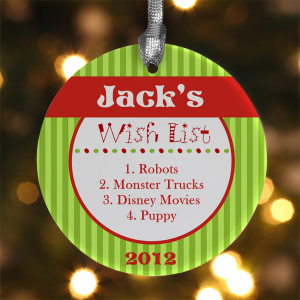 The My Wish List© Personalized Ornament, which you can personalize with any name, year and 4 items, can act like a mini scrapbook that helps you preserve some of your favorite holiday memories without all the mess! In the future you'll look back and be thankful that you personalized the My Wish List design for each of your children year after year, because you'll be able to reminisce about what toys and gifts they loved most each Christmas while they were growing up!
This adorable ornament can help you look back and remember some of their funniest and sweetest memories like when your son was going through his superhero phase and only wanted Spider-Man action figures and clothes (by the way, if your son is going through that phase now, you should check out our brand new line of Personalized Spider-Man Gifts!), or when your daughter asked Santa for a little brother or sister.
The ornament is usually only $12.95 but thanks to the Christmas in July Sale it's marked down to just $10.35 from now through Sunday! Start your new tradition now and you'll love having the opportunity to share all the fun stories with your kids when they're older (especially when your daughter is older and fighting with her new younger sibling you can pull out the ornament and remind her that this is what wanted!

)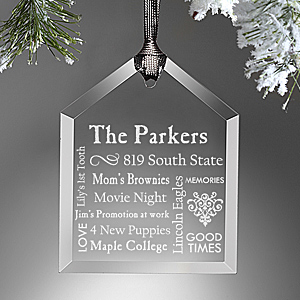 PMall's exclusive designs not only help you capture your kids' precious moments, but your whole family's favorite moments, too! With the Our Family© Engraved Message Ornament you can create your own mini scrapbook that can display an entire year's worth of family events. You can have this elegant glass ornament laser engraved with up to 9 lines of personalization – those 9 lines can include your family's name, address or your favorite family highlights of the past year, such as your vacation spots, activities, inside jokes and anything else you can think of! This beautiful ornament is usually $14.95 but is currently 70% off and can be personalized for only $4.48! Now that's a deal you can't pass up! Just think you'll be able to start a new tradition where every year when you're decorating the tree, you'll be able to look back as a family and remember each year's fun vacations and important accomplishments and help decide as a family what you'd like to include on the following year's ornament!
But you don't need to have kids to create one of these "scrapbook ornaments."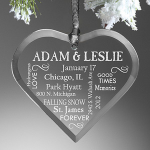 The Our Life Together© Personalized Couple's Ornament is the perfect way for newlyweds to remember the details of their wedding while also starting their own ornament collection as a married couple! The stunning glass ornament is usually $14.95 but is on sale for only $4.48 until Sunday and can be engraved with the couple's names and up to 9 lines of personalization. If you're personalizing it as a wedding keepsake you can include the ceremony's location, date, the first song you danced to, the flowers you used and more.
However, I think this design is a perfect way to celebrate your anniversary year after year – after all, who says you have to save this beautiful gifts for Christmas!? Each year you can personalize it with all your firsts (vacation, purchasing a home, adopting a pet, etc.), triumphs (promotions at work, buying a new car, getting pregnant) and struggles that you went through and overcame together (losing a job or loved one) so you can look back and be proud of what you have made it through together as a team.
Whether it's for your anniversary, your kids or your entire family, you are sure to find the perfect PMall Personalized Christmas Ornament for you! So put down the glue stick, close the scrapbooks and stow the memory boxes … forget about all of the fuss and head over to PMall to create a one-of-a-kind keepsake before the Christmas in July Sale ends Sunday, July 8th!
It may only take you a couple minutes to create your gorgeous personalized ornament, but you're sure to enjoy your little time capsule for many years to come!
0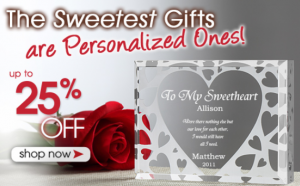 This year Sweetest Day, the day people take the time to let their "Sweetie" know how much they care about them, lands on October 15th. Now even though you just looked down at your calendar, saw that Oct. 15th is only 10 days away and started to panic – don't worry, we've done all the research for you and we have some great tips to share with you as you look to find the perfect way to express how much you care about your Sweetie!
From now through Sunday PersonalizationMall.com is having a Sweetest Day Sale where you can save up to 25% off romantic gifts that you can personalize for the upcoming Holiday! Choose from items like the beautiful You're All I Need© Personalized Keepsake (As shown in above picture).
The quality-crafted Lucite block that features an elegant heart mosaic design can be personalized with the verse "Were there nothing else but our love for each other, I would still have all I need," or for those of you who are good with words, you can write your own personal message to your loved one!
There are several gift options that can display your own personal and touching engraved message, but if your sweetie is a fan of sweets, we have a couple of gift options they'll love even more!
The Sealed With A Smooch© Personalized Treat Tin can be purchased to include Hersey Kisses or you can personalize the tin alone and fill it with your own homemade treats.
You can fill the tin with your famous chocolate chip cookies and wrap them up for your significant other, or you could send them to your kids in college as a nice Sweetest Day care package to let them know you're thinking of them!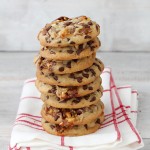 If you're looking to make your own treats but want to try something new, we have a recipe we think you may enjoy. We came across the recipe for Chewy Chocolate Chip Snickers Cookies on the Bakers Royale blog and instantly started drooling!
It doesn't get much more sweet than combing one of the most popular candy bars AND cookies! If you like what you see in the picture, click here for the instructions on how to make these decadent desserts.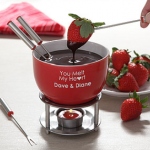 If you and your loved ones are a little more calorie conscious but wouldn't mind indulging a little this Sweetest Day, the You Warm My Heart© Personalized Fondue Set is a customer favorite and is great because while you can personalize it for your significant other, you can also customize one to share with your other "sweeties" like your kids or close friends. You can dip your favorite fresh fruits like pineapples or strawberries and not feel as guilty about splurging as you would with the rich cookies.
We hope these suggestions help steer you in the right direction for your Sweetest Day gift needs! Have fun shopping around all the unique and beautiful romantic gifts at PersonalizationMall.com and don't forget to submit your entry for the Sweetest Day Contest! Click here to read all the details about how to enter and your chance at winning the Your Love Letter© Personalized Sculpture for your sweetie!