Posts tagged
easter basket stuffers
0
We're exited to announce our Personalized Easter Gifts Store is full of great new gifts for you choose from, including some awesome new Easter Basket stuffers that also happen to be fun activities your little ones are sure to enjoy!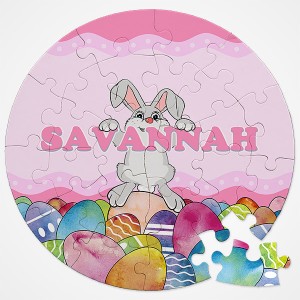 One of our most popular new Easter Basket stuffers, the Bunny Love Personalized Puzzle, features our brand new Bunny Love Easter Collection that is as cute as can be! The puzzle comes in your choice of a pink or blue background with a long-eared lovable bunny standing on a pile of colorful Easter eggs. Choose the design for a 26-piece or 68-piece puzzle puzzle and personalize it with any name! The unassembled pieces are presented in a drawstring bag, making it ready for gift giving and providing protective storage for years to come. It's perfect for stuffing Easter baskets for kids of all ages!
Next on the list of great Easter Basket stuffers is our new Colorful Eggs Personalized Photo Memory Game.
This 18-piece game set will be printed on one side with any name in your choice of 2 color options within a colorful egg design. Then upload 9 different photos, which will be printed on 2 tiles each to make your own personalized memory game. Choose pictures of family members, pets, places, or anything you'd like! The pieces are constructed from solid, durable laminate with high-gloss smooth finish, making them more durable than paper or cardboard game pieces so they can enjoy the memory game long after Easter!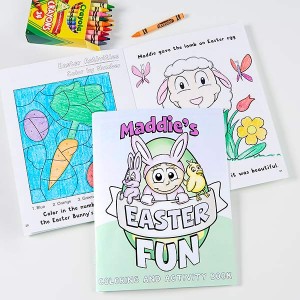 Our Happy Easter Personalized Coloring Activity Book & Crayon Set was so popular, we created a new "Easter Fun!" design (at left) to add to the fun! With our new design, you can choose a design that features a boy or girl figure dressed like a bunny, which you can personalize with your child's name on the front cover and throughout the inside pages, as well!
The activity book includes 24 pages which include Easter pictures to color, games, puzzles, mazes and of course, an Easter egg hunt (The book also contains an answer key for the games and puzzles). The book measures 8″ W x 10.5″ H and comes with a 24 pack of Crayola® Crayons, too!
As you can see, our Easter Gifts Store is full of great gift ideas for kids of all ages! Head over now to check them all out!
0
While bunnies are usually the first animal you think of when it comes to Easter – we're here to make an argument for adorable little chicks and duckings!
You can only eat hard-boiled eggs for so long, which is why these Easter Chick Cupcakes are the perfect sweet to have prepared for your Easter celebration. Desserts don't get much cuter than these little treats! If you click the link you'll be directed to the Bird On A Cake Blog where you'll find the recipe for these Easter treats. 
The cupcakes would make a great Easter Basket stuffer or you could even display them on a pretty platter and use them as a centerpiece for your Easter brunch. Make it a family affair and have your little ones help you prepare and decorate the cupcakes for a nice break from hunting down all those Easter Eggs!
And if you think the chick cupcakes are cute, wait until you see
PMall's Personalized Quacking Easter Ducks!
These soft, yellow plush ducks come decked out for spring in an Easter Egg t-shirt design that you can personalize with any name. 
Not only is the little ducking cute – it also quacks! Just squeeze them and you'll hear the "quacking" noise! The duck measures nine inches high sitting with orange legs and bill, sporting an equally bright spring bow which is usually sold for $24.95 but if you act fast, you can personalize one of these cute ducks for only $19.95 while they're still on sale! 
Any kid would love to see one of these cuties waiting for them in their basket come Easter morning – personalize one today for each of your little ones so they can treasure them for many Easters to come! We also have the My First Easter Personalized Quacking Easter Ducks which are perfect for the newest addition to the family! Select a duck wearing a pink or blue t-shirt, which features the words "My First Easter" and a cute carrot design and personalize it with the baby's name to create a sweet gift the little one will love to snuggle with.
Check out our Easter Gifts Store for other personalized Easter Basket stuffers, apparel and more that feature Easter Chicks, Ducks and other festive designs that the whole family will love!