Posts tagged
easter celebration
0
While bunnies are usually the first animal you think of when it comes to Easter – we're here to make an argument for adorable little chicks and duckings!
You can only eat hard-boiled eggs for so long, which is why these Easter Chick Cupcakes are the perfect sweet to have prepared for your Easter celebration. Desserts don't get much cuter than these little treats! If you click the link you'll be directed to the Bird On A Cake Blog where you'll find the recipe for these Easter treats. 
The cupcakes would make a great Easter Basket stuffer or you could even display them on a pretty platter and use them as a centerpiece for your Easter brunch. Make it a family affair and have your little ones help you prepare and decorate the cupcakes for a nice break from hunting down all those Easter Eggs!
And if you think the chick cupcakes are cute, wait until you see
PMall's Personalized Quacking Easter Ducks!
These soft, yellow plush ducks come decked out for spring in an Easter Egg t-shirt design that you can personalize with any name. 
Not only is the little ducking cute – it also quacks! Just squeeze them and you'll hear the "quacking" noise! The duck measures nine inches high sitting with orange legs and bill, sporting an equally bright spring bow which is usually sold for $24.95 but if you act fast, you can personalize one of these cute ducks for only $19.95 while they're still on sale! 
Any kid would love to see one of these cuties waiting for them in their basket come Easter morning – personalize one today for each of your little ones so they can treasure them for many Easters to come! We also have the My First Easter Personalized Quacking Easter Ducks which are perfect for the newest addition to the family! Select a duck wearing a pink or blue t-shirt, which features the words "My First Easter" and a cute carrot design and personalize it with the baby's name to create a sweet gift the little one will love to snuggle with.
Check out our Easter Gifts Store for other personalized Easter Basket stuffers, apparel and more that feature Easter Chicks, Ducks and other festive designs that the whole family will love!
1
Hippity Hoppity Easter's on its way and A Personal Touch has some great tips to help you throw the best Easter Egg hunt and celebration ever!
Hunting for Easter Eggs takes a lot of energy so PersonalizationMall.com was thrilled to see the recipe for "Bunny Bait" from Brown Paper Packages on Pinterest! (Check out our Pinterest Easter Board Here). This snack mix is perfect to hand out to the kids to munch on while they're searching for their eggs and it will help hold them over until brunch, especially if they're used to eating earlier in the day. You can also use the individual snack bags as place settings for the adults at your party or just fill a large bowl for everyone to share as an appetizer!
As you can see by clicking the above link, the "Bunny Bait" recipe consists of Reese's Pieces Easter Eggs, pretzels, mini marshmallows and honey roasted peanuts, however you can edit the recipe to include any of your other favorite snacks, too.
Don't forget to leave some "Bunny Bait" out the night before to make sure the Easter Bunny knows where to leave the baskets … it will add to the magic of Easter Morning for the whole family!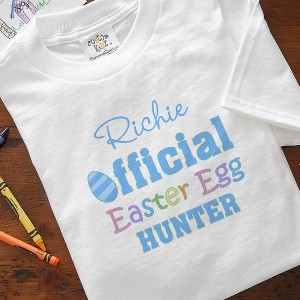 When the kids wake up and run downstairs to see if the Easter Bunny has come, make sure they put on the Official Egg Hunter© T-Shirt you personalized for them before they start tearing through all the chocolate and messy candy in their baskets! The adorable design can be personalized with your little one's name in either pink or blue font and can be printed on youth or infant t-shirts, toddler sweatshirts, infant rompers or a baby bib.
The cute outfits make for a great family photo op and will also help protect their nice Easter clothes from candy and grass stains while they're searching for eggs.
Once they have their snacks and outfit – they're ready to hunt!
We know the Easter Bunny usually hides eggs filled with money or candy, but we have a great idea that will add an extra surprise to this year's eggs … turn the hunt into a search to find the secret message the Easter Bunny left for your kids!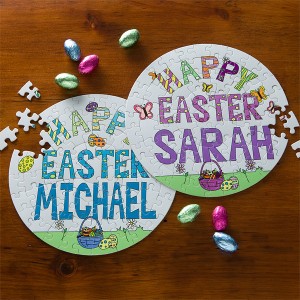 You start by personalizing our Happy Easter© Puzzle with your children's names and placing a couple of the puzzle pieces inside each egg (If there is more than 1 child involved in the hunt, we suggest designating a certain color for each child so you can make sure they find all the puzzle pieces that belong to them).
Then watch as their excitement grows with each new piece as they hurry to put the puzzle together and try to uncover the Easter Bunny's special message!
This new twist can help balance out the competition for kids who sometimes struggle to find eggs but are great at puzzles, and it's also great for competitive families because they can offer an extra prize to the child who completes their puzzle first.
Kids will love that the Easter Bunny left them a special message and game with their name on it, and moms and dads will love that putting the puzzle together after the crazy egg hunt will help calm down the kids before the family heads out for church or brunch!
We hope you enjoyed our gift ideas and tips to making this Easter extra special!
Along with the cute Kid's Apparel and puzzles we talked about, PMall.com's Easter Gifts Store has a wide selection of unique personalized gifts, such as Easter Baskets, festive home decorations, plush bunnies and more, all of which are sure to add a personal touch to your spring celebration! If you hurry over to our store now, you can save up to 30% off all our Easter Gifts before our sale ends Sunday, March 25th.
We hope you have a Hoppy Easter and please feel free to leave your own personal Easter Party tips in the comments below!