Posts tagged
Genealogy contest
0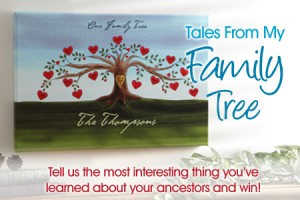 We loved reading through all the interesting facts the PersonalizationMall.com fans submitted about their ancestors, but there was one entry that stuck out from the rest.
A Personal Touch would like to congratulate Alice Link for winning the "Tales From My Family Tree" contest with this amazing family fact she discovered about her grandparents:
My amazing family tree fact that I recently shared with all my nieces and nephews is that three of my four Grandparents share the same birthday. Wait, there's more - the date is December 25th! Plus, my grandmothers were born on the exact same day. Isn't that amazing and wonderful!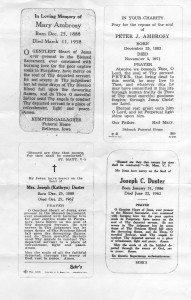 They are all deceased now but what a fun fact it is to carry in my heart.
Thanks for letting me share the fun,
Alice
What are the chances that 3 out of your 4 grandparents would share the same birthday? And Christmas, too!? We also thought it was pretty neat that Alice was able to send us a copy of their Holy Cards to show the actual dates.
Thank you to Alice and all the people who shared their family stories (and photos!) with us! We're happy to announce that Alice can now turn her family tree into a piece of art because she has won her very own Our Family Tree© Canvas Art!
Be sure to keep checking back for more gift ideas, party tips and tricks and contests!
Happy Gifting!
0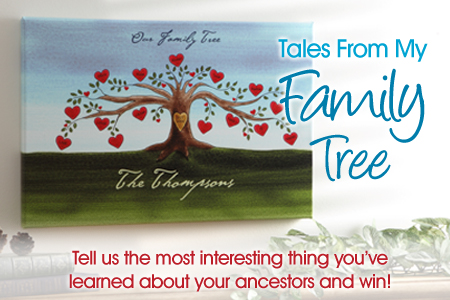 Here at PersonalizationMall.com, we were excited to see that March 10th, 2012 is National Genealogy Day!
Researching your genealogy can be a rewarding and interesting experience – you may even discover something surprising about your relatives! We believe it's important to research your family tree and preserve your history by sharing what you've learned about your relatives with your family and the entire world!
With the "Tales from My Family Tree" Contest, you'll be able to do just that!
We want to hear what interesting fact you learned about your ancestors when you were researching your family tree. The A Personal Touch Staff will pick one random winner from all the entries and that person will be awarded their very own Our Family Tree© Personalized Canvas Art that they can display in their home to celebrate their family history!
To enter the contest, please send an email with the subject line "Family Tree" to social@pmall.com before the contest ends at midnight on March 19th, 2012 with the following information:
- The interesting fact you learned about your ancestors when you researched your genealogy.
- Your full name and email address for where you'd like to be contacted at if you win.
We will announce the winner and share their winning entry here on March 20th, 2012.
You could tell us about how you discovered that your great, great grandpa fought in the Civil War as a General, or how a great uncle invented an important product that we still use today, or maybe you were shocked to discover your family's last name was changed at Ellis Island … every story is interesting and we want to hear them all!
Be sure to get your email entries in before the cutoff date for your chance to win – Good luck!