Posts tagged
gift ideas for him
0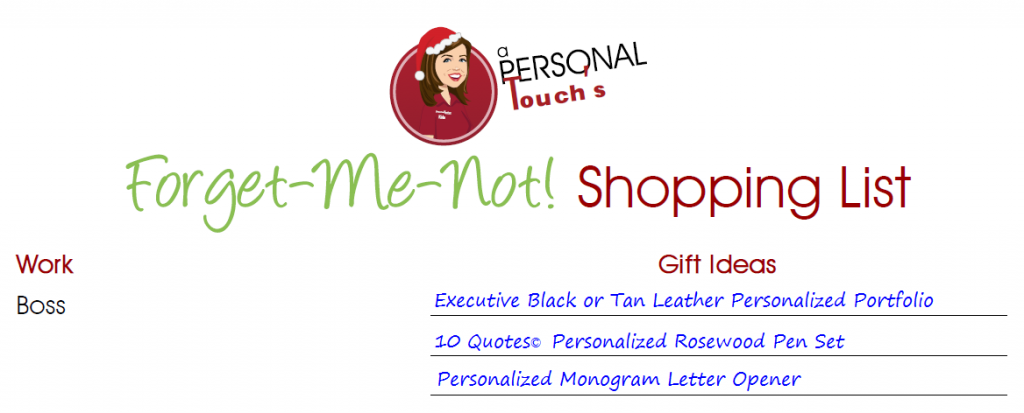 Christmas shopping for your boss can be pretty tricky.
You want to impress them with a gift they'll love, you may not know how much to spend, and you want to make sure it leaves a nice impression of you with them.
Well, PersonalizationMall.com's gifting blog, A Personal Touch, is here to help!
We have a couple of gift ideas in different price ranges to help you give the perfect gift to your boss this Christmas!
Since people tend to spend a little more on their bosses or supervisors we'll start off with a gift idea that is sure to earn some brownie points! The Executive Black Leather Personalized Portfolio is $59.95, is also available in Tan Leather, and makes an impressive statement, especially when you have your boss' full name artfully stamped across the bottom in your choice of silver or gold tone and the choice of block or script font style! The portfolio features a flap, storage and business card pocket and pen holder to help your boss stay organized on the go. Extra brownie points if your boss travels for work!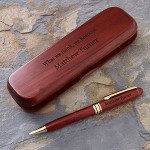 If you're an employee that has a more conservative budget in mind for your boss, we recommend the popular 10 Quotes© Personalized Rosewood Pen Set which is normally $24.95, however if you shop PMall.com's Huge Christmas Gift Weekend Sale this weekend (December 9th-11th) you can purchase it while it's on sale for just $18.70! You can choose from 9 quotes to provide daily inspiration for your supervisor, or if you already know his or her's favorite quote you could write your own! If you aren't comfortable choosing a quote, you can include your company's name, which we will skillfully custom engrave into the top of the Rosewood Case along with any name. We also will engrave your boss' name on the pen, which gives it a sophisticated look that they'll love!
If you were leaning more toward sticking to a $20 budget, you should see our beautiful Personalized Monogram Letter Opener, which is on sale this weekend for just $14.95, marked down from $19.95! Your boss will be truly touched to see you made an effort and had it personalized … not to mention it's a gift he or she can use and display on their desk! They'll love that they don't have to worry about anyone "borrowing" their opener anymore since now they'll will have one with their name on it!
No matter which PersonalizationMall.com gift you end up choosing for your boss you're sure to make a lasting impression because every time he or she looks down to use their gift, they'll think of you! Good luck with all your Christmas shopping and don't forget to shop the Weekend Sale to save big!
Happy Gifting!
0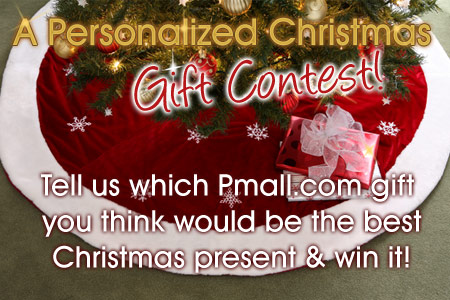 December is officially upon us … let the Christmas shopping begin!
Like the song says, "It's the most wonderful time of the year!" and there's nothing more wonderful than seeing the look on your loved one's face when they open a touching personalized gift that you've made special just for them!
Here at PersonalizationMall.com and A Personal Touch, we can't get enough of all the wonderful stories our customers tell us about how big of an impact our personalized gifts had on their loved one. And with our wide selection of products, you can find a special gift to personalize for everyone on your Christmas list no matter what their loves and hobbies are!
And since we're getting into the Christmas spirit, we'd like you to tell us, "Which PersonalizationMall.com gift would be the best Christmas gift for your loved one and why?" in our A Personalized Christmas Gift Contest!
All you have to do is send an email with the subject line "A Personalized Christmas" to social@pmall.com before midnight December 15th with the following information:
- Your answer to the question: Which PersonalizationMall.com gift would be the best Christmas gift for your loved one and why?"
- Be sure to include the product item# so we know which gift you're writing about.
- Include the name and relation of the loved one you are writing about.
- Your full name and email address for where you'd like to be contacted if you are the winner.
After we've gone through and read all your entries, the A Personal Touch staff will choose the most touching submission and name them the winner!
The winner of the A Personalized Christmas Gift Contest will win the gift that they wrote about in their entry! The winner will be posted here, on the A Personal Touch blog on December 16th and will be contacted by email soon after so that the prize can be shipped before Christmas.
We can't wait to hear all your creative and touching ideas! Head over to PersonalizationMall.com now to start searching for the gift you want to write about!
Good luck!