Posts tagged
inside joke
0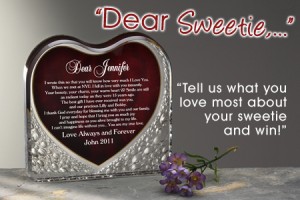 Wow, there's a whole lot of love out there! We'd like to thank everyone for sharing their beautiful love letters with us!
The A Personal Touch staff went through tissue after tissue reading all of the romantic and loving words you wrote about your sweeties!
Even though there can only be one winner, we hope that you share the letters you sent us to the person you wrote them for. We promise, it will make their Sweetest Day all the more sweeter!
We're excited to announce that John Dallal is PersonalizationMall.com's "Dear Sweetie, …" contest winner with this love letter/poem he wrote for his wife Mary Ann:
Dear Mary Ann, my Darling Wife,
I love the way you listen and ease my cares away,
by your smile and your touch and knowing what to say.
I love your face, I love your voice and most of all my Dear,
what I really truly love is having you right here, as you've been for forty years.
Here, right here with me …
and I hope our love will reign for us eternally.
Forever with love,
John
Congratulations to John for winning the Your Love Letter© Personalized Sculpture which will be engraved with this beautiful poem so he can give his lucky wife Mary Ann the sweetest Sweetest Day present we've ever seen!
Thank you again for everyone who participated. Happy Sweetest Day!
0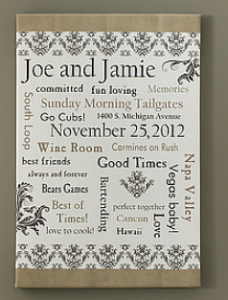 We would like to thank everyone who submitted a special story for our Anniversary Contest. There was an amount of e-mails that came in and we truly enjoyed reading each and every one of your touching, funny, and loving stories.
They were so amazing in fact that we had a hard time picking our favorite!
However, after much deliberation we finally were able to narrow it down and find our Anniversary Contest winner.
The winner of PersonalizationMall.com's 13th Anniversary Contest is … Heidi Wisdom with her story about her "Honey Pots."
Here is Heidi's first-place story:
"The story behind Honey Pots lies in the Norah Jones song "Come away with me." My husband and I when we started dating use to always dance in the living room to this song and it would make me cry every time. We decided that if we ever got married we would dance to this as our "first dance." Over our three year courtship, every time I heard the song I thought she was saying "come away with me Honey Pots" when in fact it was "on a bus." His name will always be Honey Pots and we will always laugh when the line in the song comes up … Ain't love grand.!!!"
Heidi and her "Honey Pots" have won their very own Our Life Together© Personalized Canvas Art! "Honey Pots" will just be one of 13 lines of personalization they will be able to incorporate into their new beautiful wall art!
Congratulations to Heidi and thank you again to all of our A Personal Touch readers who shared their beautiful stories with us! We wish you many more years of happiness with your significant other!
Happy Gifting!