Posts tagged
make your own turkey
0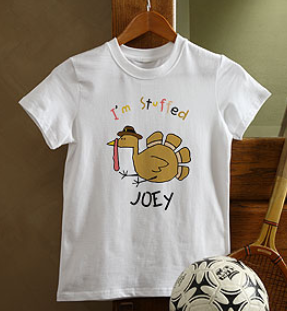 Thanksgiving is only a few days away … do you have your holiday to-do list prepared? With all the grocery shopping and cooking that comes with making a beautiful Thanksgiving dinner for your family, it can be hard to focus on anything else that day. That's why we here at PersonalizationMall.com's gifting blog, A Personal Touch, have prepared a couple easy Turkey Day tips for you to use in order to make this Thanksgiving even more special than years past!
Thanksgiving day is a great day for family photos, especially because people tend to include pictures taken that day in their family Christmas cards. It's important to have the little ones looking their best, but it can be hard to put them in a pricey outfit knowing that it soon will be covered in gravy, cranberry sauce and stuffing! That's why it's a great idea to personalize our adorable I'm Stuffed© Youth T-Shirt for your son or daughter! You can have their first name personalized under our boy or girl turkey design on an infant t-shirt, infant romper, infant bib or toddler hooded sweatshirt, too! They'll not only look festive and cute in their turkey t-shirt, they'll be thankful they're dressed in comfortable attire while they are running around playing with their siblings and cousins!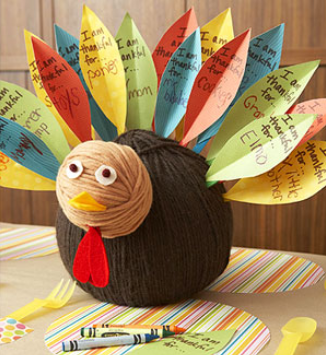 With all the hustle and bustle of the holiday season it's important to make sure everyone remembers what Thanksgiving is all about.
We came across a great idea from Parents.com that offered the idea for this Turkey centerpiece project that can help remind children of the real meaning of Thanksgiving. It's a simple project that you can do with your kids that also can be used as a beautiful centerpiece for your table.
You start by making the body of the turkey with a Styrofoam ball that you can paint brown or cover in brown yarn. Next you attach a smaller Styrofoam ball that you have already painted or covered in yarn and it will be the turkey's head. Don't forget to add the eyes, beak and red gobble neck! Then use different color construction paper to cut out feathers for the turkey. Tape toothpicks to the back of the feathers and leave one blank feather at each place setting on the table with a crayon or marker. Once your guests arrive, or when you're sitting down for dinner, ask each guest to write down something that they are thankful for on their feather. Before eating, every one can go around one by one and say what they wrote down on their feather. Once they have announced what they are thankful for, they can stick it into the main turkey body so that by the time everyone has had their turn, you'll have a beautiful and full-feathered turkey centerpiece! It's a great idea, isn't it?
We hope these tips have helped you plan for a special Thanksgiving Day with your family. Do you have any tips or Turkey Day projects you can share with the A Personal Touch readers? If so, please comment below … we'd love to hear them!
Happy Thanksgiving!
0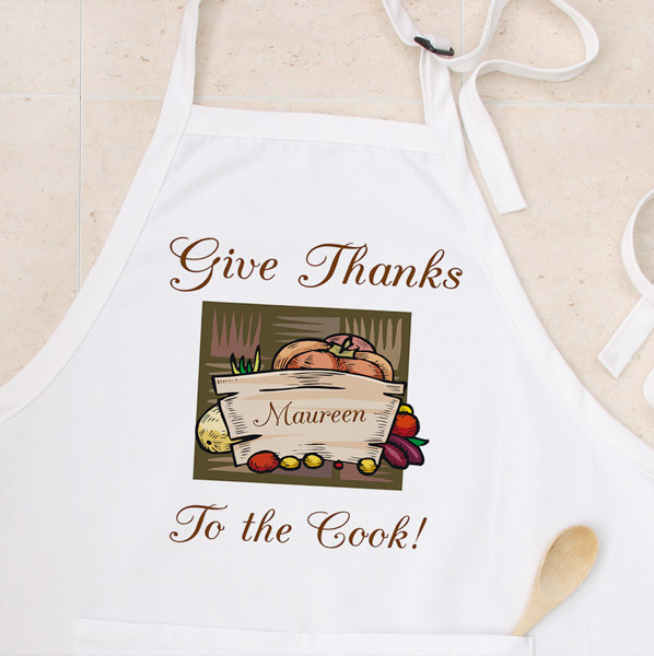 November is here, which means Thanksgiving is only a few weeks away! Whether you're hosting the big feast at your house or bringing a dish to someone else's home, we have some great tips for you to add A Personal Touch to your Turkey Day!
There's one thing you can always count on happening Thanksgiving Day – a mess! With all the chopping, cooking, baking, etc., the kitchen is guaranteed to suffer a spill or two.
That's why the Give Thanks To The Cook© Personalized Apron, which you can find at PersonalizationMall.com, is a must have for any cook this Thanksgiving! Since the bird has to spend so much time in the oven, the cook is usually stuck wearing an apron while their guests arrive. When you personalize the Give Thanks To The Cook Apron you not only get to personalize your name on the apron, you can display an elegant design in the kitchen while you cook and host at the same time, too! It will protect the nice clothes you have on underneath while still featuring a festive Thanksgiving design!
If you don't plan on doing too much cooking this year and were only assigned a side item, the Give Thanks To The Cook is the perfect hostess gift to give to the chef who has taken on the turkey challenge! They'll be truly touched and will know that you really are thankful for their hard work.
Also, if you're responsible for a side dish and aren't sure what to bring, we have an adorable suggestion for you. Make sure you ask to bring a dessert so you can make your own Turkey Treats like the ones we saw on OurBestBites.com! Click on the previous link and you'll be able to read the full recipe for how to make these beautiful birds!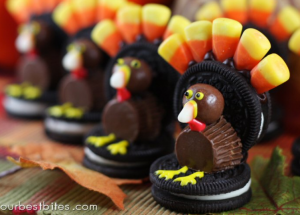 All you need is candy corn, double stuff Oreo cookies, whoppers, peanut butter cups, and chocolate and yellow frosting! This may take some time so if you're running late you can just get the base of the turkey started and bring the supplies to the house where you'll be having dinner. You can make it a fun project that kids of all ages (5-105 years old!) will love to help with! Sticking with the spirit of Thanksgiving, ask your little (or big!) helpers to say one thing they are thankful for each time they add a feather (candy corn) to their turkey.
The little turkeys could double as adorable place holders and will taste so good, every guest will gobble them right up!
We hope this helps get your creative juices flowing because we'd love to hear any ideas you may have for some fun Thanksgiving treats! Leave a comment here with a suggestion so we can all share and make sure you keep checking back here on the A Personal Touch blog all month long for more tips and tricks to making your Turkey Day fantastic!
Happy Gifting!