Posts tagged
old-fashioned popcorn bowl
0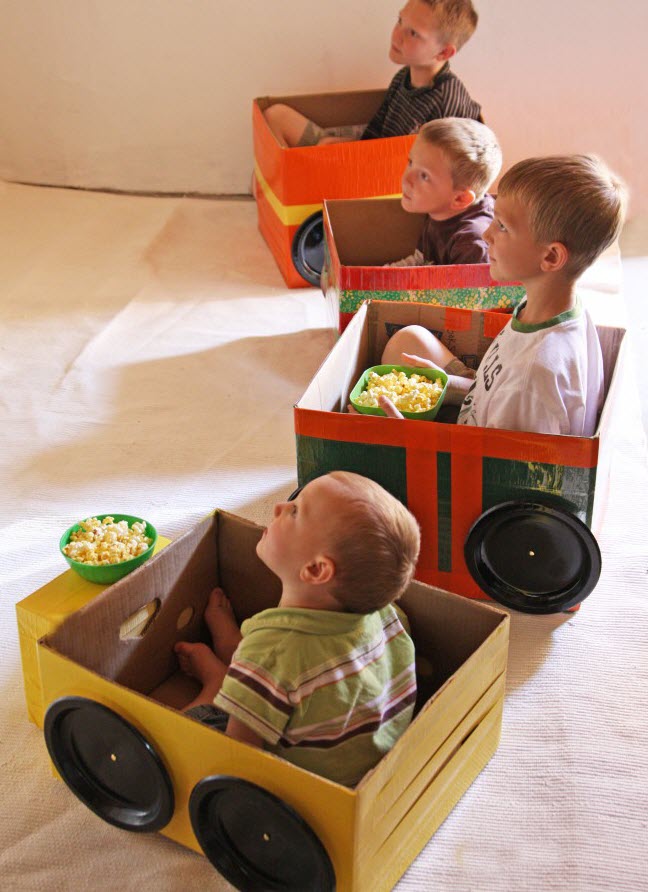 Now that August is here, the summer heat is starting to take its toll and your kids may be looking for ways to take a break from the sun.
Luckily we just saw this photo (at left) on Pinterest and have great way for you and your family to beat the heat – by having your own "Drive-In Movie" inside your home!
The "Not Just a Housewife" blog came up with the awesome idea to turn cardboard boxes into cars and place them in front of the TV so the kids feel like they're actually at a drive-in movie theater! It's a great way to get the kids' "creative juices" flowing all while escaping the summer sun and spending quality family time together!
As you can see from the blog post (click the "Not Just a Housewife" link above to be directed to the full blog post), all you have to do is take a cardboard box and have the kids decorate it to look like any type of car they'd like! The blog post suggests covering the boxes with colored or patterned duct tape so that the cardboard becomes more durable and lasts for more than one movie, but if you don't have any colored duct tape on hand, feel free to just let the kids use crayons or markers to decorate the boxes with their own artwork. Don't forget to attach paper plates for the car's wheels for an extra cool effect!
Once everyone has created their own cars, place them in a straight line on the ground in front of the TV and decide what movie everyone would like to watch.
Now that you have the movie picked out there's only one thing left to do – gather up some movie snacks!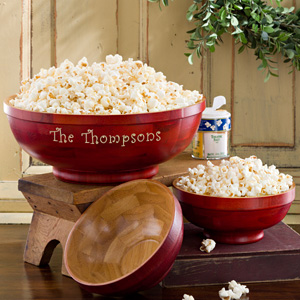 Movie snacks wouldn't be complete without popcorn, and with the Old-Fashioned Red Popcorn Bowl Set everyone can have their own bowl to hold onto in each of their "cars." You can personalize the large bowl with your family name or any message you'd like for just $39.95 and the small bowls can be purchased individually for only $9.95 each. We love the old-fashioned look to the bowl and our Old Fashioned Four Seasoning Popcorn Party Set that you can also purchase for just $12.95. The personalized bowls are high quality so you can feel free to use them for more than popcorn on family movie nights. They can be used for all of your dining and entertaining needs, including using them as salad bowls when you're hosting a dinner party or to serve other types of snacks when you have company.
If your kids are a little older, you can also create a learning experience for them by creating a little concession stand in your kitchen.
Have them work on their handwriting and spelling by creating a poster board that shows a menu with the different types of snacks and the cost of each item. Use the My Private Stash Personalized Cash Box as the cash register and have your kids take turns being the concession stand worker.
Whoever plays the concession stand worker takes their siblings' popcorn, candy and drink orders and using play money, will use the math skills they learned during the school year to figure out how much change they need to give back to each of their customers! You can choose a pink or blue cash box and have it personalized with any 2 lines across the top and your kids can use it for all sorts of future make-believe games or to hold their allowance. The cash boxes usually cost $24.95 but if you act fast, you can personalize them now while they're on sale for just $18.70!
Once everyone has their snacks and the concession stand is "closed," have everyone climb into their cars and tuck each of them in with a Personalized Sweatshirt Blanket so they can be comfy and cozy in their little "cars." Since they're in individual cars they probably won't be able to share a blanket, but with our wide selection of Personalized Blankets you'll have no problem finding the perfect design for boys and girls of all ages, no matter what their favorite hobbies or interests are. The kids will stay warm and comfortable in their cardboard boxes and the blankets can help prevent any sticky candy from falling onto your carpet (after all it's a lot easier to throw a blanket in the wash, than it is to try and get a sugary stain out of your family room carpet)! The blankets will be great for the drive-in movie night, but your kids will also be able to use them for years to come, especially when they go on sleepovers, road trips or just when they're sitting on the couch watching TV or doing their homework.
When everyone is ready, dim the lights and start the movie!
The homemade drive-in movie theater is a win-win for everyone. The kids are happy that they get to cool off and watch a movie and the parents are happy that the kids are using their creativity, math skills (without even realizing it) and spending quality time together. It's not only a great way to beat the heat, it's also a great way to make an unforgettable memory that your family will cherish forever!
If you have any ideas on ways to beat the heat this summer, feel free to share them in the comments below and make sure to visit PMall.com's Back-to-School Store so you can get an early start to tackling those school supply lists!
0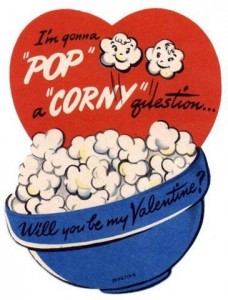 A Personal Touch stumbled upon an adorable vintage Valentine's Day Card in a blog post from FancyHouseRoad.com and we were instantly inspired to share a cute gift idea that, once you add your own personal touch to it, is sure to be one of the most memorable Valentine's Day gifts ever!
And be sure to keep reading because we love the idea so much, we're offering a coupon code exclusively for our readers so they can personalize the gift at a discounted price!
Since Thursday, January 19th, 2012 is National Popcorn Day, we knew that today would be a great time to share the cute vintage card (pictured at left) that we came across and the gift ideas we have to go along with it!
The card features a nostalgic drawing of a bowl filled with popcorn and a cute red heart that displays the clever message: "I'm gonna 'POP' a 'CORNY' question … Will you be my Valentine?"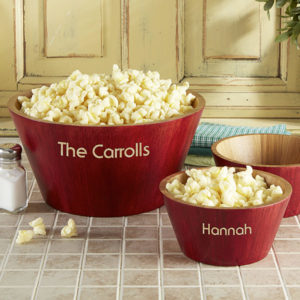 As soon as we saw this irresistible pun we thought of PersonalizationMall.com's beautiful and customer-favorite Personalized Bamboo Red Popcorn Bowls, which fit the theme perfectly!
These unique bowls are crafted from bamboo come in large and small sizes and can be personalized with any individual or family name or even a short message if you'd like!
And what would a popcorn bowl be without the popcorn!?
Check out our Old Fashioned Four Seasoning Popcorn Party Set - it's the perfect gift to include with the personalized popcorn bowls!
Once you've personalized the Large Popcorn bowl, place the bag of popping corn inside with your own home-made version of the vintage card (home-made is always more special because they'll know you spent the time thinking of them!). Then for an extra personal touch, include either your Valentine's favorite movie or a movie they've been eager to see. Adding the movie will show how well you know or "get" them or if it's a movie they've been wanting to see for awhile, it'll show that you are a good listener and that you truly care for them!
Combine all the goodies; add a bow and you'll all set for a low-key, romantic evening of popcorn and a movie! This Valentine's Day gift is great for men or women and is a gift that keeps on giving because every time your Valentine sits down to enjoy some popcorn from their personalized bowl, they'll think of you and the special Valentine's Day you shared together.
We hope our gift idea helped get the ball rolling for your holiday plans because Valentine's Day will be here before we know it. Be sure to use the above coupon code before it expires Friday, January 27th and check back here at our blog where we'll be posting more Valentine's Day gift ideas for the whole family!
Happy Gifting!