Posts tagged
pen pals
0
Summer is officially here and before you know it, it'll be time to drop the kids off at summer camp! Whether it's a daily program for younger children or an overnight camp for kids who are a little older, PMall.com has some great Personalized Camp Gifts that will help you prepare them for their summer fun!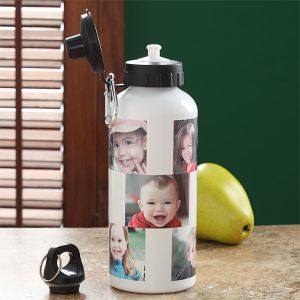 The first day of camp can be nerve-racking for kids of all ages. Younger kids may be shy and nervous about leaving Mom while older kids attending an overnight camp may have anxiety about sleeping somewhere other than home. In order to ease their fears, personalize the Photo Collage Water Bottle with 5 photos of your family for only $20.95 and let your child know that whenever they feel homesick all they have to do is look at their water bottle and remember that Mom and Dad are thinking of them!
With an attached carabiner that they can snap onto their backpacks, a pop-off lid with a cover that keeps the drinking spout clean, and a screw-off lid that can be used to add ice on the hot days, you won't have to worry about them losing their water bottle or getting dehydrated!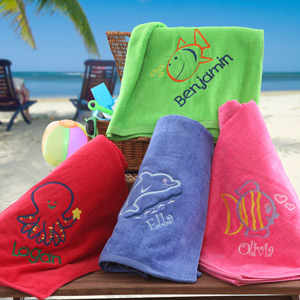 Another great item that will come in handy at camp is one of PMall.com's Personalized Beach Towels! You can personalize a towel with just your child's name or you can pick one of our fun colorful designs!
The Go Fish!© Embroidered Beach Towels will be a hit with younger kids because they come in 4 different colors and can be personalized with their name in "curly" or "kids" lettering plus they can pick out their favorite "fishy" graphic (options include a girl fish, boy fish, dolphin and octopus) for just $32.95!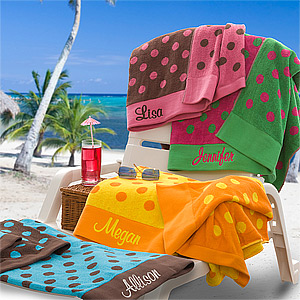 Older kids may prefer our Embroidered Polka Dot Beach Towels which are reversible and feature a convenient loop sewn on the edge for easy hanging. The cute polka dot design comes in 4 different color combinations and can be personalized with their name.
These beautiful towels usually sell for $44.95 however, as of right now they're on sale for only $33.70!
With all the swimming they'll be doing at camp, they'll be thankful their towel is personalized so it's easy to find when it's time to get out of the pool!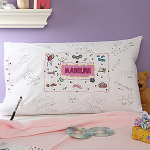 Another great item you'll want to add to your sleep-away camp checklist is the My Slumber Party© Signature Pillowcase! Even if your daughter was homesick and didn't like camp at first, by the end of the program she is sure to be asking you if she can stay longer because she won't want to part with her new best friends – and that's where the cute pillowcase comes in handy! For just $18.95, the adorable "Slumber Party" design can be personalized with her name and comes with a permanent marker so all her camp friends can sign it and write her little notes like a yearbook! Throughout camp she can write down her favorite activities and have her friends write down their phone numbers and email addresses so when she's home from camp and misses them, she can always look at her pillowcase and remember all the fun times she had!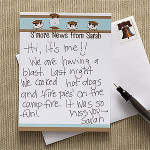 Speaking of keeping in touch, don't forget to personalize our adorable Custom Camp Note Cards! They come in 4 different designs, like the cute S'more News© theme, and they are the perfect stationary for your kids to use when they write home to tell you what they're doing and how much fun their having (after all, Moms can get homesick for their kids, too!). They can also become pen pals and use the stationary to write letters and keep in touch with their new camp friends throughout the school year!
Even moms can use the note cards – if your kids are going to a daily camp, you can write a little note on the personalized camp cards and sneak them into your children's lunches for a cute way to let them know that you're thinking of them!
These camp checklist items are sure to not only help your child make a smooth transition into their new camp, but they will help improve their camp experiences, too!
Check out all our great Personalized Camp Gifts and let us know if you have any items that you'd like to add to our Camp Checklist. We'd love to hear your ideas about ways to help make a child's time at camp more fun and enjoyable in the comment section below!
1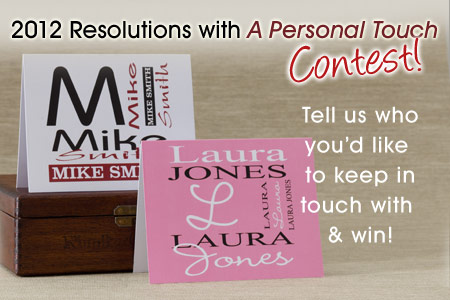 Did you know that one of the most popular New Year's resolutions that people select is to spend more time with family and friends?
We love the idea of making time to better keep in touch with loved ones but know that it's not always easy when you have a busy schedule and family or friends who live far away.
While email and text messages have helped to keep long distance friends or family members in touch with each other, we think they lack somewhat of A Personal Touch. Which is why we'd like to challenge our readers too add a personal touch to their resolution and to make time to stay in touch with family and friends by using hand-written letters!
We love the warm and fuzzy feeling you get from receiving a hand-written note, knowing that your loved one was thinking of you. The act of hand-writing a letter is becoming rare and we'd like to do something about that, so PersonalizationMall.com would like to challenge you with the "2012 Resolutions with A Personal Touch Contest!"
All you need to do is send an email with the subject line "Resolutions Contest" to social@pmall.com before midnight Wednesday, January 25th with the following information:
The name and relation of the person you would like to keep in touch with more often in 2012.
A brief sentence or two as to why this person is so important to you and why you'd like to keep better in touch with them.
Your full name and email address that you'd like to be contacted at if you are selected as the winner.
The contest winner, who will be selected by the A Personal Touch staff, will win their very own set of Personally Yours© Personalized Note Cards & Envelopes that will help them get started with their resolution! The staff will be looking for the most touching entry and we will announce the winner in a post Thursday, January 26th so be sure to get your entry in before then!
We can't wait to hear all about your loved ones and how you plan to send them love with A Personal Touch one letter at a time!
Good luck!