Posts tagged
personalization mall contest
1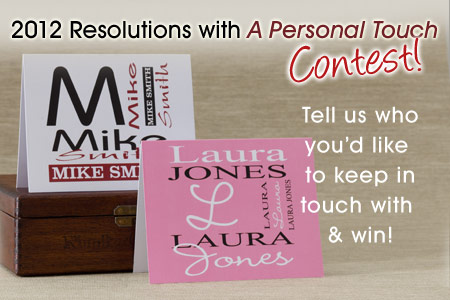 Did you know that one of the most popular New Year's resolutions that people select is to spend more time with family and friends?
We love the idea of making time to better keep in touch with loved ones but know that it's not always easy when you have a busy schedule and family or friends who live far away.
While email and text messages have helped to keep long distance friends or family members in touch with each other, we think they lack somewhat of A Personal Touch. Which is why we'd like to challenge our readers too add a personal touch to their resolution and to make time to stay in touch with family and friends by using hand-written letters!
We love the warm and fuzzy feeling you get from receiving a hand-written note, knowing that your loved one was thinking of you. The act of hand-writing a letter is becoming rare and we'd like to do something about that, so PersonalizationMall.com would like to challenge you with the "2012 Resolutions with A Personal Touch Contest!"
All you need to do is send an email with the subject line "Resolutions Contest" to social@pmall.com before midnight Wednesday, January 25th with the following information:
The name and relation of the person you would like to keep in touch with more often in 2012.
A brief sentence or two as to why this person is so important to you and why you'd like to keep better in touch with them.
Your full name and email address that you'd like to be contacted at if you are selected as the winner.
The contest winner, who will be selected by the A Personal Touch staff, will win their very own set of Personally Yours© Personalized Note Cards & Envelopes that will help them get started with their resolution! The staff will be looking for the most touching entry and we will announce the winner in a post Thursday, January 26th so be sure to get your entry in before then!
We can't wait to hear all about your loved ones and how you plan to send them love with A Personal Touch one letter at a time!
Good luck!
0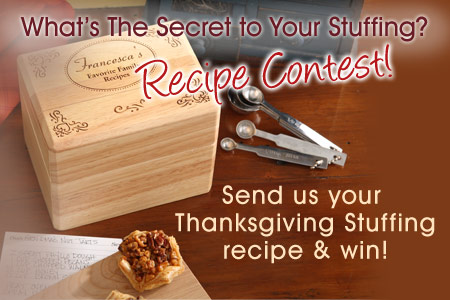 Thank you to everyone who submitted their delicious Thanksgiving Stuffing recipes to PersonalizationMall.com's "What's the Secret to Your Stuffing?" Contest hosted by the A Personal Touch Blog!
After drooling over all the entries, the A Personal Touch staff finally narrowed it down and found our favorite recipe!
The winner of the most original "What's the Secret to Your Stuffing?" contest recipe is Michele Lange with her Sage Sausage Stuffing!
Here is the winning recipe for your enjoyment:
Sage Sausage Stuffing
Ingredients: 
1 lb sage breakfast sausage (Jimmy Dean's)
5 stalks chopped celery
2 medium onions, chopped
2 medium/large red delicious apples, diced
1 package Pepperidge Farm corn bread dressing crumbs
1 package Pepperidge Farm sage and onion dressing crumbs
2 - 32 oz boxes of chicken broth
1 stick of butter
3 eggs (beaten)
Directions: Fry sage sausage. When medium done, add chopped celery, onion, diced apples (do not peel), and butter.  Finish cooking until sausage and cooked through, about 10 more minutes. Add dressing crumbs to sausage mixture and mix thoroughly. Add one box of chicken broth and mix. Add eggs and mix well. Add half to 1 full box until desired wetness. Spray non-stick spray in  9 x 13 pan. Bake at 350 for 40 minutes covered and 10 more minutes uncovered. Serve with your Thanksgiving best! 
This stuffing is fabulous because of the secret ingredient…sage sausage. It is also easy to make which is exactly what you want when you are cooking up a storm on Thanksgiving Day.  
Thank you!
Michele Lange
We'd like to thank Michele and all of the A Personal Touch readers for sharing their secret ingredients with all of us … we can't wait for Thanksgiving to come around again so we can try them all ourselves!
We hope everyone had a lovely Thanksgiving and don't forget to keep checking in at PersonalizationMall.com for all your Holiday shopping needs. There will be great deals and sales on our beautiful and unique selection of personalized gifts throughout the rest of the Christmas shopping season!
Happy Gifting!