Posts tagged
personalizatonmall.com coupon codes
1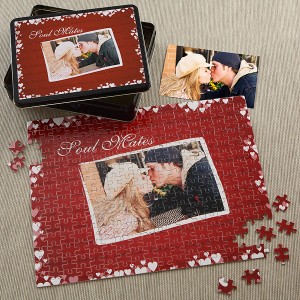 January 29th, 2012 is National Puzzle Day!
Puzzles can be a fun family bonding experience or they can act as a stress reliever for individuals, too! Either way they are a great way to exercise the mind and to have some fun – especially when you can personalize them!
PersonalizationMall.com has a wide selection of personalized puzzles for you to choose from, not to mention a surplus of Valentine's Day puzzles, like our popular Pieces of Love© Photo Puzzle & Tin!
In celebration of National Puzzle Day, the A Personal Touch Blog would like to offer its readers the coupon code: PUZZLE20 which is worth 20% off any puzzle from our store!
Not only can you personlize our puzzles with your own photos, you can personalize them with your own messages, too! They're great for birthdays, holidays and any other reasons you can think of!
With the option to personalize puzzles with your photo and message, you can create a puzzle for any occasion.
So head on over to our store by clicking the link above and make sure to use the code PUZZLE20 at checkout to save. The coupon code is valid until February 1st so make sure you use it in time!
Have a Happy National Puzzle Day and enjoy creating your personalized puzzles!