Posts tagged
personalized apron
0
Our Personalized Mother's Day Gifts Store is full of great new gift ideas for all the wonderful mothers and grandmothers out there!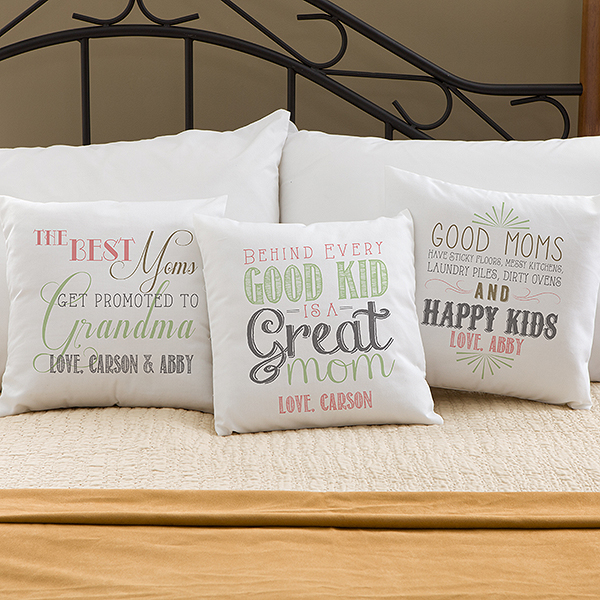 We're so excited to share all of the fun new gifts we've added to the site, including one of the most popular new gifts, the Loving Words To Her Personalized Throw Pillow! This beautiful keepsake pillow comes in your choice of 6 designs that feature cute sayings any mother or grandmother would love to have in their home. Some of the cute sayings include, "The best moms get promoted to Grandma," "Behind every good kid is a great Mom," and "Home is where your Mom is." After you've picked out your favorite design, you can add any 1-line message to the bottom. The pillows are $29.95 each but if you act fast and shop before our Mother's Day Sale ends on April 20th, you can get them for just $20.95 each! Not only do we love these designs, our fans do, too! The personalized "Loving Words To Her" pillows have become one of our most popular Ladies Gifts among our fans! Create one for your Mom or Grandma and she's sure to love it and display it proudly!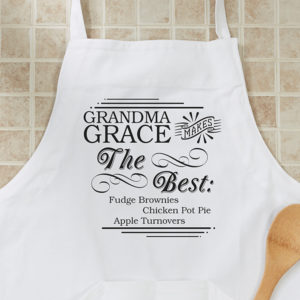 Just about every mother and or grandmother out there has their own famous recipe that the whole family enjoys. Now you can celebrate those special dishes and the woman behind them with our new "She Makes The Best… " Personalized Apron and Potholder! You can personalize the design with any name or title, such as "Grandma Ruth" or "Nana Jackson," so that it says "__________ makes the best:" then you get to add up to 3 of her famous recipes! You can personalize the apron for $26.95 or the pot holder for $15.95 or if you shop before our Mother's Day Sale ends, you can get them while they're just $21.55 and $12.75 – that's 20% savings! Just think of how excited she'll be to see this personalized apron once you've customized it just for her – she'll be truly touched by your thoughtful gift and she'll be so excited to wear it every time she makes one of her famous meals!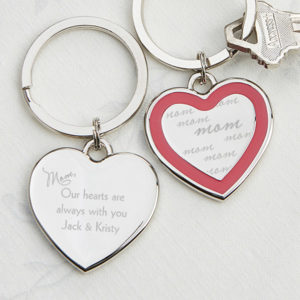 We've added so many New Mother's Day Gifts there's no way we could show them all to you here. You'll have to visit the above link to see them all, but there is one more gift we'd like to share with you before we go: the stunning "Always With You" Personalized Heart Key Ring. The front and back of this beautiful, shimmering, silver-plated key ring can be engraved with any name or title on the front and any loving sentiment on the back. It's usually $21.95, but if you hurry over you can personalize it while it's still on sale for just $15.35 – what a steal! Not only will this beautiful gift and your thoughtful message touch her heart, she'll be thrilled that she can take the special message from her loved ones with her wherever she goes!
We hope you love all of the new gifts we've added to the site and we'd love to hear what you think about them! Leave a message in the comments below or check us out on our Facebook Page to tell us what you think. And don't forget to visit PMall's Personalized Mother's Day Gifts Store to find the perfect gift for Mom and Grandma before Mother's Day on May 11th!
0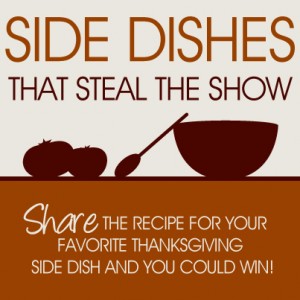 Thanksgiving dinner always revolves around one thing – the turkey.
We always feel bad for the stuffing, cranberry sauce, mashed potatoes, etc. … it's almost as if we can picture the side dishes looking at the beautiful turkey and saying, "Marsha, Marsha, Marsha!"
But not this year!
This year is going to be different because PMall.com is moving the spotlight over with the "Side Dishes That Steal The Show" Recipe Contest!
We're asking you to share your favorite side dish recipe with us for a chance to win a prize!
All you have to do to enter is send an email to social@pmall.com with the subject line "Thanksgiving Recipe Contest" with the following information:
- Your full name and an email address that we can use to reach you if you win the contest
- The name and recipe for your favorite Thanksgiving Side Dish and a few words about why you love it so much.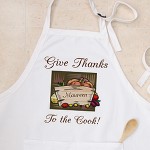 And that's it! Please make sure you send in your emails before the end of Thanksgiving Day on November 22nd, 2012. We will announce the winner here on our blog on Friday, November 23rd.
What are you playing for you ask?
Well the winner, who will be chosen by the A Personal Touch staff, will win their very own Give Thanks To The Cook Personalized Apron and matching Potholder!
That way you can cook in style the next time you're preparing your favorite side dish!
We can't wait to see all the recipes start rolling in!
Good luck!
0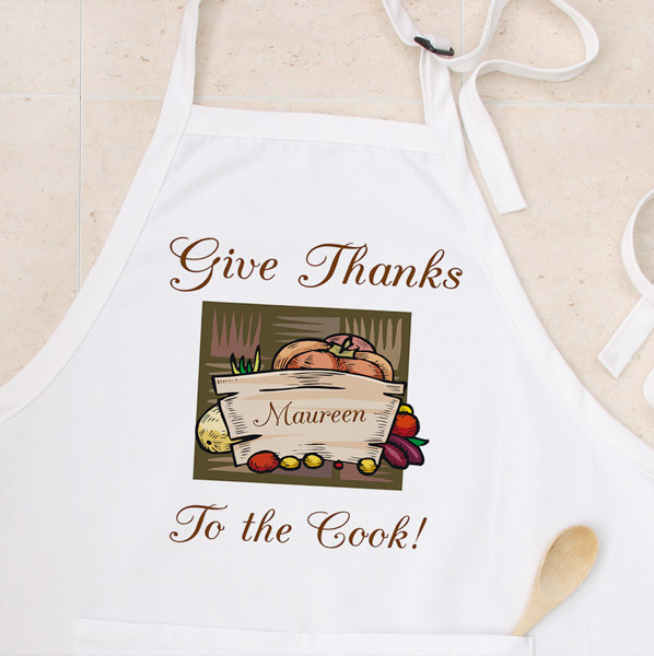 November is here, which means Thanksgiving is only a few weeks away! Whether you're hosting the big feast at your house or bringing a dish to someone else's home, we have some great tips for you to add A Personal Touch to your Turkey Day!
There's one thing you can always count on happening Thanksgiving Day – a mess! With all the chopping, cooking, baking, etc., the kitchen is guaranteed to suffer a spill or two.
That's why the Give Thanks To The Cook© Personalized Apron, which you can find at PersonalizationMall.com, is a must have for any cook this Thanksgiving! Since the bird has to spend so much time in the oven, the cook is usually stuck wearing an apron while their guests arrive. When you personalize the Give Thanks To The Cook Apron you not only get to personalize your name on the apron, you can display an elegant design in the kitchen while you cook and host at the same time, too! It will protect the nice clothes you have on underneath while still featuring a festive Thanksgiving design!
If you don't plan on doing too much cooking this year and were only assigned a side item, the Give Thanks To The Cook is the perfect hostess gift to give to the chef who has taken on the turkey challenge! They'll be truly touched and will know that you really are thankful for their hard work.
Also, if you're responsible for a side dish and aren't sure what to bring, we have an adorable suggestion for you. Make sure you ask to bring a dessert so you can make your own Turkey Treats like the ones we saw on OurBestBites.com! Click on the previous link and you'll be able to read the full recipe for how to make these beautiful birds!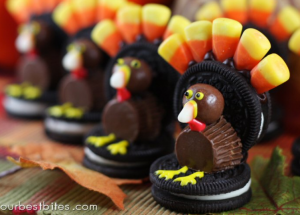 All you need is candy corn, double stuff Oreo cookies, whoppers, peanut butter cups, and chocolate and yellow frosting! This may take some time so if you're running late you can just get the base of the turkey started and bring the supplies to the house where you'll be having dinner. You can make it a fun project that kids of all ages (5-105 years old!) will love to help with! Sticking with the spirit of Thanksgiving, ask your little (or big!) helpers to say one thing they are thankful for each time they add a feather (candy corn) to their turkey.
The little turkeys could double as adorable place holders and will taste so good, every guest will gobble them right up!
We hope this helps get your creative juices flowing because we'd love to hear any ideas you may have for some fun Thanksgiving treats! Leave a comment here with a suggestion so we can all share and make sure you keep checking back here on the A Personal Touch blog all month long for more tips and tricks to making your Turkey Day fantastic!
Happy Gifting!