Posts tagged
personalized back to school gifts
0
We couldn't stop laughing when we saw this hilarious back-to-school photo on Pinterest (at left)!
We love the idea of taking a "happy mom and dad" back-to-school photo – after all, it's a big day for parents, too! If you like this photo, you should visit our Back to School Pinterest Board where you'll find a couple of other cute parent photos, as well.
We hope this will inspire you to have some fun with your back-to-school photos this year because once you have the perfect photo of your kids in their first day of school outfits, you'll need somewhere special to display them … and we have just the thing!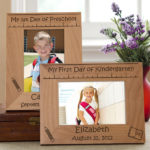 The 1st Day of School Personalized Picture Frame (at right) can be engraved with any line of text nestled in among the ruler design, while any two lines go below your child's photo to commemorate the date, school name, grade, or whatever you choose!
This adorable wood frame is available to be personalized in vertical or horizontal format for just $24.95 (shop before Monday, August 19th and you can purchase the frame for only $18.70 while it's still on sale!).
If you'd like to showcase your cute new back-to-school photo in a more colorful way, the "My First Day Of School" Personalized Full Color Frame (at left) is another great option! Even though the example says "my first day of kindergarten" that's not all this frame can say!
You can personalize the colorful bus design with any line across the top, along with your child's school name and the year which will be cleverly featured within the bus design. Finally, add your little one's name to the bottom and you will have captured an adorable moment in time! This back-to-school frame can be personalized for $28.95 (or shop before Monday, Aug. 19th and personalize it for only $21.70 while it's still on sale!).
For those of you who are looking for a frame for older children, head over and check out all of our Personalized Photo Frames where you're sure to find the type of design that you're looking for.
Before you send your kids off to school, be sure you also check out our Back to School Supplies – you'll find personalized back-to-school gear for kids of all ages, including backpacks, lunch bags, pencils, folders, notebooks, pencil cases and so much more!