Posts tagged
personalized candy bar wrappers
0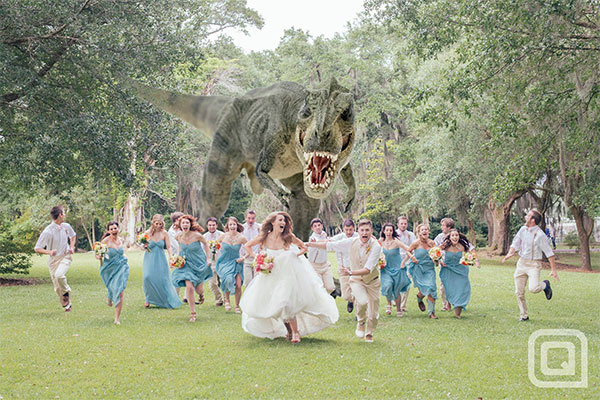 If you're planning a wedding, you know how stressful it can be to put the celebration together. There are a million things to do and it's easy for things to slip through the cracks. Well we're here to help you in two ways today! First, check out this photo-shopped wedding photo we came across on Pinterest at left. Hilarious, right? Hopefully that made you smile and laugh and you were able to forget about wedding plans – even if it was only for a second

.
Now that we've helped you de-stress a little bit, we're here to help you with one of the items on the wedding planning to-do list that is often over looked – the wedding favors!
If you visit our Wedding & Anniversary Gifts Store you'll see we have an entire Wedding Favors Department that is full of great favor ideas.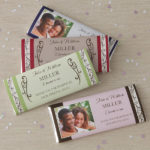 Our collection of Personalized Candy Bar Wrappers are one of our most popular Wedding Favors, especially the Filigree Wrapper design, which comes in different colors and can be personalized with or without a photo of the bride and groom. You can leave one at every seat or decorate a display table that features a sign saying "Love is sweet, please enjoy a treat!" and have your guests take one as they leave the reception! We love the idea of tying in the "Love is sweet" theme – it's cute and perfect for all wedding celebrations! The personalized candy bar wrappers will not only add a personal touch to your wedding, your guests will LOVE the treat, especially because they're sure to be pretty hungry after a night full of fun and dancing at your wedding! If you're a big fan of the candy idea but don't want to limit yourself to just chocolate bars, create a sweet table and personalize the Elegant Monogram Custom Favor Boxes that your guests can fill up with an assortment of goodies!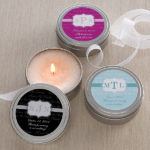 If you're looking for a favor that isn't edible but is a gift that everyone can use, you may be interested in our Personalized Candle Tin Favors - especially the Wedding Monogram design which has become a favorite among PMall fans. They're the perfect size for people to use when they're traveling or at home and they'll be able to think of you and how much fun they had at the wedding every time they use it! Plus, since you can pick out a design to match your wedding colors, you'll be adding a personal touch to the centerpieces or tables at your reception that could otherwise seem stale.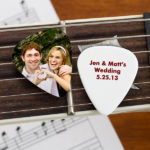 Brides and grooms who are looking for a wedding favor that will really leave an impression on their guests will LOVE some of our unique wedding favor gifts. Whether you or your future spouse are musicians or just love listening to music, our Personalized Guitar Picks are always a big hit! You can pick a design that lets you upload your favorite photo and a personalized message, or pick a simple design that will feature your own special words on either side! They come in all sorts of colors and fonts so you can customize the guitar picks exactly to your liking. Have your wedding band toss them out to the crowd while they're preforming or leave them spread out as confetti to decorate the tables at your reception. It won't matter how you display them – all of your family and friends will love the unique touch and will be talking about them for years to come!
As you can see, our Wedding Favor Department is full of great ideas that you can put your own spin on … we have everything from personalized mini frames to photo playing cards and golf balls! And the good news is if you head over to PMall now and place your order before June 30th, you'll save big thanks to our Wedding Gifts Sale! So make your way over to our Personalized Wedding Gifts Store now so you can save big, stay within your budget AND check another thing off your wedding planning to-do list!
0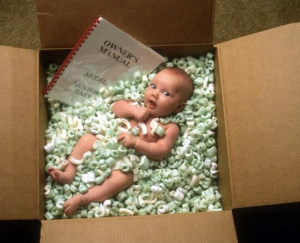 Now that the new baby is here it's time to share an adorable photo of him or her with all your family and friends! When it comes time to picking out a photo to use, it may be hard since you think every photo of your new little one is perfect

! We suggest adding a personal touch to your photos, like the hilarious photo we saw on Pinterest (at left), that features a baby in a box of packing peanuts with a book titled "Owner's Manual, Model: Newborn Baby." Or you can always go the adorably cute route and sneak a photo of your precious little one taking a nap like a lot of the other photos we've pinned.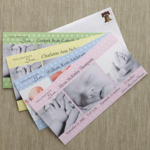 Have fun with your new baby photos and once you've picked our your favorite image, head over to PMall.com's Baby Gifts Store and check out the Birth Announcements Department where you'll find a bunch of cute designs that you can personalize with all of your own information. The Polka Dot Love Photo Baby Announcement is one of our most popular designs and can be personalized in blue, green pink or yellow. This design (at left) features any 3 baby photos and the option to add all of your little one's birth information including his or her's name, birth date, birth time, height and weight! The pastel colors and cute polka dot theme for these announcements are beautiful and serve as the perfect background to your new baby's photos.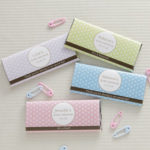 The Polka Dot Baby Announcement design is also wonderful because it matches the Pretty Polka Dot Personalized Candy Bar Wrappers! This and other candy bar wrappers can be found in the Baby Favors & Party Accessories Department. Instead of passing out those old pink or blue gum cigars, add a personal touch to sharing the good news with all of your family and friends by personalizing these candy bar wrappers with all the birth details. If you have other children, the candy bar wrappers are a great way to help your kids celebrate their new sibling. They'll be so excited to bring them into their class and school and hand them out to all of their teachers and friends!
So start working on your birth announcement photos and then head over to PMall.com's Baby Gifts Store where you'll find everything you need to celebrate your new little boy or girl!
0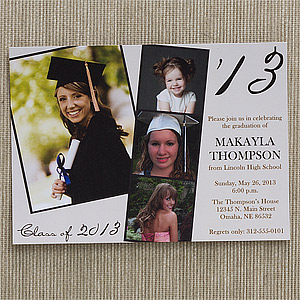 Tip No. 1. First thing's first. If you're throwing a graduation party you need to send out invitations! PMall.com's Personalized Graduation Gifts Store has an entire Graduation Invitations & Party Accessories Department that's full of great designs that come in every color you can imagine. The Refined Graduate Personalized Graduation Invitations are one of our favorite designs because you not only get to share the graduate's senior photo, you also can personalize it with 3 additional photos of your choosing. This gives you the opportunity to use 3 photos of the graduate growing up giving all the guests a cute visual story of their journey to graduation! You can even personalize matching Refined Graduate Thank You Cards so your graduate can thank all of his or her family and friends for their lovely gifts!
Tip No. 2. On the day of the celebration you'll want to make sure people know where the party is located, which is why you'll want to personalize the School Spirit Photo Garden Flag and place it proudly on your front lawn! Our all-weather, double-sided flag will be custom personalized with their school name, class rank, year, and any sports or titles with special meanings plus you get to choose 2 colors from 8 different color options, upload any photo and add any 2-line message to appear above the photo for a personalized touch. As an added bonus, this garden flag is removable and can be interchanged with any of our other Personalized Garden Flag Designs. That way you can continue to swap out different garden flags for different holidays, celebrations and upcoming seasons.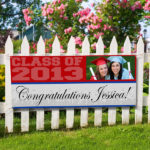 Tip No. 3. You'll find lots of decorations and party favors in our Graduation Party Accessories Department, but our most popular gift is the Class Of Personalized Photo Banner. The banner is a great way to decorate any inside or outside space for the party and it also doubles as a great guest book! Leave out a couple of Sharpie markers and have the graduate's family and friends sign their names, write a message, or share an inspirational quote on the banner. Your graduate will love having a keepsake with notes from all their loved ones. It will be something they can look back on years from now and treasure forever.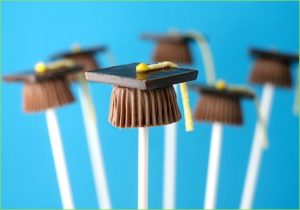 Tip No. 4. It isn't a real party unless there's dessert! We came across these Graduation Dessert Pops (at right) on Pinterest and thought they were a great idea right away! Not only do they save you time from passing out and cleaning up a bunch of cake plates, napkins and forks, they're easier for everyone to eat, too! With high school graduation parties especially, there are bound to be friends and family who will have to attend more than one graduation party the same day as yours. Instead of missing out on cake because they have to leave early for another graduation party, your guests will love being able to take a cake pop with them whenever they need to leave because they can enjoy it on their way to the next party! Plus everyone will love them because they're just so darn cute! If you like the idea of a portable dessert, you should also check out our Way To Go Grad Personalized Candy Bar Wrappers or our You Picture It Personalized Photo Cupcake Wrappers.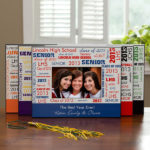 Tip No. 5. Last but not least, you need a gift for the grad! The School Spirit Personalized Photo Frame is our No. 1 best-selling graduation gift and it's easy to see why. Our exclusive School Spirit design features an artistic splash of any 2 school colors and can be personalized with their school name, class rank, year, and any sports, inside jokes or titles with special meanings! So it's not only a great gift idea for the grad, it's also the perfect graduation gift high school seniors can give to their friends who are also graduating. They can personalize it with words the stand for their inside jokes or incredible moments they shared together for the past 4 years.
And there you have it – 5 quick and easy tips for throwing a graduation party! Make sure you check out our Personalized Graduation Gifts Store for all of the above gifts and more. We have great gift ideas for graduates of all ages!
We hope you enjoy your graduation celebrations – give extend a congratulations to the grad on our behalf!