Posts tagged
personalized christmas gifts
0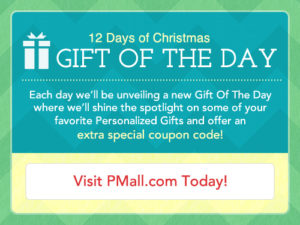 PersonalizationMall.com is excited to announce that our Gift Of The Day offers have officially begun!
Our new Gift Of The Day Page is here to help you find the perfect personalized gift for everyone on your list while saving you money at the same time!
Each day from December 1st through 12th, we'll be unveiling a new Gift of the Day, where we'll shine the spotlight on some of your favorite Personalized Gifts and offer an extra special coupon code!
The Gift of the Day coupon codes are extra special because unlike our usual coupons, these can be used ON TOP of the sales price for some of our most popular gifts! But you'll have to hurry because these coupon codes are so valuable, they will only be available for 24 hours!
Check back daily for a new coupon code, fan photos, unique personalization tips, fan reviews, other gift suggestions and more!
If you can't wait to find out what the upcoming Gift of the Day will be, check out the calendar's hidden images for clues on the bottom of the page!
We hope you enjoy the savings! Happy Shopping!
0
Congratulations to A Personal Touch reader Michelle Shorter who is the winner of PersonalizationMall.com's "A Personalized Christmas" Gift Contest!
Here is the entry Michelle submitted to the contest:
"The Personalization Mall gift that would be the best for my sister-in-law, Denise Shorter, would be the Winter Wonderland tree skirt (product # 6313). I have one of my own and it's already become a favorite part of the holiday decorating for my family. It's a beautiful and classic design and is high quality and I look forward to using it every year and eventually pass it down to my children. My sister-in-law has 5 children…yes 5! Including 2 year-old twin boys. She works very hard to be a great mother to my niece and nephews. A simple item like this would be loved in her home and it would be an item that would be passed down to my nephews to become part of their holiday decorating and will remind them of the wonderful childhood Christmas memories that my sister-in-law helped create for them when they were young. Personalized items such as this are the type of product that become so treasured in families as it is passed down. The quality of the product as well as the timeless design leave me little doubt that this would become a treasured holiday item for future generations in our family.
Thank you,
Michelle Shorter"
We love the idea of starting family traditions and passing down special keepsakes from generation to generation! Michelle has won the Winter Wonderland Personalized Tree Skirt, which you can see in the background of our contest photo, to give to her sister-in-law Denise!
We would like to thank Michelle and all our readers who submitted entries into the contest … we loved each and every entry and were so touched by your kind words for your loved ones! We hope you all have a Happy Holidays!
0
Whether it's a cookie exchange, "Ugly Christmas Sweater Party," or a nice family get-together – holiday parties are underway!
One of the most important rules of party etiquette is to never arrive at a party empty handed. And instead of bringing a boring bottle of wine like everyone else, we thought we'd offer some personalized hostess gift ideas to help you impress your hosts and to show him and/or her that you truly appreciate being welcomed into their home!
PersonalizationMall.com has an enormous selection of beautiful Home and Entertaining Gifts that make wonderful hostess gifts, but we here at PMall's A Personal Touch blog thought we'd point out a few favorites in different price ranges to help you with your Christmas shopping (and budget)!
If you were lucky enough to have been invited to several Christmas parties this holiday season, the Holiday Cheer© Personalized Wine Tags are the perfect gift for you to personalize! They come in a set of 24 and since they are priced at only $9.95, you'll be able to afford personalizing a set for each of your hostesses without going broke! Instead of asking guests to remember which wine charm was assigned to them when they first walked in (which can be hard to do after 2 glasses of eggnog), your hostess will be able to hand out the wine tags you personalized which have a space for guests to write their own name!
With the guests' names written on the tags, they not only prevent people from misplacing their drinks, they also work as a subtle name tag and ice breaker for the guests who may not know each other! Your hostess will be so touched that you went out of your way to personalize a special gift just for them, and because you helped make their job a little easier! If you're interested in this unique hostess gift, make sure you check out the rest of our Holiday Wine Tags, too!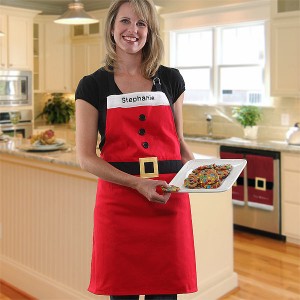 If you're looking for a hostess gift that's in the $20-$30 range, the personalized Santa Apron is another great option!
Your hostess will love the festive Santa apron because she'll be able to protect her fabulous party wear while still looking cute! We will embroider any name you choose on the apron's plush white trim for just $29.95! The apron is made of 100% cotton (Machine wash and dry – yay!), and is accented with real buttons and appliqued belt!
She'll think of you every Christmas when she gets to pull it out to host her annual party, or for when she makes her Christmas cookies!
Some of you may be having a problem just looking for a gift that your hostess doesn't already have. Well don't worry … you're in luck!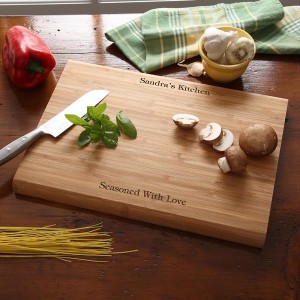 One of our most popular and unique gifts is our You Name It© Bamboo Cutting Board which retails for only $31.95! If she's one of those women who have all the professional and latest kitchen gadgets she'll love this personalized cutting board! It is a professional-quality board that's handcrafted of pressed bamboo with a natural hand rubbed olive oil finish. Since bamboo absorbs very little moisture, does not shrink or swell and is actually harder than most hard woods, it makes the best cutting board material!
We artfully laser-engrave the top and bottom of the board with any 2-line personalization you choose for a signature touch! You can write a sweet message like, "Seasoned with love," or if she has a sassy streak you could choose something fun like, "I always cook with wine; sometimes I even put it in the food!" Either way, the personalized cutting board is sure to be her new favorite kitchen accessory when you add your own special message. And if you aren't comfortable writing your own message at the bottom, check out all the rest of our Personalized Cutting Boards. We have other cutting boards that can be engraved with just her monogram, with a cute design at the bottom or you can even have one personalized with a vegetable design at the bottom! Kitchen gifts don't get much more cool and unique as a personalized cutting board!
Personalized gifts like the three we mentioned above are the best gifts to give because the person receiving them is always touched to know you made something just for them … and it doesn't hurt that they are unique and something they'll actually use!
So go against the norm this year and instead of giving a bottle of wine like everyone else, personalize a gift from PersonalizationMall.com and really show the hostess of your holiday party how thankful you are to be celebrating this wonderful time of year with them! Personalize any of our gifts and you'll be sure to get an invitation to next year's party, too!
Happy Gifting!