Posts tagged
personalized cupcake wrappers
0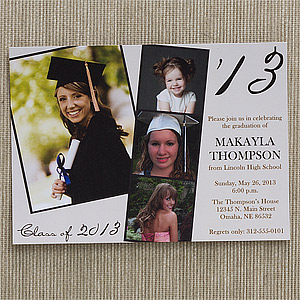 Tip No. 1. First thing's first. If you're throwing a graduation party you need to send out invitations! PMall.com's Personalized Graduation Gifts Store has an entire Graduation Invitations & Party Accessories Department that's full of great designs that come in every color you can imagine. The Refined Graduate Personalized Graduation Invitations are one of our favorite designs because you not only get to share the graduate's senior photo, you also can personalize it with 3 additional photos of your choosing. This gives you the opportunity to use 3 photos of the graduate growing up giving all the guests a cute visual story of their journey to graduation! You can even personalize matching Refined Graduate Thank You Cards so your graduate can thank all of his or her family and friends for their lovely gifts!
Tip No. 2. On the day of the celebration you'll want to make sure people know where the party is located, which is why you'll want to personalize the School Spirit Photo Garden Flag and place it proudly on your front lawn! Our all-weather, double-sided flag will be custom personalized with their school name, class rank, year, and any sports or titles with special meanings plus you get to choose 2 colors from 8 different color options, upload any photo and add any 2-line message to appear above the photo for a personalized touch. As an added bonus, this garden flag is removable and can be interchanged with any of our other Personalized Garden Flag Designs. That way you can continue to swap out different garden flags for different holidays, celebrations and upcoming seasons.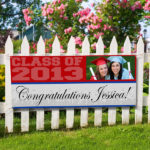 Tip No. 3. You'll find lots of decorations and party favors in our Graduation Party Accessories Department, but our most popular gift is the Class Of Personalized Photo Banner. The banner is a great way to decorate any inside or outside space for the party and it also doubles as a great guest book! Leave out a couple of Sharpie markers and have the graduate's family and friends sign their names, write a message, or share an inspirational quote on the banner. Your graduate will love having a keepsake with notes from all their loved ones. It will be something they can look back on years from now and treasure forever.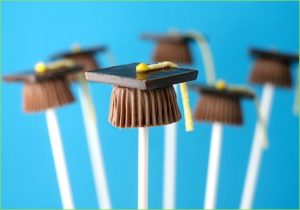 Tip No. 4. It isn't a real party unless there's dessert! We came across these Graduation Dessert Pops (at right) on Pinterest and thought they were a great idea right away! Not only do they save you time from passing out and cleaning up a bunch of cake plates, napkins and forks, they're easier for everyone to eat, too! With high school graduation parties especially, there are bound to be friends and family who will have to attend more than one graduation party the same day as yours. Instead of missing out on cake because they have to leave early for another graduation party, your guests will love being able to take a cake pop with them whenever they need to leave because they can enjoy it on their way to the next party! Plus everyone will love them because they're just so darn cute! If you like the idea of a portable dessert, you should also check out our Way To Go Grad Personalized Candy Bar Wrappers or our You Picture It Personalized Photo Cupcake Wrappers.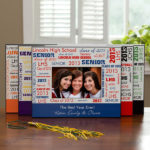 Tip No. 5. Last but not least, you need a gift for the grad! The School Spirit Personalized Photo Frame is our No. 1 best-selling graduation gift and it's easy to see why. Our exclusive School Spirit design features an artistic splash of any 2 school colors and can be personalized with their school name, class rank, year, and any sports, inside jokes or titles with special meanings! So it's not only a great gift idea for the grad, it's also the perfect graduation gift high school seniors can give to their friends who are also graduating. They can personalize it with words the stand for their inside jokes or incredible moments they shared together for the past 4 years.
And there you have it – 5 quick and easy tips for throwing a graduation party! Make sure you check out our Personalized Graduation Gifts Store for all of the above gifts and more. We have great gift ideas for graduates of all ages!
We hope you enjoy your graduation celebrations – give extend a congratulations to the grad on our behalf!
0
What would Valentine's Day be without some treats from the heart!?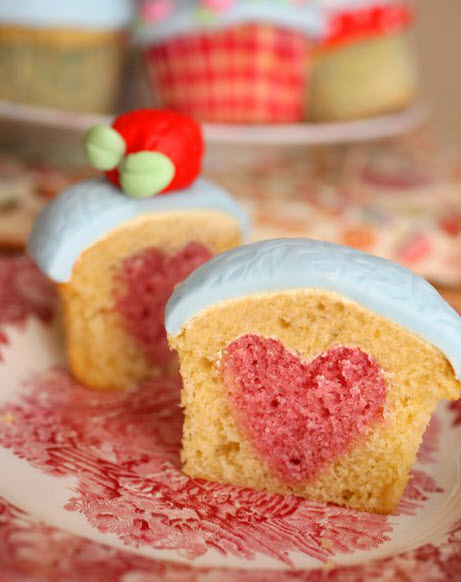 There are all different types of chocolates, cakes and candies that are decorated with red and pink hearts this time of year … but have you ever seen a treat with a heart inside it!?
We hadn't either until we saw this unique recipe from the "Made With Love, By Me" Blog, which teaches you how to bake a heart inside a cupcake!
As you can see by the picture, the inside of the cupcakes feature a bright hidden heart as soon as you cut into them. The recipe, which you can get by clicking the above link, is really easy and doesn't require anything out of the ordinary with the exception of a heart-shaped cookie cutter.
Once you've cut open the cupcakes and revealed the surprise, these are the coolest treats we've ever seen! However, we here at A Personal Touch always believe a gift or treat is only as good as its presentation and we're excited to say that we've found the perfect way to decorate these hidden Valentine's Day treats!
PersonalizationMall.com has two different Valentine's Day Cupcake Wrapper designs we know you'll love!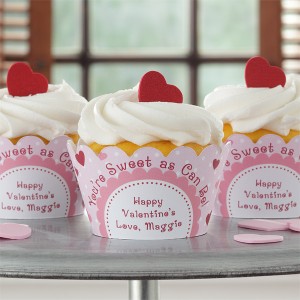 The first of our cute Valentine's Day wrappers are the Be My Sweet© Personalized Cupcake Wrappers, which are printed in a sweet pink and red design and finished with delightful, scalloped edging and feature any 3-line message you create. Your special lines of personalization will be displayed right under the word rainbow that says, "You're Sweet As Can Be."
Once your cupcakes have cooled from the oven, you'll slide the ends of the personalized wrapper together easily with the tab and then place the cupcakes inside for decorating that is just as easy as it is beautiful! The festive wrappers come in sets of 24 and are sold for just $19.95 per set. Bring a batch into work and impress your coworkers with your baking and one-of-a-kind presentation skills!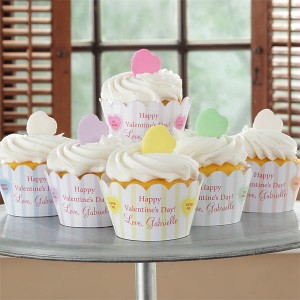 If you're looking for a more colorful Valentine's Day presentation, the Candy Hearts© Personalized Cupcake Wrappers are right up your alley! This cute design, which features any 1-line of personalization under a "Happy Valentine's Day" message, comes in 6 different colors! This colorful theme is also sold in a set of 24 wrappers for just $19.95.
The additional color options make these wrappers perfect for decorating cupcakes to bring in to your child's classroom party.
Personalize the wrappers with their teacher's name, such as "Miss Johnson's 5th Grade Valentine's Day Party" and watch as your son or daughter's classmates smile and gasp when they find the hidden heart inside your tasty Valentine's Day treats! When you bring them into the class party you'll earn some "Cool Mom" bonus points and create a fun and memorable moment that they will remember forever!
Head over to PersonalizationMall.com now to get started with personalizing your own set of cupcake wrappers and while you're there, check out all our personalized Valentine's Day Gifts!
Happy Gifting!
0
Since this week is your last week for guaranteed Halloween delivery for all PersonalizationMall.com Halloween gifts we thought we'd offer up some great ideas for how to make your Halloween party even more spook-tacular!
When you're a teacher or home room mom and are in charge of a classroom Halloween party, or just a hostess who has invited the neighbors over for some fun the personalized Spider Web Table Runner is an easy way to bring some Halloween flare to the main table that will be home for all your party drinks and treats! The table runner is perfect for any kid or adult party because while the spider webs give off the creepy, crawly effect that kids love about Halloween, the little black bells and tasteful black pattern can be personalized in the middle or on the side with an elegant orange font that adults adore!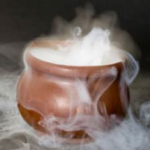 Now that you have your table beautifully decorated, it's important to find fun food and drinks that share a similar theme. That's why we're dying to share a little trick that will have guests of all ages oohing and ahhing! We came across a tip from Drink of the Week blog for how to give your Halloween punch a "fog effect" so it looks like your signature drink is a real witch's potion! You can read the full directions here, but basically you take 1 large bowl and 1 smaller bowl and place a brick of dry ice (Do NOT put the dry ice directly in the punch or touch it with bare skin, it can burn and should NOT be ingested) inside the large bowl, then put the smaller bowl, which you will fill with your Halloween punch, on top of the dry ice. Once your guests arrive, add hot water to the larger bowl and the fog will slowly start to creep out and spook all your guests! To be safe, make sure an adult is in charge of handing out the drinks for all the guests so no children are tempted to touch the dry ice.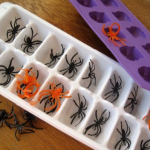 For an even more creepy and crawly effect, add spider ice cubes to everyone's glass of punch! Don't worry, we don't mean REAL spiders … as you can see here from the Fahrenheit 350 blog, you just take the little spider rings they sell at all the party stores and put them in ice cube trays, then fill with water and place in the freezer. Once they freeze over you'll be able to add them to people's drinks so they'll see a floating spider every time they go to take a sip!
Now that you have the drinks taken care of, you still need some treats and party favors that go along with your theme.
You're in luck because the Spooky Treats© Personalized Cupcake Wrappers, which come in a set of 24, are the perfect answer for both of your needs! 
You can bake your favorite cupcake recipe then place them inside the cupcake wrappers, which you can personalize to say anything you'd like, then decorate the cupcakes in a fun Halloween theme.
Decorating them so they look like a spider web, like the people from "The Girl Who Ate Everything" blog suggest, would be perfect because it would match the Spider Web Table Runner and spider ice cubs they've been adoring all night!
Display them on your table to make a beautiful centerpiece and when the party is over, you can offer the cupcakes as a take home dessert/party favor for all your wonderful guests!
All you have to do is decorate the finished cupcakes with orange icing. Then with a black decorating gel, make three circles starting from the middle and working out (like a bulls eye). Take a knife or toothpick and drag it through the icing starting at the first inside black circle and work your way out … and there you have it – A spider web cupcake!
We hope these party tips and tricks help make your Halloween party extra special! Do you have any tips you'd like to share? Make sure to comment below!
And don't forget to head over to PersonalizationMall.com for up to 20% off our Halloween gifts right now!
Happy Halloween!