Posts tagged
personalized cutting boards
0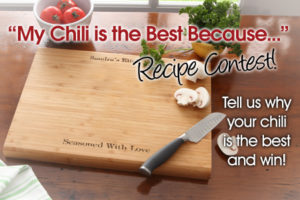 PMall.com would like to congratulate Gary Lackey on winning the "My Chili is the Best Because …" Recipe Contest!
Gary submitted the following entry:
"My Chili is the best because … it was the recipe my dad always used. I have memories of making chili with my dad. We would join him in putting in more chili powder when our mom wasn't looking. It is still something we treasure and laugh about to this day."
It's beautiful memorable moments like this that we strive to create with our unique personalized gifts – we always feel honored when our customers share their stories with us!
For winning the contest, Gary has won his very own personalized You Name It© Bamboo Cutting Board!
Thank you to Gary and to all the A Personal Touch readers who sent in their answers – we had a blast reading all your touching and funny entries!
0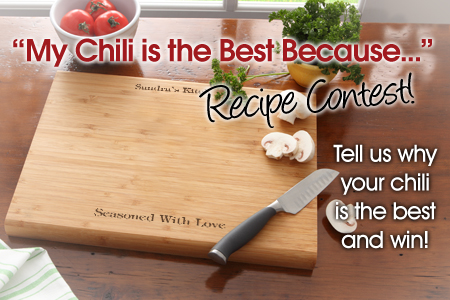 With National Chili Day being celebrated Thursday, February 23rd and with the winter's "chili" weather hitting us hard, it seems like now is the perfect time for A Personal Touch to host a chili recipe contest!
People can be very particular and territorial about their chili. Depending on where you live, some people say that real chili isn't made with beans, while in other parts of town they'll say it's not chili unless it has beans. And then there are the people who like to have fun with traditional recipes and add a new twist ingredient to them like cinnamon or even chocolate!
But no chili is complete without the main staples like meat, onions and tomatoes – all of which are ingredients that require a whole lot of prep work. That's why the winner of the contest will be awarded their very own personalized You Name It© Bamboo Cutting Board so that they have a beautiful place that they can use to create their masterpiece!
Since all "chili purists" seem to claim that their masterpiece recipe is the best in the world … we want to hear why your recipe really is the best for the PersonalizationMall.com "My Chili is the Best Because …" Recipe Contest!
To enter, all you have to do is send an email with the subject line, "Chili Contest" to social@pmall.com with the following information:
- In a few sentences, tell us what it is about your chili recipe that sets it apart from all the rest.
- Please include your full name and email address so we know how to contact you if you're the winner.
Just make sure to have your emails sent to us before the deadline at midnight on Thursday, February 23rd. We will announce the winner of the contest, who will be judged by creativity and uniqueness and selected by the A Personal Touch Staff, here at the blog on February 24th.
We look forward to hearing all your special recipes … our mouths are already drooling!
Good luck!