Posts tagged
personalized doormats
0
Here at PMall, we can't get enough of all of the yummy seasonal recipes that the fall season brings and of course all of the beautiful colors that nature creates during this time of year.
Before we get started on ideas for enjoying those beautiful fall colors around your home, we thought we'd share an awesome fall recipe that we saw on Pinterest. Everyone knows that the two big flavors of the fall season are apples and pumpkins … that's why we suggest drinking a nice warm apple cider while you enjoy this Peekaboo Pumpkin Pound Cake (at left) that looks almost too pretty to eat (Click the link to be directed to SheKnows.com for the full recipe)!
The combination of pumpkin bread and pound cake would be delicious enough, but this recipe also includes a brown butter pecan icing that's out of this world! One slice of this tasty treat is sure to give you a boost of energy to help you stay warm during the crisp fall air.
Though it may be hard to admit after seeing this recipe, there is more to fall than just pumpkin flavoring. For us, it's all about the warm, rich colors that the fall season brings! Our favorite thing to do during this time of year is to see all of the leaves change into deep shades of red and orange and fall off the trees. We love the colors of fall so much, we've come up with some great Fall Decorations that will help you enjoy those beautiful colors around your home, too!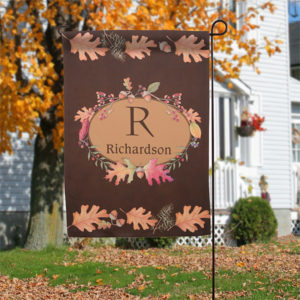 The Autumn Hues Monogram Personalized Garden Flag, one of our customers' favorite fall gifts, has a design filled with leaves, acorns, pine and berries featured in vibrant colors. This enchanting piece artfully displays any single initial, along with any name or address you choose, to warmly welcome others to hearth and home! The design is printed on a removable flag so you can replace it with other designs throughout the year, as desired. You can personalize the flag alone to be interchanged for just $19.95 (Shop during our Fall Favorites sale now through Sunday to personalize the flag for just $14.95), or add our optional garden flag stand, which is sold separately, for $11.95. After you've acquired the flag stand, you can have fun personalizing other flag designs to interchange for all of the holidays, seasons or for upcoming special occasions like birthdays, graduations or other milestones! Browse through all of our designs in our Personalized Garden Flag Store. For those of you who love the Autumn Hues design as much as we do, be sure to check out our personalized doormat and yard stake that also feature the design.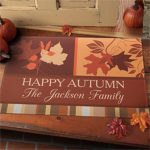 If you love the fall leaves, but don't want them tracked into your house from your family and friends' dirty shoes, the Happy Autumn Personalized Doormat is perfect for you! The doormat features an elegant design of leaves in rich brown and orange colors and serves as an elegant accent piece to create an inviting welcome for friends and family this fall season, indoors or outdoors. We'll custom personalize your doormat with any title and any family name or first names that you choose – all for just $22.95 (Act fast and you can personalize this doormat for only $17.20 during our Fall Favorites Sale now through Sunday)! It will look lovely on your front porch or if you'd like to enjoy the warm fall colors inside your home, place the doormat by the fireplace. It will add a personal touch to the room and provide a safe place to store the fire wood. You'll be able to enjoy the personalized doormat while you pick up a good book, snuggle up on the couch and get warm and cozy next to the fire!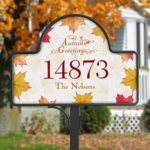 Another great way to welcome friends and family to your home this fall is to personalize the Autumn Greetings Personalized Yard Stake and Magnet for you home. Our exclusive design features a border of falling leaves in rich, warm tones with a delicate leaf background. It's sure to provide a distinctive finish to your home while attractively displaying your home address or family name. Personalize the magnet with the yard stake for $32.95 or the magnet alone for $15.95 (now only $24.70 and $11.95, respectively when you shop before our Fall Favorites Sale ends Sunday). Once you have the yard stake, you can interchange the magnet with a new design whenever you'd like. Check out all of the different designs we offer in our Personalized Yard Stake Store.
Are you a big fan of fall like us? We'd love to hear your fall recipes or fun fall crafts that you do with your family! Leave a comment below or email us at social@pmall.com and your tip could be published here for all of our fans to see!
Happy fall to all!
0
It's the most wonderful time of the year! Unless you're a college student, that is. While most of us are already feeling the Christmas spirit and have started our shopping, decorated our Christmas trees, or began baking Christmas cookies, etc., there are a bunch of college students out there who are so wrapped up in studying for finals and completing semester projects that they're missing out on all the fun. That's why we wanted to offer some great gift suggestions for parents of college students who would like to bring Christmas to the college dorms! There's nothing better than receiving a package when you're away at school and we have just the things to help bring a smile to your student's face during this stressful time.
PMall.com's Personalized Christmas Gifts Store has all sorts of great home decor that would look great in the dorms!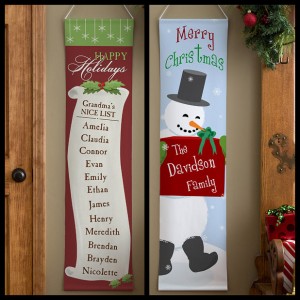 Personalized door banners like the Christmas Nice List (far left) and the Merry Christmas designs (left) are the perfect decorations for the dorm because they can be hung on the door and won't take up any space in their already-cramped living quarters.
You can personalize the Nice List design with all the names of his or her friends who live on the floor and your student can hang a marker so their friends can write and leave messages that they'll treasure year after year. The Merry Christmas design, which features an adorable snowman, can be personalized with your student and their roommate's names or personalize it with the new club, fraternity or sorority they recently joined!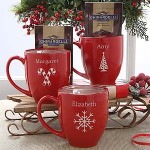 Help make your student's all-nighter tolerable by including one of our Personalized Coffee Mugs in your Christmas care package. We have several designs to fit everyone's taste but we recommend sticking with the Christmas theme and personalizing the Ghiradelli® Hot Cocoa Personalized Bistro Mug because not only will they receive a merry and bright new mug, they'll love getting their own packet of double chocolate gourmet hot cocoa to warm their heart and their senses! If they're going to be up all night studying, they may as well be doing it while enjoying delicious hot cocoa that will help give them a welcome boost at all hours of the night!
While PMall.com's Christmas Gifts Store is full of great gift ideas to send to your son or daughter in the dorms, we thought we'd leave you with a great gift idea that will help you save money, too!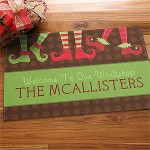 PMall.com's Personalized Doormats are always a favorite among our customers and our Personalized Christmas Doormats have some of the cutest designs out there! Our doormats, like the adorable Welcome To Our Workshop design which features little elf feet, not only spread the Christmas cheer, they can also help you save some money by giving your student and their friends a place to wipe their boots and hopefully helping you get back some of your security deposit at the end of the school year! After all, taking all those trips to their classes, the library and the cafeteria can get boots pretty muddy. With a cute personalize doormat, you can prevent them from tracking all of that winter slush into their dorm room and ruining the carpet.
It's time to start putting together a care package for your son or daughter in the dorms! Head over to our Personalized Christmas Gifts Store and have fun picking out what's best for your student. Think of how nice it will be for them to take a break from studying and get a little taste of home this holiday season … you'll be a hero!