Posts tagged
Personalized Father's Day Gifts
0
We're excited to share our new Father's Day Gift that's perfect for all the outdoorsman in your family!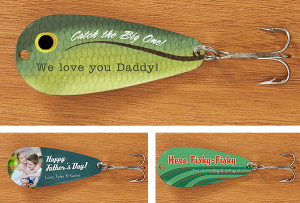 We just introduced Personalized Fishing Lures, which are available now in three different designs!
The three designs, the "Big Catch," "Fishing Stripes," and "His Catch" Photo Design, all come with the option to choose from a wide range of colors and styles. You can even add your own photo to the "His Catch" Photo Design lure!
The new Fishing Lures retail for $12.95 but if you act fast, you can personalize them for only $10.35 thanks to our Father's Day sale going on now through Sunday, June 8th, 2014.
If you're a fan of our new fishing lures, you should also check out all of our other Personalized Fishing Gifts - they're sure to make a splash with your loved ones!
0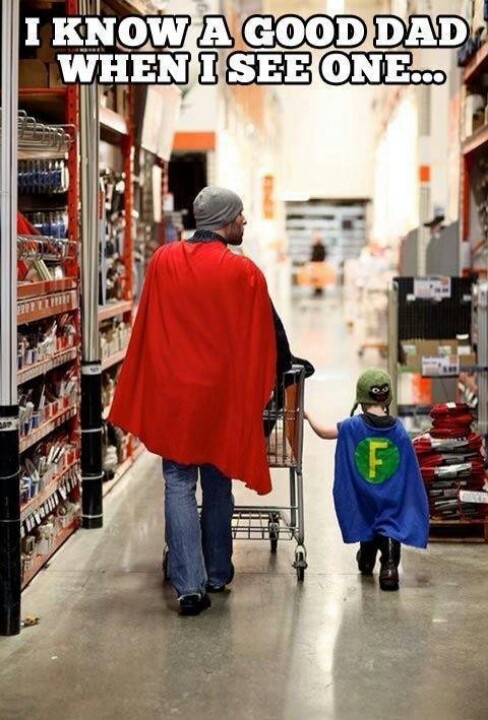 Father's Day is June 16th and thanks to this adorable photo (at let) that we saw on Pinterest, we were inspired to put together some Father's Day gifts that both Dad and his kids will enjoy!
Dads who are as cool as the guy in this photo deserve amazing Father's Day gifts so they know just how much they mean to you or your kids.
While PMall's Father's Day Gifts Store is full of great gift ideas for Dads with all sorts of hobbies, the photo of the Dad who was brave enough to shop in a cape with his son inspired us to put together a couple of "Daddy & Me" themed Father's Day gifts that we think you'll love.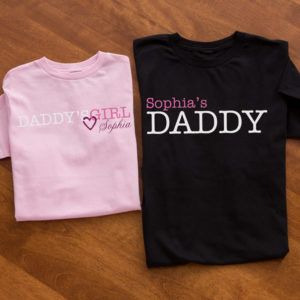 The cute Daddy & Daddy's Girl Personalized Apparel is one of PMall's most popular Father's Day gifts this year and it's easy to see why – the matching shirts are adorable! Dads always have a soft spot in their hearts for their little girls and now they can show that with these cute matching t-shirts!
This cute design is available in an infant bodysuit,  and youth and little girls sizes, as well as adult sizes for Dad so no matter how old is little girl is, he can match her! Just think of all the great photo opportunities these matching outfits come with, and they're also great because the next time they have a daddy/daughter tea party they can dress for the occasion together!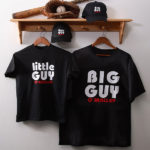 But little girls aren't the only ones who get to dress like Dad this Father's Day, the Big Guy & Little Guy Personalized Clothing was designed for father and sons to join in on the fun, too!
The Big Guy & Little Guy design can be personalized on infant, youth and adult-sized t-shirts, sweatshirts and even hats! Whether "Big Guy" is Dad or Grandpa, you can outfit your inseparable pair in the adorable, personalized and matching shirts with their very own last name!
If Dad and his son or daughters are baseball fans, then they're sure to love the Big and Lil' Slugger Personalized Apparel! The Slugger design can be personalized on baseball-style t-shirts or on regular t-shirts or sweatshirts that come in all different colors for you to choose from. Just add their first or last name to the bottom of the design and you have another great Father's Day gift and photo opportunity!
You can find all of these cute "Daddy & Me" personalized apparel designs and more in the Apparel & More Department of our Father's Day Gifts Store. We have all types of apparel that he'll love, including personalized t-shirt designs that include his favorite hobby and personalized neck ties that can feature his kids' names or photos!
Hurry over to PMall.com's Father's Day Gifts Store this week to take advantage of our final Father's Day Sale! Now through Sunday, June 9th you can save up to 25% off personalized gifts for him! We hope you enjoy exploring our unique personalized Father's Day gifts as much as we do! Enjoy your Father's Day!
1
Don't give Dad just any ol' picture frame this Father's Day – make it special by creating a personalized frame just for him!
PersonalizationMall.com has a wide selection of Personalized Father's Day Frames for you to choose from, including a bunch of brand new designs that were just added to the Father's Day Gifts Store!
There are photo frames that are perfect for dads with all kinds of hobbies such as, fishing, golf, hunting and even Rock N' Roll! But today I wanted to share an outside-the-gift-box idea on how to personalize PMall's unique Loving Them Collage© Frame so that it's tailored specifically for your Dad (or husband if you're helping your little ones)!
The collage frame can be personalized to say "I" or "We" love Dad, Daddy, Papa, Grandpa or any other name you'd like for just $39.95. The message will be cut out on a white matte board so that you can uniquely display your favorite family photos! But since we like to think outside the gift box here at A Personal Touch, I have a creative way for you to fill your frame so that it's truly one-of-a-kind … after all, Dad deserves the best!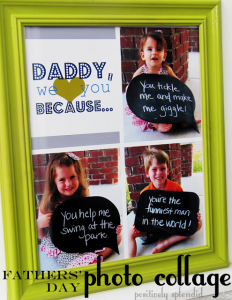 Instead of having the kids pose for staged photos to display in the frame, take individual pictures of each kid holding up a sign that says what they love most about their dad like the photo we found on Pinterest (at right).
Have your kids sit down and think really hard about what they love most about their dad. It could be because he watches cartoons with them Saturday mornings, or helps them with their homework or any fun thing your little ones can dream up. Then write down their answers on individual chalk boards, white boards or posters and have each child smile for a photo while holding up their sign!
The result is a beautiful frame personalized with all the cute little things that your children love most about their father. Your little ones will love being able to actually help create a Father's Day Gift instead of just going to the store plus their Dad will love the personal touch his kids left on his gift!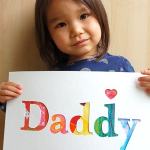 If you're short on photos and need help filling out the extra letters in the frame, another great outside-of-the-gift-box idea is to display your children's colorful artwork like the little girl is doing in another photo we found on Pinterest (at left)!
Dad is sure to love this thoughtful gift and will have fun proudly displaying it at home or at work so he can show it off to all his coworkers!
Hurry over to PMall's Father's Day Gifts Store now so you can place your order and have it in time to wish Dad the best Father's Day ever!