Posts tagged
personalized notepads
0
The school year is coming to an end and now is the perfect time to pick out something special for your children's teachers to show them how much you appreciated their hard work this past year.
No matter what your budget may be, PMall.com's Personalized Teacher Gifts Store is sure to have the perfect teacher gifts for the teachers in your life no matter what age they teach. We have designs tailor made for kindergarten teachers all the way up to college professors – after all, teachers at all levels deserve to be shown appreciation!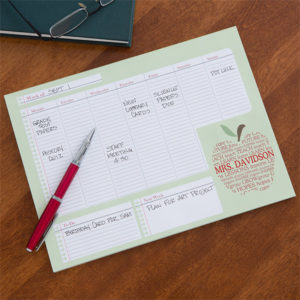 Based on what we've seen popping up on Pinterest, the new popular "thank you" gift for teachers is personalized stationary. It makes sense since teachers often find themselves writing notes for their students to take home to their parents or jotting down reminders about lesson plans.
PMall.com's Personalized Stationary Store is full of notepads and notebooks with all sorts of beautiful colors and patterns for everyday use but we also have an entire department of Personalized Teacher Stationary that's full of great teacher-themed stationary.
You'll find different types of notepads, note cubes, notebooks, note cards and more; including our popular new Calendar Desk Pads (the photo at left features an example of one of our teacher-themed notepads). These calendar note pads come in different sizes, colors and patterns and include colorful weekly schedules that make it fun to organize any busy schedule! They're perfect for teachers who have lots of lesson plans, after school activities, and meetings to plan throughout the week.
Calendar desk pads are becoming more and more popular and any teacher would love to have one, especially if it's personalized with his or her name! So head on over to our Personalized Teacher Stationary department to pick out the perfect design for the teacher you're shopping for and tell us what you think!
We'd love to hear from parents and teachers – which type of stationary do you prefer? Notepads, note cubes, or note cards? Let us know by commenting on this post.
Enjoy the rest of the school year!
0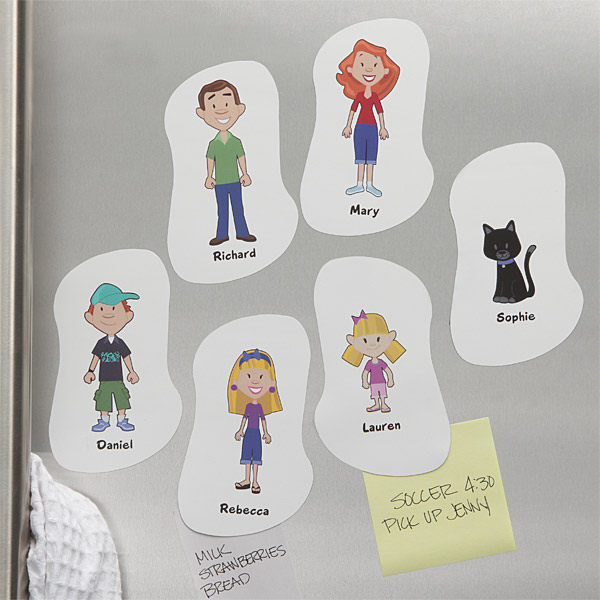 Whether you made a New Year's resolution to get organized or are just looking for a few ways to modify your normal routine, A Personal Touch has a couple tips to help you get a better handle on you and your family's busy lives!
One of the great benefits of personalized gifts is organization. When you're able to put someone's name on something, it can help keep things in their right place.
For example, PersonalizationMall.com can help you keep each family member's schedule straight with the Family Character Collection© Magnets. For just $4.95, you can personalize a magnet with a whimsical cartoon figure that looks just like each one of your loved ones – even your pets! You can customize the magnet with their name and then choose from male or female adult, youth, or baby figures, with light or dark complexions, and you can even choose to personalize one with a cat or dog. You can use the magnets to display your child's A+ paper, doctor appointment reminders, individual chore assignments and anything else you can think of! Your kids will get a kick out of seeing themselves as a cartoon and will look forward to checking their magnet each day for reminders or notes from Mom!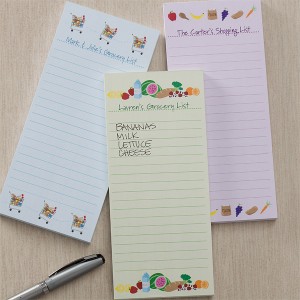 You can also keep your family organized by using the set of 3 Grocery List© Personalized Notepads. What's great about these notepads, which are priced at just $23.95 for the set of 3, is that you can personalize each of notepads however you'd like. So if you have family members with certain food allergies or special diets that require you to go to more than one grocery store, you can personalize a different notepad for your family member with the diet restrictions or you can designate the notepads for each of the stores you'll be shopping at. Instead of overlooking certain items on one big list in the store, you'll have 2 shorter lists that are easier to tackle – not to mention, with separate lists you can always hand off one of the lists to a family member so you can share the shopping and be done in half the time!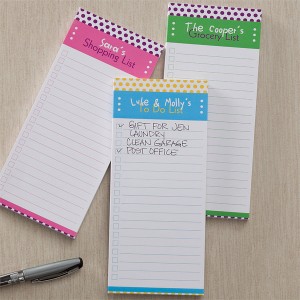 The notepads also come with a magnetic strip so you can place them right on the refrigerator door so they're always handy!
If you like the grocery store notepads but are looking to be more organized at work, you'll love the notepad set with the Dot To Dot© design! You can personalize each notepad for a different job responsibility, such as one notepad for things to go over in upcoming meetings, another notepad for your daily to-do list, and the final notepad to brainstorm or plan upcoming assignments. The Dot to Dot theme is so bright and cheery; you'll actually have fun writing out your checklists!
The A Year To Remember© Photo Wall Calendar is another great way for you to stay on top of things at home and at work!
You have the opportunity to pick 12 of your most precious photos which will be printed in full size for each month. Then you can add any 2-line message you'd like on each month so you can feature special birthdays, anniversaries or whatever is most important for you. The calendar has a writable area for daily or month to-do's so you can leave yourself reminders and you can choose to start the calendar on any month so you don't waste money on months that have already passed. And as an organizational bonus, we've included a "Dates To Remember" page so you can list all the special holidays or occasions you need to remember throughout the year. Priced at only $19.95, you finally have the opportunity to stay on top of your schedule with a personal touch. After all, a calendar is a lot more fun to plan when you're looking at your favorite photographs!
We hope we've been able to offer some great tools to help you keep your New Year's Resolution. With all these little tips, just think of how much more time you'll have to spend with family and enjoy personal hobbies!
If you have any organizational tips you'd like to share, we'd love to hear them! Feel free to leave a comment below.
Have fun getting organized and check back here for Valentine's Day gift ideas soon!
0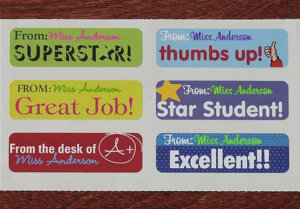 Teachers have one of the hardest jobs out there and it's important to remember them during the holiday season.
That's why teachers are the next group of people from A Personal Touch's Forget-Me-Not List that we are going to offer gift ideas for!
PersonalizationMall.com has a wide selection of Teacher Gifts, however today we'll just be highlighting a few gift ideas we think you'll enjoy most.
If you're looking for just a little something for your child's teacher, in the $10 and under price range, we suggest you take a look at our unique Star Student© Personalized Teacher Stickers which sell in 1 set of 64 stickers for just $9.95! Your child's teacher's name will be printed within each of our 6 exclusive designs indicating who the sticker is from. The teacher you personalize them for will be thrilled you thought of them and will be happy with all the time and hand cramps you'll save them from the next time they're grading papers!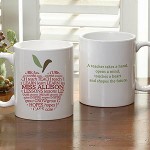 However, if the students in your family are a little too old to be receiving stickers on their papers and you are still looking to stay within a $10-$15 budget, take a look at the Apple Scroll© Personalized Teacher Mug, which you can personalize for just $12.95, or any of our teacher-themed coffee mugs! The teacher's name will be featured inside our apple design filled with repeating teacher words, such as "inspire, learn and care" and on the back, choose from 3 inspiring teacher verses or write your own very special message to add that personal touch! Your child's teacher will think of them every time they take a sip of their morning coffee!
If your child's teacher isn't a coffee drinker and if you have a little more room in your budget, the Inspiring Teacher© Candy Jar with LifeSavers® is a great gift idea for any teacher who has a sweet tooth! Our heartwarming candy jar can be personalized for just $24.95 and features the verse, "Teachers inspire dreams, shape lives and give us hope for the future…" engraved in the shape of an apple with any name engraved in the center. But that's not all! We also fill the jar with the irresistible 13 flavors of LifeSavers that are each individually wrapped! He or she will be able to keep it out on their desk for themselves or they can give out the candies as a reward for answering questions correctly in class or getting good grades on tests!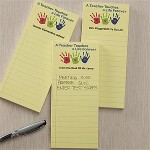 At PersonalizationMall.com we have endless beautiful, personalized gift options like the Set of 3 Touches A Life© Personalized Notepads, which would be perfect for all the teachers on your Christmas Shopping List! So make sure you explore all of the options PersonalizationMall.com has to offer and don't forget to keep checking back here for more gift ideas!
Happy Gifting!