Posts tagged
pink ribbon
0
October is Breast Cancer Awareness Month!
Did you know that every time you personalize a gift from PMall.com's Breast Cancer Awareness Store we will donate 20% of the purchase price to BreastCancer.org?
It's true! Thanks to our loyal fans we were able to donate $5,600 last year and we look forward to your support again this year in the fight to find the cure!
You can join the fight by personalizing one of our beautiful designs on t-shirts, tote bags, coffee mugs and more!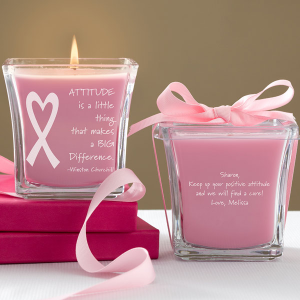 One of our unique breast cancer awareness gifts is the Courage & Strength Spa Candle which has a lavender & white linen scent and can be personalized to show your friend or family member that you're there for support!
The front side of the pink candle features your choice of five lovely quotes or you can write your own message and on the opposite side you can write any 4-line sentiment you choose so she can enjoy your words and 65 hours of pure bliss!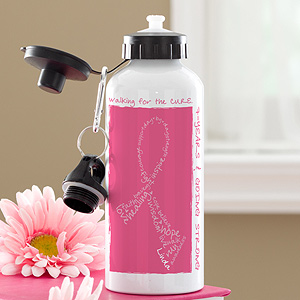 The I Will Never Give Up Personalized Water Bottle is a great gift that you can use every day but especially on your next Breast Cancer Awareness Walk!
This beautiful design features a collage of inspiring and supportive words, such as "Courage, Strength, Love, Faith, Hope" and many more that are displayed in a soft pink font and arranged to form an awareness ribbon.  We will custom personalize the bottle with any 2-line message and any name for you to support the fight for the mothers, sisters, daughters, and others in your life.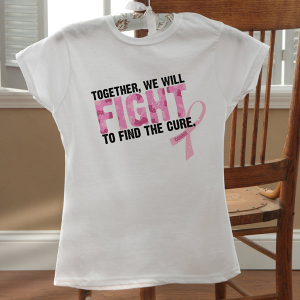 Another great gift idea for your next Awareness Walk is one of our personalized t-shirts, such as the Fight To Find The Cure design! There is no better way to show the world you support your friend and the fight against breast cancer than by wearing the Fight To Find The Cure© personalized apparel for everyone to see.
The design, which features the words "Together, We Will Fight To Find The Cure," and a pink awareness ribbon that we will personalize with any name that you choose, will help raise awareness and be a symbol of hope for everyone you know who is battling breast cancer every time you wear it!
Check out all these gifts and more at PMall.com's Breast Cancer Awareness Gifts Store. With your continued support we hope to be able to make a big donation again this year!
0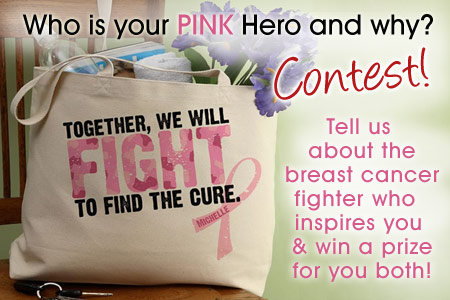 … Norma Jean Senger! Norma's daughter, Brianna Gutierrez sent in this wonderful story about how her mother is her own personal Pink Hero and how her mother inspires her each and every day:
"This month 3 years ago my mom found a lump and was diagnosed with breast cancer, soon came a lumpectomy then radiation. Exactly a year after that in this same month cancer cells showed up again and she was then diagnosed with another type of breast cancer. The next step was a full mastectomy followed by chemotherapy. She lost all of her hair, her skin tone changed, she became weak and there were weeks at a time when her grandkids couldn't even see her because of the risk of her getting sick. When she was well enough to endure more surgery she then had a hysterectomy. Her final step was reconstructive surgery which she is still in the process of. I've seen more stitches, pill bottles and drain tubes then I can even count. But I am very happy to say that my mom is cancer free! She is the strongest person I know and no matter how bad the first 2 years were, cancer never got the best of her. She proves that nothing is impossible. She is a elementary school teacher and no matter how sick she got, she never missed more than just a couple of days at school. Her students meant too much to her. My mom didn't want them suffering just because she was. I have never known anyone with such a big heart and drive. There were times when I would just cry myself to sleep just thinking how sick my mom really was. And you know through all of this the only time I ever saw her shed a single tear is when chemo was kicking in and she had to shave her head. But even then she was the one assuring everyone that all was going to be alright. She is beautiful inside and out and I hope I am at least half the woman she is!
~Briana Gutierrez"
For sharing her remarkable and touching story, Briana has won two Fight To Find A Cure© Personalized Canvas Totebags - one for herself and one for her mother!
The A Personal Touch and PersonalizationMall.com staff would like to thank everyone who submitted their amazing stories and everyone who purchased one of our Breast Cancer Awareness products.
Thank you to all the Pink Heroes out there who inspire us every day to keep fighting to find a cure!
0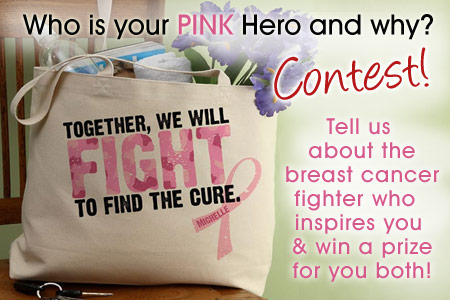 This month is Breast Cancer Awareness Month and PersonalizationMall.com has joined the fight to find a cure! We will donate 20% of the purchase price of all our Breast Cancer Awareness gifts to BreastCancer.org to aid in the fight against breast cancer.
As you can see by looking through the selection of gifts, a lot of our "Pink" products encourage common themes of strength, determination, optimism, support and bravery – all of which are essential in the fight against breast cancer.
Only one word comes to mind when we see all of those attributes together … Hero. And that's exactly what every person who is fighting breast cancer is – our hero! One of the greatest things a hero can do is to inspire other people, and that's what we're looking for with our Pink Hero contest.
We want to hear all about the Pink Hero in your life! Tell us about the breast cancer fighter who inspires you and you could win a prize for you both!
Please send an email to Social@pmall.com with the subject line "My Pink Hero" describing who your Pink Hero is and why they inspire you. Make sure you include you and your Pink Hero's full name and your email address so we know where to contact you if you are the winner.
The most inspiring story, as decided by A Personal Touch staff, will be awarded 2 Fight To Find A Cure© Personalized Canvas Totes, one for the winner and one for their Pink Hero!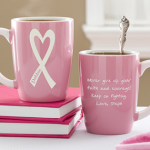 All submissions must be in by midnight October 31st, 2011 and the winner will be announced here on November 1st.
Don't forget to check out all the Pink Ribbon products at PersonalizationMall.com!
We have several inspiring designs, such as the "I Will Never Give Up©," "Fight To Find A Cure©," and "Courage & Strength©" themes that are featured on popular personalized gifts.
You can browse through and find picture frames, T-shirts, candles and more! The Courage & Strength© Personalized Pink Mug is just one of several beautifully crafted coffee mugs that you can purchase to show your support of breast cancer awareness.
We can't wait to hear your inspiring stories! Good luck!