Posts tagged
pinterest wedding boards
0
If you're planning a wedding and aren't on Pinterest yet – go join now! We find the best ideas from various wedding boards; including our inspiration for this Wedding Party Gift Guide's Bridesmaid Edition post (continue reading for a coupon code that will help you save big on all these bridesmaid gift ideas!)!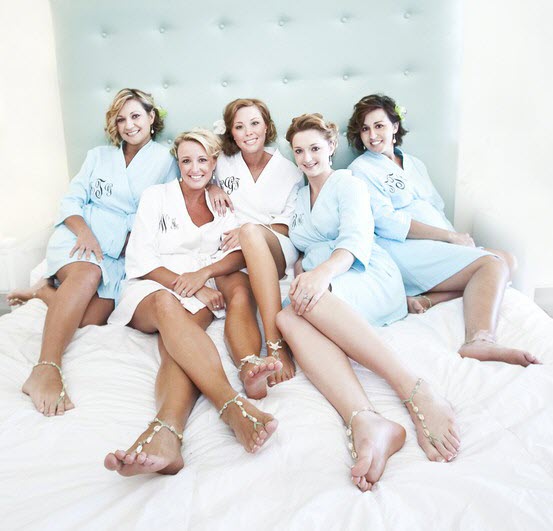 One of the new wedding trends that we see popping up everywhere is personalizing robes as a bridal party gift for bridesmaids and posing in them for pictures before the ceremony - it's adorable and we can't get enough of it!
Personalizing robes is such a smart idea – you're sure to get your money's worth because it's a gift that both you and your bridesmaids will love!
For starters, as you can see from the picture at left which we recently repinned onto our Pinterest board, brides love giving personalized robes as gifts because it creates a cute new wedding photo opportunity that is truly unique! Instead of having pictures taken of you and your bridesmaids in old, mismatched t-shirts or tank tops while you're getting your hair and makeup done, you can have beautiful pictures that look more elegant, girly and just plain fun!
PMall's beautiful and soft Velour Spa Robe is the perfect robe for brides to personalize for their bridesmaids because they not only get to choose from 15 thread colors so the robes will match their signature wedding colors, they also get to personalize them in any way they'd like! The kimono-style robe can be custom embroidered with the word "Bridesmaid" or you can choose to use your bridesmaid's first names, monograms or initials … you even get to pick having it personalized in block or script lettering style! The robes usually retail for $59.95 but they're on sale now for only $44.95, better yet - you can get them even cheaper if you act fast because as a "Thank you" to our A Personal Touch Readers, we're offering the coupon code "BRIDESMAID" which you can use at checkout to save 25% off all of PMall's Personalized Bridesmaid Gifts now through the end of May!
To really make your fun bridesmaid photo pop, be sure to personalize a matching robe for yourself that says "Bride," customize one of our Mr. and Mrs. Collection© Embroidered Robes so that it says "Mrs. (future last name here)," or look through PMall.com's wide selection of robes for robes in different colors and designs that best suit your wedding style!
Your bridesmaids will be truly touched when they see that you personalized a gift just for them and they'll be thrilled to receive a gift that they can use for years to come! Let's face it, after all the help they've given you with planning the wedding, bridal shower and bachelorette party, they deserve to be pampered with a luxurious robe so they can relax and be comfortable the morning of your wedding (especially because of the uncomfortable high heels you're making them wear that night!).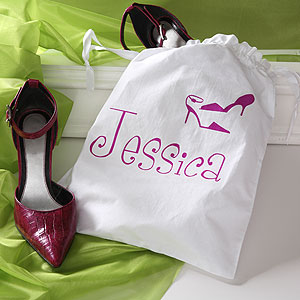 Speaking of heels, another unique bridesmaid gift idea is the Just My Style© Personalized Shoe Bag. This cotton bag features a cute high heel design that you can personalize with your bridesmaid's name in one of 8 colors. It's the perfect way for your bridesmaids to carry and protect their heels as they take them to and from their hair and makeup appointments on the day of your wedding and in the future!
This gift is especially perfect for destination weddings and for brides who have offered to pay for their bridesmaids' shoes as a bridal party gift because they can give the shoes to their friends in these cute bags for a memorable presentation! The bags are also great for brides on a budget because they're only $14.95 (save even more by using the coupon code "BRIDESMAID" we mentioned earlier in the post)!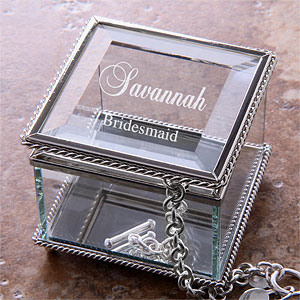 Another trend we've been seeing is brides giving their bridesmaids the jewelry they will wear at the wedding as their bridal party gift. This is a nice gesture for helping cut the cost of being a bridesmaid for your friends, but what we think would make it even better is by presenting the jewelry inside the Wedding Reflections© Personalized Jewelry Box! The exquisite box features glistening beveled glass within a shimmering silver-plate that can be engraved with your bridesmaid's name and any 1-line of personalization, such as "Bridesmaid," below. While the jewelry is a great gift, this beautiful jewelry box helps convey your appreciation and love for your friends who are helping you celebrate your big day. It's an impressive and feminine keepsake that she will treasure through the years – just like your friendship! You can personalize the jewelry box for only $26.95 or use the coupon code "BRIDESMAID" before May 31st and get 25% off the retail price!
We hope you enjoyed our Bridesmaid Gift Guide and that you take advantage of the "BRIDESMAID" coupon code which is worth 25% off all PMall's Personalized Bridesmaid Gifts before the code expires May 31st and check back here at A Personal Touch for the next edition of our Wedding Gift Guide!
1
It's one of PMall.com's favorite times of the year – Wedding Season! Love is in the air, but so is stress … and we here at A Personal Touch want to help!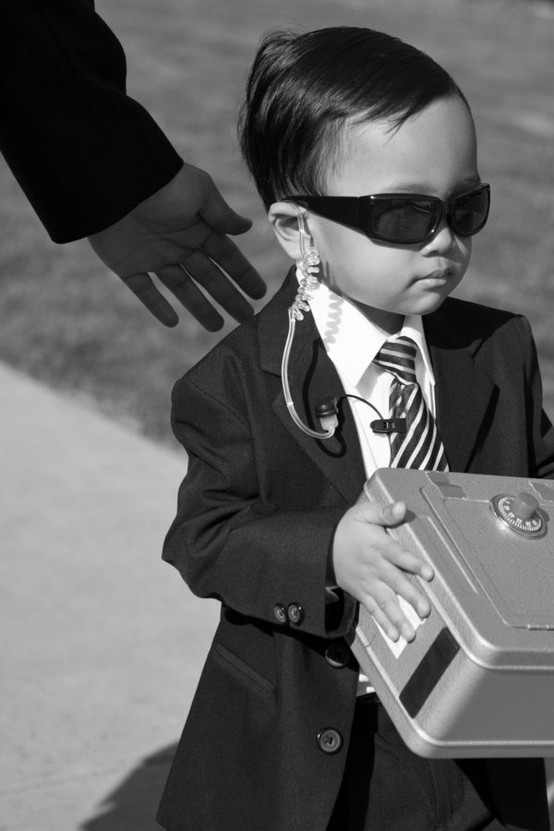 We know that planning a wedding can be a lot of work, especially when it comes to picking out gifts for your wedding party. It can be stressful searching for the perfect gift – a gift that is not only unique and special enough for your closest friends and family, but a gift that also has a personal touch that can truly express how thankful you are that they are taking part in the most important day of your life.
But have no fear - A Personal Touch is here with our new "Wedding Party Gift Guide" blog series which will feature posts that focus on one-of-a-kind gifts ideas from our Wedding & Anniversary Store that are perfect for each of the members in your bridal party!
After we saw this adorable photo on Pinterest (at left) of a ring bearer dressed up as a security guard and walking down the aisle with sun glasses, a fake ear piece and a mini safe, we were inspired to start off the series by offering some gift ideas for your Ring Bearer (If you like this idea and want to do it at your wedding, be sure to check out our Personalized Blue Cash Box, which would be a cute replacement for the mini safe and a gift that your Ring Bearer can use for years to come!).
We love the idea of making the Ring Bearer job more fun for little boys by calling them "Ring Security" and we have the perfect gifts to help your little guy look the part!
Our Ring Security© Personalized Ring Bearer T-Shirt is a great gift that will make for cute photos and can be personalized with his name and your wedding date - all for just $14.95! Think of how adorable the pictures will be of him wearing the t-shirt to your engagement party, wedding rehearsal and other wedding events!
He'll love showing everyone how he's a big helper, plus he'll be thankful that you let him change out of his formal wear from the ceremony and into this comfy t-shirt for the reception.
He'll be able to dance and have fun without his mother worrying about him staining or ripping his nice suit, too!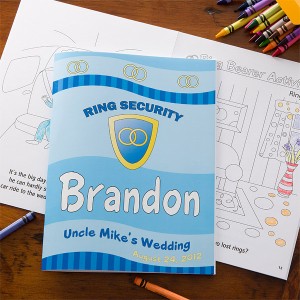 We think your ring bearer also deserves a fun gift that he can actually play with, which is why The Ring Security© Personalized Coloring Activity Book & Crayon Set is the perfect item to include with the personalized t-shirt.
He'll enjoy hours of fun with the activity book which is full of wedding-themed pictures for him to color, as well as games, puzzles and mazes.
For just $12.95, you'll get to personalize the cover of the book with whose wedding it is, the wedding date, your ring bearer's name, and a cartoon character that looks just like him!
He'll be blown away when he sees his very own name on the cover and on the inside pages of the activity book! The personalized activity book and crayon set will also help keep him busy during the rehearsal and on the Big Day so he doesn't get restless and become a distraction during the ceremony.
If your ring bearer is a little older, you should also take a look at our Wedding Party© Engraved Baseball Bat, which you can have engraved with "Ring Bearer" (or any title if you'd like to also personalize the bat for your groomsmen and ushers), your wedding date, and their name for only $29.95.
Each wooden baseball bat is quality crafted by Rawlings®, measures 28″ in length with a 2 1/4″ barrel and a 7/8″ handle, is flame treated and is even Little League approved so your ring bearer will be able to use it for years to come! It will also be a great keepsake for him to display in his bedroom so he can remember how he was an important part of your special day.
Check out all of these great gifts and more in the Flower Girl & Ring Bearer Department of PMall.com's Wedding & Anniversary Gifts Store. You'll find more Ring Bearer t-shirt designs, puzzles, and other fun toys and keepsakes that can be personalized for a special bridal party gift that your little helper will love!
Let us know what you think of our Ring Bearer Gifts by commenting below and be sure to keep checking back for our next Wedding Party Gift Guide post!