Posts tagged
Thanksgiving Contest
0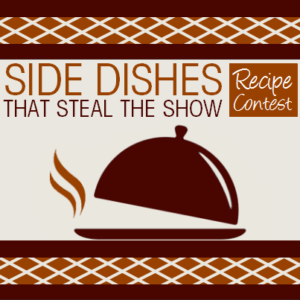 Congratulations to Hidemi Walsh – the winner of PMall.com's Side Dishes That Steal The Show Recipe Contest 2013!
Here is Hidemi's winning recipe for Brown Butter Sweet Potato Crumble:
For the topping:
1/4 cup All-purpose flour
2 cups Granola
2 tablespoons Brown Sugar
1/4 cup Raisins
1 teaspoon Ground Cinnamon
3 tablespoons Butter
For Brown Butter Sweet Potato:
2-3 Sweet Potatoes (about 1 pound)
3 tablespoons Butter
2 tablespoons Honey
Directions: Peel and cut the sweet potatoes in half length-wise then slice them 1/4 inch thick. Put the sweet potatoes on a microwave-safe plate, cover in plastic wrap and microwave on high for 3-4 minutes or until tender. In a skillet, melt butter over medium heat until foaming subsides. Turn off the heat and let stand until browned. Then stir in honey and sweet potatoes. Toss to coat well. Transfer the sweet potatoes into an 8×8 baking dish. Start making the topping in a medium bowl by mixing together flour, granola, cinnamon and brown sugar. Add the butter and work it in with your fingertips until well blended and crumbly. Fold in raisins. Sprinkle the topping over the sweet potatoes. Bake in a preheated oven at 350 degrees F for 25-28 minutes.
Doesn't that sound absolutely delicious!? Thank you again to Hidemi for sharing this tasty recipe with us!
For submitting the winning recipe, Hidemi has won a $50 PMall Gift Card that she can use on any personalized gifts that she'd like!
Thank you to all of our fans who submitted their favorite side dish recipes! Keep checking back here for the latest news and contests from PersonalizationMall.com!
0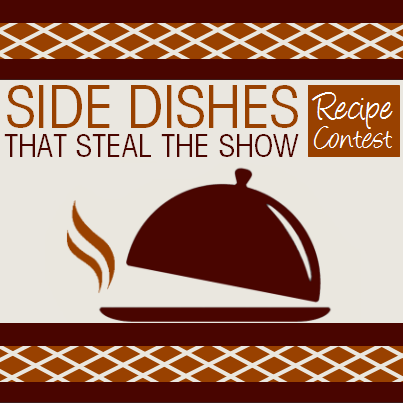 Thanksgiving is just a few weeks away which means it's time for the "Side Dishes That Steal The Show" Recipe Contest!
We're once again moving the spotlight over from the turkey to the side dishes as we ask our fans to send in their favorite Thanksgiving side dish recipes.
Feel free to share any recipe you'd like. We encourage you to share your modern twist to a traditional recipe, your family's favorite side dish, or you can even share a recipe for a unique dish that isn't typically served on Thanksgiving … we want to see them all!
And don't think that you'll be sharing your family recipes for nothing – one lucky PersonalizationMall.com fan will win a $50 PMall Gift Card!
To enter the recipe contest, send an email to social@pmall.com with the subject line "THANKSGIVING RECIPE CONTEST" with the following information:
- Your full name and an email address that we can use to reach you if you are selected as the winner of the contest.
- The name and recipe for your favorite Thanksgiving Side Dish with a few words about why you love it or why it's special for you and your family.
Once you've sent the email you're officially entered into the contest!
Please make sure you send in your emails before the end of Thanksgiving Day on November 28th, 2013.
The A Personal Touch Staff will read through all of the entries and determine a winner and the winner will be announced here on the A Personal Touch Blog on Friday, November 30th.
Thanksgiving will be here before you know it, so you better get moving because it's time to break out the cookbooks!
Good luck to all of our fans!
0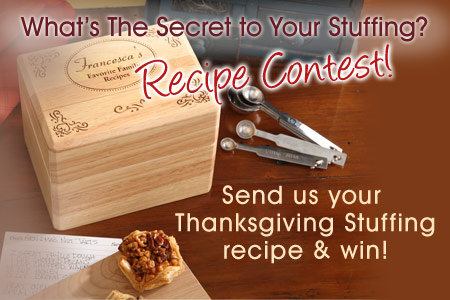 It's almost Turkey Time! And you know what that means … pretty soon you'll be sitting down with all your loved ones and gobbling up a delicious feast!
We recently asked our Facebook Fans which Thanksgiving dish they were most looking forward to - can you guess which dish the majority of fans voted for? Stuffing!
Stuffing is one of those scrumptious foods that is made from a recipe that people love to tinker with.
There are stuffing recipes that call for apples and cranberries like Paula Dean's, or there are also some that call for cornbread and sausage like allrecipes.com, and who could forget the ongoing preference battle between crunchy or moist! With all the endless possibilities, PersonalizationMall.com wants to know, "What's the Secret to Your Stuffing?"
That's right! We're offering another recipe contest right here on the A Personal Touch blog! We want you to email your Thanksgiving stuffing recipe to social@pmall.com  … don't forget to include the secret ingredients that make your recipe stand out from all the rest!
The A Personal Touch staff will read all the entries and pick their favorite recipe and the winner will receive their very own Family Favorites© Personalized Recipe Box that they will fill with a set of matching Family Favorites© 4×6 Personalized Recipe Cards so that they can beautifully store their award-winning stuffing recipe!
To enter, please send an email with the subject line "Stuffing Recipe" to social@pmall.com before Midnight on Tuesday November 29th, 2011 with the following information:
- Your full name
- You email address for where you'd like to be contacted if you win
- Your stuffing recipe, along with a note explaining which item is your special ingredient
And that's it! You should have enough time to find your favorite recipes (or borrow them from Mom at Thanksgiving

) and enter them into the contest. The winner will be announced here that week. We can't wait to hear all of your yummy secrets!
Good luck to everyone and Happy Thanksgiving!