Posts tagged
Thanksgiving recipe contest
0
Congratulations to Rhonda J Elfstrand - the winner of PMall.com's Side Dishes That Steal The Show Recipe Contest!
Rhonda submitted her recipe for the tasty and popular Strawberry Pretzel Salad which turned out to be our favorite!
Here is the winning recipe:
"Mix 2 cups of crushed pretzels, 2 tablespoons of sugar, and 1/2 cup of melted butter and then press into the bottom of 9×13 pan. Bake for 10 minutes at 400 degrees and allow the crust to cool completely before making the middle and top layers. Then beat 8 ounces of cream cheese and 1 cup of sugar until smooth. Fold in 8 ounces of Cool Whip until it is all incorporated. Spread the mixture evenly (beware the loose crumbs of the crust) on the cooled crust. For the top layer sprinkle 6 ounces of stawberry Jello on 2 cups of near boiling water into a large bowl and stir well. Carefully add 10-16 ounces of frozen strawberries and stir until Jello is slightly thickened (the frozen strawberries do a "quick set" of the Jello). Pour the mixture evenly over the middle layer, cover with plastic wrap and refrigerate until needed – at least two hours."
This side dish has always been one of our favorites and we were so thankful that Rhonda shared it with all of us!
For submitting the winning recipe, Rhonda has won the Give Thanks To The Cook Personalized Apron and Potholder!
Thank you to all of our fans who submitted their favorite side dish recipes! Keep checking back here for the latest news and contests from PersonalizationMall.com!
0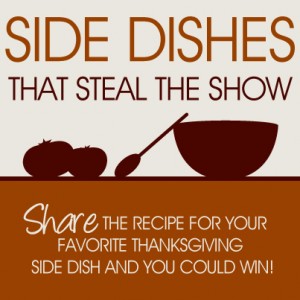 Thanksgiving dinner always revolves around one thing – the turkey.
We always feel bad for the stuffing, cranberry sauce, mashed potatoes, etc. … it's almost as if we can picture the side dishes looking at the beautiful turkey and saying, "Marsha, Marsha, Marsha!"
But not this year!
This year is going to be different because PMall.com is moving the spotlight over with the "Side Dishes That Steal The Show" Recipe Contest!
We're asking you to share your favorite side dish recipe with us for a chance to win a prize!
All you have to do to enter is send an email to social@pmall.com with the subject line "Thanksgiving Recipe Contest" with the following information:
- Your full name and an email address that we can use to reach you if you win the contest
- The name and recipe for your favorite Thanksgiving Side Dish and a few words about why you love it so much.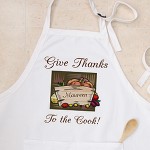 And that's it! Please make sure you send in your emails before the end of Thanksgiving Day on November 22nd, 2012. We will announce the winner here on our blog on Friday, November 23rd.
What are you playing for you ask?
Well the winner, who will be chosen by the A Personal Touch staff, will win their very own Give Thanks To The Cook Personalized Apron and matching Potholder!
That way you can cook in style the next time you're preparing your favorite side dish!
We can't wait to see all the recipes start rolling in!
Good luck!