Posts tagged
thanksgiving side dishes
0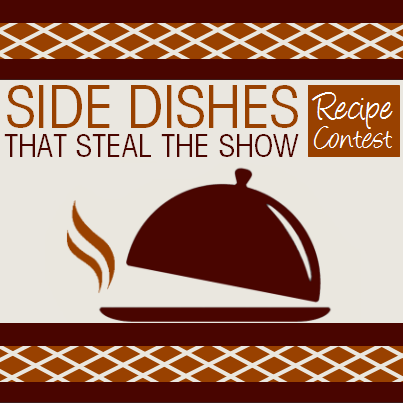 Thanksgiving is just a few weeks away which means it's time for the "Side Dishes That Steal The Show" Recipe Contest!
We're once again moving the spotlight over from the turkey to the side dishes as we ask our fans to send in their favorite Thanksgiving side dish recipes.
Feel free to share any recipe you'd like. We encourage you to share your modern twist to a traditional recipe, your family's favorite side dish, or you can even share a recipe for a unique dish that isn't typically served on Thanksgiving … we want to see them all!
And don't think that you'll be sharing your family recipes for nothing – one lucky PersonalizationMall.com fan will win a $50 PMall Gift Card!
To enter the recipe contest, send an email to social@pmall.com with the subject line "THANKSGIVING RECIPE CONTEST" with the following information:
- Your full name and an email address that we can use to reach you if you are selected as the winner of the contest.
- The name and recipe for your favorite Thanksgiving Side Dish with a few words about why you love it or why it's special for you and your family.
Once you've sent the email you're officially entered into the contest!
Please make sure you send in your emails before the end of Thanksgiving Day on November 28th, 2013.
The A Personal Touch Staff will read through all of the entries and determine a winner and the winner will be announced here on the A Personal Touch Blog on Friday, November 30th.
Thanksgiving will be here before you know it, so you better get moving because it's time to break out the cookbooks!
Good luck to all of our fans!
0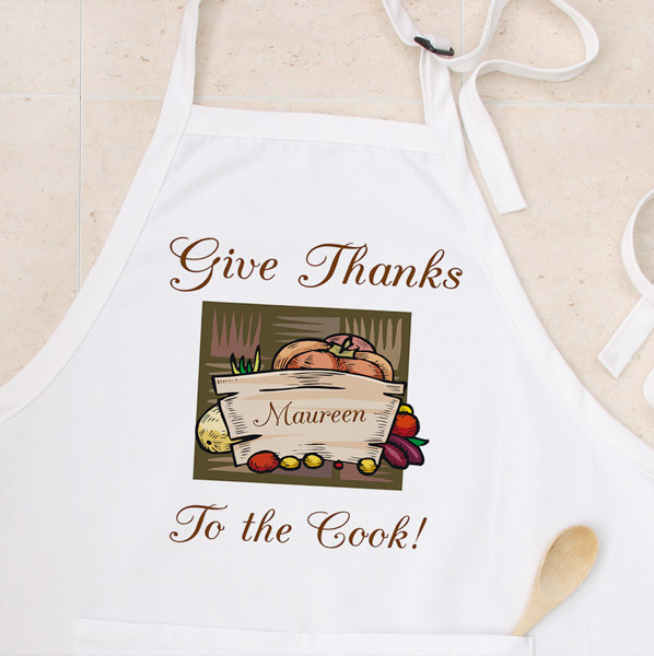 November is here, which means Thanksgiving is only a few weeks away! Whether you're hosting the big feast at your house or bringing a dish to someone else's home, we have some great tips for you to add A Personal Touch to your Turkey Day!
There's one thing you can always count on happening Thanksgiving Day – a mess! With all the chopping, cooking, baking, etc., the kitchen is guaranteed to suffer a spill or two.
That's why the Give Thanks To The Cook© Personalized Apron, which you can find at PersonalizationMall.com, is a must have for any cook this Thanksgiving! Since the bird has to spend so much time in the oven, the cook is usually stuck wearing an apron while their guests arrive. When you personalize the Give Thanks To The Cook Apron you not only get to personalize your name on the apron, you can display an elegant design in the kitchen while you cook and host at the same time, too! It will protect the nice clothes you have on underneath while still featuring a festive Thanksgiving design!
If you don't plan on doing too much cooking this year and were only assigned a side item, the Give Thanks To The Cook is the perfect hostess gift to give to the chef who has taken on the turkey challenge! They'll be truly touched and will know that you really are thankful for their hard work.
Also, if you're responsible for a side dish and aren't sure what to bring, we have an adorable suggestion for you. Make sure you ask to bring a dessert so you can make your own Turkey Treats like the ones we saw on OurBestBites.com! Click on the previous link and you'll be able to read the full recipe for how to make these beautiful birds!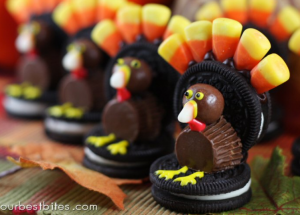 All you need is candy corn, double stuff Oreo cookies, whoppers, peanut butter cups, and chocolate and yellow frosting! This may take some time so if you're running late you can just get the base of the turkey started and bring the supplies to the house where you'll be having dinner. You can make it a fun project that kids of all ages (5-105 years old!) will love to help with! Sticking with the spirit of Thanksgiving, ask your little (or big!) helpers to say one thing they are thankful for each time they add a feather (candy corn) to their turkey.
The little turkeys could double as adorable place holders and will taste so good, every guest will gobble them right up!
We hope this helps get your creative juices flowing because we'd love to hear any ideas you may have for some fun Thanksgiving treats! Leave a comment here with a suggestion so we can all share and make sure you keep checking back here on the A Personal Touch blog all month long for more tips and tricks to making your Turkey Day fantastic!
Happy Gifting!