Posts tagged
unique bridal party gifts
0
We were so excited to see that the new groomsmen and usher gift trend has a fun, creative and do-it-yourself twist!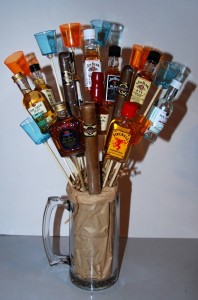 As you can see from the photo we came across on Pinterest (at left), the new gift idea that is becoming more and more popular is creating a "Groomsmen Bouquet" full of "man favorites" such as mini bottles of liquor, cigars, shot glasses, beef jerky, and much more!
The idea is to arrange the goodies in a way that all the different items can be seen and well presented – just like a bouquet of flowers.
In order to create this gift, all you have to do is attach a wood skewer on the back or bottom of all the different goodies you've gathered by using a strong type of tape or glue (make sure the shot glasses are secure so they don't topple over!).
Since we believe that gifts are always better after you've added A Personal Touch, we love the idea of arranging the "manly bouquet" in PMall.com's popular Groomsmen© Over-Sized Beer Mug, which you can customize with any 3 lines of personalization! You can have the tall, 25-ounce mug engraved with their Name, Job Title (Groomsmen, Usher), and the wedding date all for just $24.95.
The personalized mug will help you show the groomsmen and ushers how much you appreciate them celebrating with you and they'll love the added personal touch to the mug, especially because they'll be able to use it again in the future!
PMall.com's Groomsmen Gifts Store has a wide selection of personalized gifts that would also make a fantastic addition to the bouquets.
The Engraved Silver Cigar Case and Cutter is a handsome cigar accessory set that retails at only $38.95 and would be the perfect gift to arrange in the front of the bouquet so the guys can grab it before taking out their new cigars!
The cigar case will also help the men keep the cigars safe and their tuxedos clean throughout the ceremony and reception before they light up in celebration afterward. The cigar case can be skillfully engraved with his name, nickname, event or message and the cutter can be customized with his single, 2 or 3 initial monogram.
PMall.com's The Wedding Party© Personalized Pocket Flask would also be a great gift to add to the bouquet so that the groomsmen and ushers have somewhere to store the contents of all those bottles! The pocket flask features intricate detail in the brushed finish base with a convenient, attached cap for easy open and close plus a handy funnel so not a drop is missed! PMall.com skillfully etches any name, title and date you choose into the flask for only $29.95. The guys will love their flasks – just make sure they don't "Love" them too much before the actual ceremony!

We hope we've helped you come up with some gift ideas for your groomsmen and ushers. For more ideas, head over to PMall.com's Groomsmen Gifts Store and check out all the personalized gifts we have to offer. You'll have a blast searching through our personalized shot glasses, bottle openers, baseball bats, can and bottle wraps and so much more!
0
In this edition of A Personal Touch's "Wedding Party Gift Guide" we're talking all about your flower girl (and be sure to keep reading for a coupon code that will help you save big on your personalized flower girl gifts)!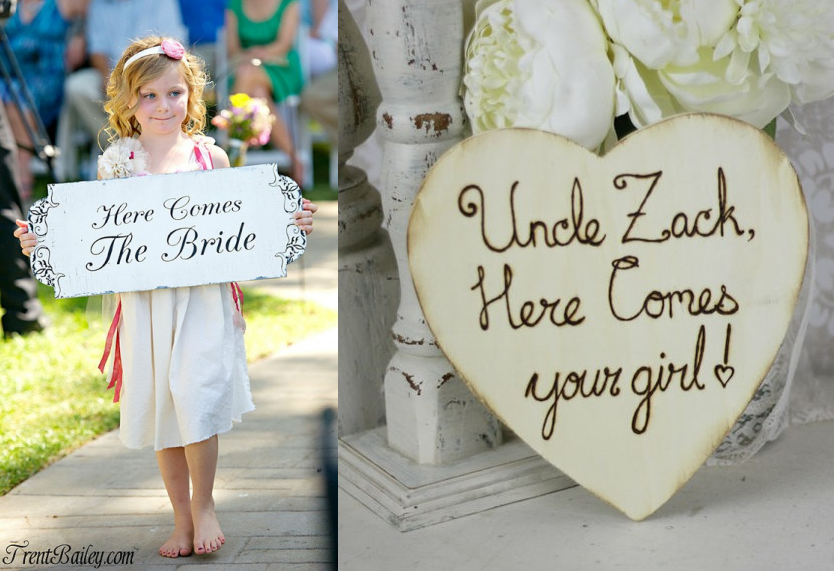 From what we've been seeing on the Pinterest Boards, the flower girl's job requirements seem to be evolving and we love the new creative ideas brides are coming up with!
Instead of dropping petals as they walk down the aisle, some brides are having their flower girls carry signs with cute sayings (like the ones pictured at left).
We think it looks adorable and is a great way to add a personal touch to your wedding, and since it's so unique, it's sure to be a moment everyone will always remember!
If you're a fan of unique wedding details, you're going to love all the gift ideas that PMall.com's Wedding and Anniversary Store has to offer!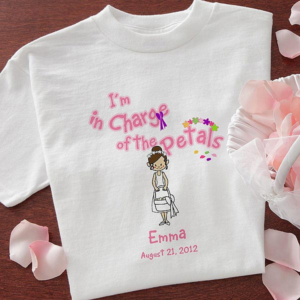 The Our Flower Girl© Youth T-Shirt is a great gift idea that offers an adorable photo op, too!
You can personalize this cute design by picking out the character's skin, hair and clothing color so it matches your flower girl perfectly.
Then you add her name and your wedding date or any 2-line message below the character all for just $14.95!
This one-of-a-kind shirt is perfect for her to wear to the rehearsal dinner, engagement parties, and even the reception after the formalities!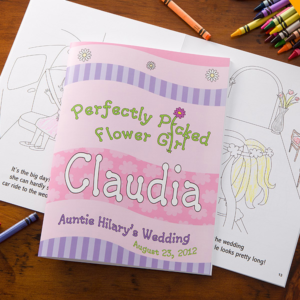 The Perfectly Picked Flower Girl© Personalized Coloring Activity Book & Crayon Set is not only a great gift to pair with the t-shirt, it also helps keep your flower girl happy and occupied during your wedding rehearsal and ceremony! The activity book has many wedding-themed pictures to color, as well as games, puzzles and mazes. It features your flower girl's name on the front cover and on many of the inside pages, which also feature your choice of two flower girl characters. You also get to add your own name and wedding date to the cover for a gift she'll love and actually get to play with – all for just $12.95!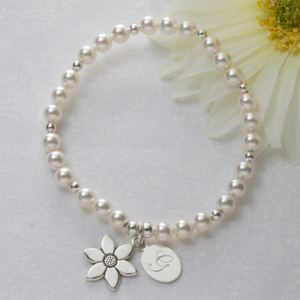 When it comes to bridal party gifts, some brides prefer to give gifts that her friends and family will use or wear during the ceremony itself. If you're looking for a great ceremony gift, make sure to personalize the Flower Girl Personalized Bracelet for your little helper!
This pretty bracelet features a sterling silver flower charm and faux pearls that stretch to accommodate most children's wrist sizes. The bracelet is custom engraved on the sterling silver oval medallion with any initial on one side and optional year on the reverse.
It's a beautiful and thoughtful flower girl gift that she'll be able to wear during your wedding and long after – all for just $24.95!
Now we know that wedding costs can cause a lot of stress, especially in these hard economin times … that's why we'd like to help and and show our appreciation to our blog readers by offering 25% off these three flower girl gifts! All you have to do it use coupon code "FLOWERGIRL" at checkout before May 1st, 2012 and you'll save 25% off the Flower Girl T-Shirt, Activity Book and/or Bracelet just for being A Personal Touch reader!
We hope you enjoyed our Flower Girl Gift ideas! Have you or are you planning to have your Flower Girls do something out of the ordinary when they walk down the aisle at your wedding? Which gift idea did you like best? Please comment below – we love to hear your opinions and ideas!
And be sure to explore all of PMall.com's Flower Girl and Ring Bearer Gifts that we didn't get a chance to write about in this post and check back here for the next edition of the Wedding Party Gift Guide!
Happy Gifting!