Posts tagged
unique gift ideas
0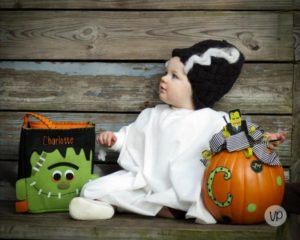 Have you seen our Fan Photo Album on PersonalizationMall.com's Facebook Page? It's full of photos of personalized gifts that real PersonalizationMall.com customers have sent us or posted to our Facebook Page.
Click the link above to see fan photos of all different types of our personalized gifts and have fun flipping through all of them and finding inspiration for new ways to personalize the PMall gifts you've been eyeing!
We have a bunch of Halloween-themed fan photos, including this adorable photo of a PMall Fan in her Halloween costume next to her Freaky Frankie Embroidered Trick or Treat Bag! You definitely have to check out all of the cute photos of our younger fans with their Personalized Halloween Trick or Treat Bags - each one is more adorable than the next!
You'll love browsing through all of the photos our fans have shared with us – you won't believe how creative people can be! Our fans are great at coming up with clever ways to personalize gifts and even coming up with new ways to use our personalized gifts for a purpose we hadn't initially intended.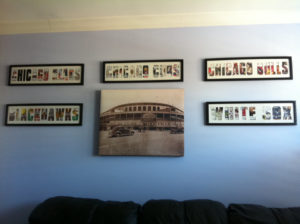 For example, we had a customer share a photo of the Making Memories Personalized Photo Collage Frame that is featured on our site as a great picture frame. Well instead of personalizing the frame with their family name and filling it with photos of their loved ones, they personalized a frame for each of their favorite Chicago sports teams and filled the frame with ticket stubs from the games they've attended (see photo at right)! Isn't that such a cool idea?
We love seeing how your personalized gifts turned out – we'd love it if you'd like to share your photos with us, as well! Post photos of your PMall Personalized Gifts to our Facebook Page or you can email them to us at social@pmall.com and we can post them on our Facebook Fan Page for you! You may even see them appear in the Fan Photo Album, too!
If you've personalized one of our Personalized Gifts in a unique way or if you have a creative way to personalize one of our gifts and you'd like to share it with us we would love it! Just send an email with your idea to the email address above.
Thank you and happy shopping!
0
"People will forget what you said, people will forget what you did, but they will never forget how you made them feel." ~ Unknown
We love this quote and think it's a great thing to keep in mind, especially because Wednesday April 24th is Administrative Professionals Day. Now is a great time to show your coworkers how much you appreciate their work and we have some great gift suggestions to help you!
Our Personalized Office Gifts Store is full of beautiful gifts that your assistant, office manager or coworker will love and no matter what your budget is, we've got great gift suggestions for you!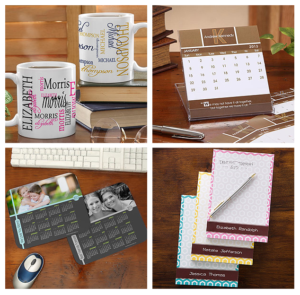 Gifts for $20 and Under
If you're on a small, strict budget you will be happy to know that we have a wide selection of gifts in the $20 and Under section of our Office Gifts Store. Choose from personalized coffee mugs, calendars, mouse pads, note pads and more! Customize a gift with their name, a special message, a favorite inspirational quote, photos, favorite colors, a beautiful design or pattern and other personalization options to help you coworker add a personal touch to their desk or office. They'll love to know that their hard work is appreciated and they'll be truly touched that you thought of them on Administrative Professionals Day!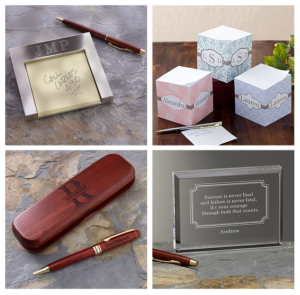 Gifts from $20 to $30
The Office Gifts from $20 to $30 section includes beautiful gifts, such as the Personalized Monogram Post-It Holder, Sticky Note Cubes, Personalized Pens, and the Inspiring Quotes© Personalized Keepsake that you see in the photo at right. The personalized sticky note cubes come in several different designs and colors so you can find the perfect match for your coworker's personality! Our personalized pens and Inspiring Quotes designs let you choose from provided verses or you can write your own so you can let your coworker know just how much you appreciate them.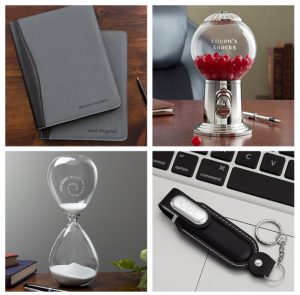 Gifts from $30 to $50
If you have a little more room in your budget, we suggest browsing through our Office Gifts from $30-$50 section where you'll find an eclectic offering of gifts for all types of personalities and interests. As you can see from the photo at left, you can personalize a Business Professional Personalized Portfolio, Personalized Executive Candy Dispenser, Personalized Sand-Filled Hourglass, Personalized Leather USB Flash Drive with Key Ring and more! The Executive Candy Dispenser is one of our favorite gift suggestions because it's cool, unique and you know everyone will love it (who doesn't love candy or snacks?)! Not only will your coworker love being able to offer everyone a snack from her new gift, your whole office will enjoy being able to use the dispenser to get a treat every once and awhile, too!
And there you have it – our 2013 Administrative Professionals Day gift ideas! Don't forget to visit our Personalized Office Gifts Store to find all of these gifts and more so you can show your coworkers that you appreciate them and their hard work!
0
If you're planning a wedding and aren't on Pinterest yet – go join now! We find the best ideas from various wedding boards; including our inspiration for this Wedding Party Gift Guide's Bridesmaid Edition post (continue reading for a coupon code that will help you save big on all these bridesmaid gift ideas!)!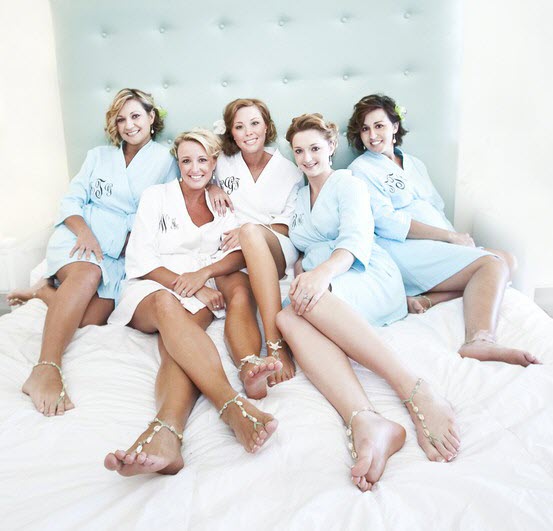 One of the new wedding trends that we see popping up everywhere is personalizing robes as a bridal party gift for bridesmaids and posing in them for pictures before the ceremony - it's adorable and we can't get enough of it!
Personalizing robes is such a smart idea – you're sure to get your money's worth because it's a gift that both you and your bridesmaids will love!
For starters, as you can see from the picture at left which we recently repinned onto our Pinterest board, brides love giving personalized robes as gifts because it creates a cute new wedding photo opportunity that is truly unique! Instead of having pictures taken of you and your bridesmaids in old, mismatched t-shirts or tank tops while you're getting your hair and makeup done, you can have beautiful pictures that look more elegant, girly and just plain fun!
PMall's beautiful and soft Velour Spa Robe is the perfect robe for brides to personalize for their bridesmaids because they not only get to choose from 15 thread colors so the robes will match their signature wedding colors, they also get to personalize them in any way they'd like! The kimono-style robe can be custom embroidered with the word "Bridesmaid" or you can choose to use your bridesmaid's first names, monograms or initials … you even get to pick having it personalized in block or script lettering style! The robes usually retail for $59.95 but they're on sale now for only $44.95, better yet - you can get them even cheaper if you act fast because as a "Thank you" to our A Personal Touch Readers, we're offering the coupon code "BRIDESMAID" which you can use at checkout to save 25% off all of PMall's Personalized Bridesmaid Gifts now through the end of May!
To really make your fun bridesmaid photo pop, be sure to personalize a matching robe for yourself that says "Bride," customize one of our Mr. and Mrs. Collection© Embroidered Robes so that it says "Mrs. (future last name here)," or look through PMall.com's wide selection of robes for robes in different colors and designs that best suit your wedding style!
Your bridesmaids will be truly touched when they see that you personalized a gift just for them and they'll be thrilled to receive a gift that they can use for years to come! Let's face it, after all the help they've given you with planning the wedding, bridal shower and bachelorette party, they deserve to be pampered with a luxurious robe so they can relax and be comfortable the morning of your wedding (especially because of the uncomfortable high heels you're making them wear that night!).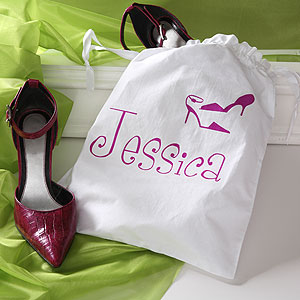 Speaking of heels, another unique bridesmaid gift idea is the Just My Style© Personalized Shoe Bag. This cotton bag features a cute high heel design that you can personalize with your bridesmaid's name in one of 8 colors. It's the perfect way for your bridesmaids to carry and protect their heels as they take them to and from their hair and makeup appointments on the day of your wedding and in the future!
This gift is especially perfect for destination weddings and for brides who have offered to pay for their bridesmaids' shoes as a bridal party gift because they can give the shoes to their friends in these cute bags for a memorable presentation! The bags are also great for brides on a budget because they're only $14.95 (save even more by using the coupon code "BRIDESMAID" we mentioned earlier in the post)!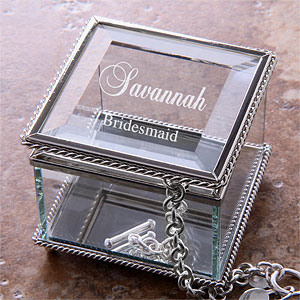 Another trend we've been seeing is brides giving their bridesmaids the jewelry they will wear at the wedding as their bridal party gift. This is a nice gesture for helping cut the cost of being a bridesmaid for your friends, but what we think would make it even better is by presenting the jewelry inside the Wedding Reflections© Personalized Jewelry Box! The exquisite box features glistening beveled glass within a shimmering silver-plate that can be engraved with your bridesmaid's name and any 1-line of personalization, such as "Bridesmaid," below. While the jewelry is a great gift, this beautiful jewelry box helps convey your appreciation and love for your friends who are helping you celebrate your big day. It's an impressive and feminine keepsake that she will treasure through the years – just like your friendship! You can personalize the jewelry box for only $26.95 or use the coupon code "BRIDESMAID" before May 31st and get 25% off the retail price!
We hope you enjoyed our Bridesmaid Gift Guide and that you take advantage of the "BRIDESMAID" coupon code which is worth 25% off all PMall's Personalized Bridesmaid Gifts before the code expires May 31st and check back here at A Personal Touch for the next edition of our Wedding Gift Guide!