Posts tagged
Valentine's Day Gifts
0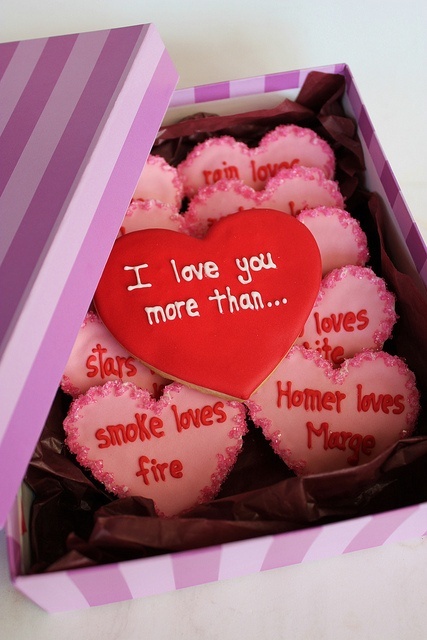 The only thing better than giving your loved one a personalized gift this Valentine's Day is giving them a personalized gift with a personalized treat inside of it!
We instantly fell in love with the personalized cookie idea after we caught a glimpse of this photo (at left) on Pinterest - we just can't believe we never thought of it ourselves! As you can see, the idea is to decorate one large cookie that says "I love you more than …" and have it laying on top of a dozen or so cookies that are each personalized with an example.
There are endless possibilities that you can work with when you're decorating the cookies for your loved one, but one thing's for sure – we know the perfect way to send or present them this Valentine's Day …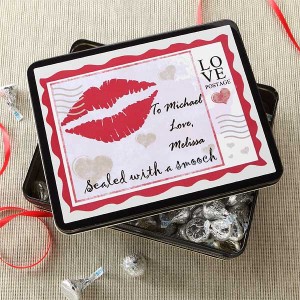 in our Sealed With A Smooch© Personalized Gift Tin! This adorable tin can be personalized with any 3-line message along with any 1 line of text at the bottom. For $26.95 you can personalize the gift tin so that it is filled with Hershey Kisses, or you can personalize the tin itself for just $19.95.
With the postcard-themed design, this tin is the perfect gift to send to your long-distance love any day of the year. We also love the idea of sending this tin to your boyfriend or husband at work on Valentine's Day. Women are always having flowers, teddy bears, and other gifts delivered to them at work or at home on Valentine's Day – and we think it's about time that there was a non-feminine, romantic gift that was acceptable to send to your man. Men have been publicly expressing their love on this romantic holiday forever and now we have the perfect gift to help you return the favor. While having flowers or teddy bears delivered to his office may embarrass him, receiving delicious cookies in a sweet custom gift tin is sure to be the highlight of his day! We're sure he'll not only love the homemade treats, he'll be proud to show off his wife or girlfriend's baking skills to all of his coworkers, too!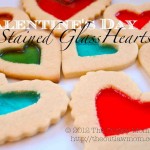 If you're worried about your cookie-decorating skills or if your Valentine prefers chocolate to sugar cookies we also have some other treat ideas to share with you! Thanks to the How To Nest For Less Blog, we found a great recipe for Stained Glass Heart Cookies! These cookies look beautiful and all you have to do is take a heart-shaped cookie cutter to a sugar cookie and fill in the space with pieces of crushed Jolly Rancher candy. After baking you'll have a delicious and colorful cookie to give to your Valentine! Pinterest Tip: As we were browsing through all of the great Valentine's Day dessert ideas on Pinterest we saw how some people had used two different colors of Jolly Ranchers to give their cookies a swirl or tie-dye look!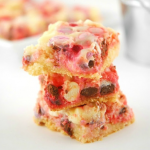 If your loved one is a chocaholic you should check out The Gunny Sack Blog's recipe for White Chocolate M&M's Valentine's Day Cookie Bars. The recipe is super easy because the crust is actually made from a cake mix. The recipe also calls for white chocolate chips and Valentine's Day M&M's – we love how the M&Ms turn the bars pink and red! If these bars don't have enough chocolate for your valentine, we suggest heading over to PMall.com's Valentine's Day Gifts Store where you'll find chocolate fondue sets, candy jars filled with Hershey Kisses and more!
Do you have a special Valentine's Day treat that would also look great in our personalized gift tin? We'd love to hear it! Post your recipe or thoughts in a comment below or send them to us at social@pmall.com.
0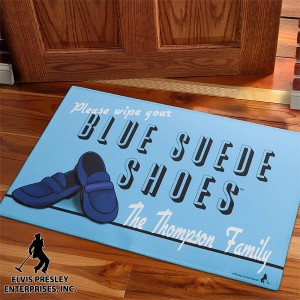 Today, January 8th, is Elvis Presley's Birthday!
All you Elvis fans out there may be remembering "The King" on his 78th birthday by listening to his music or watching his movies but did you know that you can also celebrate one of the greatest entertainers of our time by adding Personalized Elvis Presley® Gifts to your memorabilia collection!?
It's true! Now you can honor the rock n' roll icon by personalizing gifts that display designs featuring some of his most popular songs!
Every Elvis fan out there would love to have the Blue Suede Shoes™ Personalized Doormat gracing the doorway of their home! This fun design can feature any 1-line message which will appear under "Please wipe your Blue Suede Shoes." You can display the doormat inside with the rest of your collection or show it off outside your from door where it's sure to bring smiles to the faces of all your guests – whether they're huge Elvis fans or not!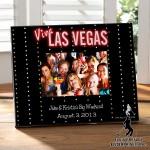 The Elvis Viva Las Vegas™ Personalized Picture Frame is another great piece to add to your collection of Elvis memorabilia. The frame features the name of one of Elvis' most recognizable songs along with any 2 lines of personalization you would like to add below the photo. You can display photos of your trips to Graceland or one of your memorable nights out in Las Vegas!
It also makes a great gift idea for milestone birthdays and bachelor/bachelorette parties, too!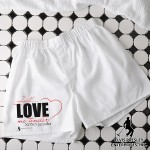 The Elvis Love Me Tender™ Personalized Boxer Shorts are the perfect gift to personalize for him, especially since Valentine's Day is just around the corner! You can personalize the boxers with any 2 lines so he can take a piece of Elvis and you with him everywhere he goes! They're made of comfortable 100% cotton so he can be comfortable as he relaxes at home listening to his favorite Elvis songs!
Our collection of Personalized Elvis Presley® Gifts features several Love Me Tender™ gifts plus other product designs that showcase his popular hits, such as "Are You Lonesome Tonight?™," "Burning Love™," "Let Me Be Your Teddy Bear™," "All Shook Up™" and "Jailhouse Rock™."
These pieces of personalized memorabilia are the perfect gift to give to the Elvis fan who has everything! And all you Elvis fans are in luck because if you click the "Like" button on PMall.com's Facebook Fan Page and visit our Deal Of The Week page you can get a coupon code worth 40% off all of our Personalized Elvis Gifts now through Sunday, Jan. 13th!
We hope that all of you Elvis fans have fun celebrating The King's birthday today and enjoy browsing through PMall.com's Elvis Gifts Collection!
Thank you, thank you very much!
0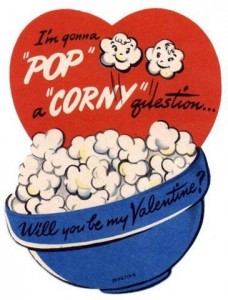 A Personal Touch stumbled upon an adorable vintage Valentine's Day Card in a blog post from FancyHouseRoad.com and we were instantly inspired to share a cute gift idea that, once you add your own personal touch to it, is sure to be one of the most memorable Valentine's Day gifts ever!
And be sure to keep reading because we love the idea so much, we're offering a coupon code exclusively for our readers so they can personalize the gift at a discounted price!
Since Thursday, January 19th, 2012 is National Popcorn Day, we knew that today would be a great time to share the cute vintage card (pictured at left) that we came across and the gift ideas we have to go along with it!
The card features a nostalgic drawing of a bowl filled with popcorn and a cute red heart that displays the clever message: "I'm gonna 'POP' a 'CORNY' question … Will you be my Valentine?"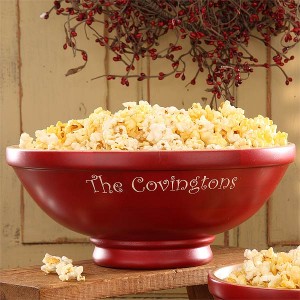 As soon as we saw this irresistible pun we thought of PersonalizationMall.com's beautiful and customer-favorite Old-Fashioned Large Popcorn Bowl, which not only fits the popcorn theme, but also has an old-fashioned look just like the vintage card! This unique bowl is crafted from bamboo and can be personalized with any individual or family name or even a short message if you'd like!
The Large Popcorn Bowl is usually priced at $39.95, but if you use this special coupon code: "POPCORN20″, which we created exclusively for our Blog readers, you can personalize the bowl for 20% off!
And what would a popcorn bowl be without the popcorn!? That's why we're offering the same code to save 20% off the Amish Country Gourmet Popping Corn, too!
Once you've personalized the Large Popcorn bowl, place the bag of popping corn inside with your own home-made version of the vintage card (home-made is always more special because they'll know you spent the time thinking of them!). Then for an extra personal touch, include either your Valentine's favorite movie or a movie they've been eager to see. Adding the movie will show how well you know or "get" them or if it's a movie they've been wanting to see for awhile, it'll show that you are a good listener and that you truly care for them!
Combine all the goodies; add a bow and you'll all set for a low-key, romantic evening of popcorn and a movie! This Valentine's Day gift is great for men or women and is a gift that keeps on giving because every time your Valentine sits down to enjoy some popcorn from their personalized bowl, they'll think of you and the special Valentine's Day you shared together.
We hope our gift idea helped get the ball rolling for your holiday plans because Valentine's Day will be here before we know it. Be sure to use the above coupon code before it expires Friday, January 27th and check back here at our blog where we'll be posting more Valentine's Day gift ideas for the whole family!
Happy Gifting!