Posts tagged
Valentine's Day Treats
0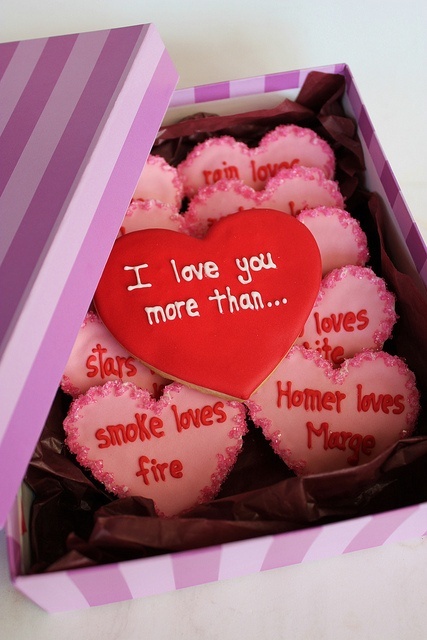 The only thing better than giving your loved one a personalized gift this Valentine's Day is giving them a personalized gift with a personalized treat inside of it!
We instantly fell in love with the personalized cookie idea after we caught a glimpse of this photo (at left) on Pinterest - we just can't believe we never thought of it ourselves! As you can see, the idea is to decorate one large cookie that says "I love you more than …" and have it laying on top of a dozen or so cookies that are each personalized with an example.
There are endless possibilities that you can work with when you're decorating the cookies for your loved one, but one thing's for sure – we know the perfect way to send or present them this Valentine's Day …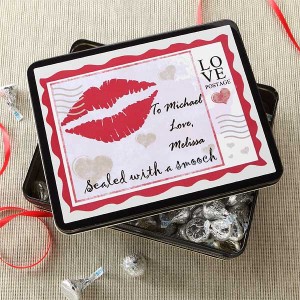 in our Sealed With A Smooch© Personalized Gift Tin! This adorable tin can be personalized with any 3-line message along with any 1 line of text at the bottom. For $26.95 you can personalize the gift tin so that it is filled with Hershey Kisses, or you can personalize the tin itself for just $19.95.
With the postcard-themed design, this tin is the perfect gift to send to your long-distance love any day of the year. We also love the idea of sending this tin to your boyfriend or husband at work on Valentine's Day. Women are always having flowers, teddy bears, and other gifts delivered to them at work or at home on Valentine's Day – and we think it's about time that there was a non-feminine, romantic gift that was acceptable to send to your man. Men have been publicly expressing their love on this romantic holiday forever and now we have the perfect gift to help you return the favor. While having flowers or teddy bears delivered to his office may embarrass him, receiving delicious cookies in a sweet custom gift tin is sure to be the highlight of his day! We're sure he'll not only love the homemade treats, he'll be proud to show off his wife or girlfriend's baking skills to all of his coworkers, too!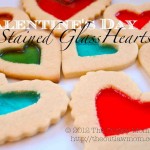 If you're worried about your cookie-decorating skills or if your Valentine prefers chocolate to sugar cookies we also have some other treat ideas to share with you! Thanks to the How To Nest For Less Blog, we found a great recipe for Stained Glass Heart Cookies! These cookies look beautiful and all you have to do is take a heart-shaped cookie cutter to a sugar cookie and fill in the space with pieces of crushed Jolly Rancher candy. After baking you'll have a delicious and colorful cookie to give to your Valentine! Pinterest Tip: As we were browsing through all of the great Valentine's Day dessert ideas on Pinterest we saw how some people had used two different colors of Jolly Ranchers to give their cookies a swirl or tie-dye look!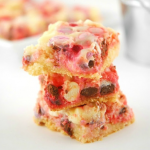 If your loved one is a chocaholic you should check out The Gunny Sack Blog's recipe for White Chocolate M&M's Valentine's Day Cookie Bars. The recipe is super easy because the crust is actually made from a cake mix. The recipe also calls for white chocolate chips and Valentine's Day M&M's – we love how the M&Ms turn the bars pink and red! If these bars don't have enough chocolate for your valentine, we suggest heading over to PMall.com's Valentine's Day Gifts Store where you'll find chocolate fondue sets, candy jars filled with Hershey Kisses and more!
Do you have a special Valentine's Day treat that would also look great in our personalized gift tin? We'd love to hear it! Post your recipe or thoughts in a comment below or send them to us at social@pmall.com.
0
What would Valentine's Day be without some treats from the heart!?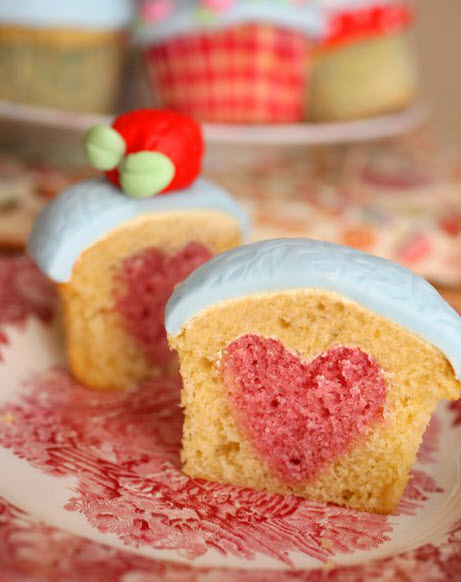 There are all different types of chocolates, cakes and candies that are decorated with red and pink hearts this time of year … but have you ever seen a treat with a heart inside it!?
We hadn't either until we saw this unique recipe from the "Made With Love, By Me" Blog, which teaches you how to bake a heart inside a cupcake!
As you can see by the picture, the inside of the cupcakes feature a bright hidden heart as soon as you cut into them. The recipe, which you can get by clicking the above link, is really easy and doesn't require anything out of the ordinary with the exception of a heart-shaped cookie cutter.
Once you've cut open the cupcakes and revealed the surprise, these are the coolest treats we've ever seen! However, we here at A Personal Touch always believe a gift or treat is only as good as its presentation and we're excited to say that we've found the perfect way to decorate these hidden Valentine's Day treats!
PersonalizationMall.com has two different Valentine's Day Cupcake Wrapper designs we know you'll love!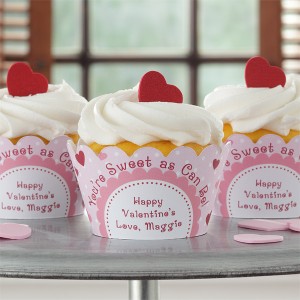 The first of our cute Valentine's Day wrappers are the Be My Sweet© Personalized Cupcake Wrappers, which are printed in a sweet pink and red design and finished with delightful, scalloped edging and feature any 3-line message you create. Your special lines of personalization will be displayed right under the word rainbow that says, "You're Sweet As Can Be."
Once your cupcakes have cooled from the oven, you'll slide the ends of the personalized wrapper together easily with the tab and then place the cupcakes inside for decorating that is just as easy as it is beautiful! The festive wrappers come in sets of 24 and are sold for just $19.95 per set. Bring a batch into work and impress your coworkers with your baking and one-of-a-kind presentation skills!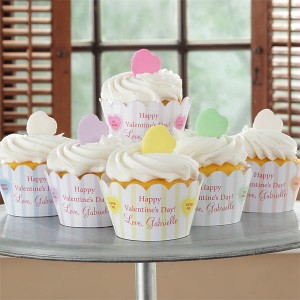 If you're looking for a more colorful Valentine's Day presentation, the Candy Hearts© Personalized Cupcake Wrappers are right up your alley! This cute design, which features any 1-line of personalization under a "Happy Valentine's Day" message, comes in 6 different colors! This colorful theme is also sold in a set of 24 wrappers for just $19.95.
The additional color options make these wrappers perfect for decorating cupcakes to bring in to your child's classroom party.
Personalize the wrappers with their teacher's name, such as "Miss Johnson's 5th Grade Valentine's Day Party" and watch as your son or daughter's classmates smile and gasp when they find the hidden heart inside your tasty Valentine's Day treats! When you bring them into the class party you'll earn some "Cool Mom" bonus points and create a fun and memorable moment that they will remember forever!
Head over to PersonalizationMall.com now to get started with personalizing your own set of cupcake wrappers and while you're there, check out all our personalized Valentine's Day Gifts!
Happy Gifting!