Posts tagged
wedding gift ideas
0
With all of the craziness surrounding wedding planning it's easy to forget the people who have been there for you since Day 1 – your parents!
You may have gotten caught up in finding gifts for your bridesmaids and groomsmen but don't worry, we're here to offer some great gift ideas for your parents and future in-laws, too! We think it's a wonderful gesture to present both parents of the bride and groom with a little something special to show your appreciation for their love, support and help with the wedding.
We love the idea of taking a special photo with both sets of parents on the day of the wedding, like the picture we found on Pinterest at left where all three couples share a sweet kiss. If you visit our Pinterest boards at the above link, you'll see some other great photo ideas we repinned, as well like the idea to take a photo of the bride, her mother and her grandmother together with their wedding rings to show that special bond between mother and daughter (and granddaughter)! Another one of our favorite unique photo ideas was to recreate a wedding photo of the bride and groom's parents – it's neat to see and compare them after the wedding!
Whether it's a unique photo or just a standard family photo from the wedding, we suggest presenting it to your parents in the "To My Parents" Personalized Wedding Frame (at right). This beautiful frame comes in your choice of 3 colors (tan, sage or blue) and can be personalized for the parents of the bride or groom with any title (To My Parents, Mom, Dad, etc.) and any subtitle (On My Wedding Day, etc) at the top. You can also include any closing sentiment along with the bride and/or groom's names and wedding date at the bottom for a very special touch. The lovely poem and elegant colors aren't the only reasons this frame is one of our most popular wedding gifts for parents … it's because of that added personal touch that makes the gift even more special and meaningful. Both sets of parents will love it and be proud to display it in their homes forever.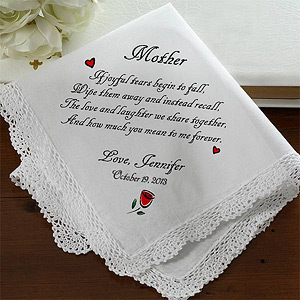 PMall.com's Parents Gifts Department, which is located in the Wedding & Anniversary Gifts Store also has great gift ideas specifically for the mothers and fathers of the bride and groom. The "Tears of Joy "Personalized Wedding Handkerchief (at left) is just one of our personalized handkerchiefs that makes a great gift idea for the mothers of the bride and groom. This handkerchief gives you the option of selecting one of three designs, a rose & hearts, wedding bells or wedding doves, and personalizing it with any name or title at the top, followed by a heartfelt sentiment, and the bride and groom's names and wedding date underneath. This is just a special gift to give your mother or future mother-in-law the morning of the wedding so they can wipe away their tears of joy throughout the ceremony and reception. They will love that you went out of your way and thought of them on your own wedding day and they're sure to be truly touched by the sweet gesture!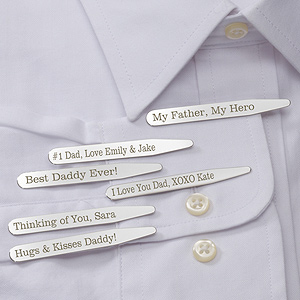 If you're looking for a special gift that you can give your father or future father-in-law on the day of your wedding, we suggest personalizing our new "For Dad" Collar Stays Set. The set consists of 6 silver-plated brass collar stays that are presented in a handsome black velvet box. The collar stays can be engraved with 6 different personalized sentiments, heart felt messages and/or names … anything you'd like up to 25 characters each! Men are usually hard to buy for, but these are such a great gift idea because he'll be able to use them that day with his suit or tux plus he'll be touched that you created a one-of-a-kind gift just for him – it's sure to make his day!
If you're interested in any of these gifts or need some more gift ideas, head over to PMall's Wedding & Anniversary Gifts Store and check out the Parents Gifts Department. You'll find a wide selection of great gift ideas, such as personalized keepsakes, photo albums, photo frames, vases and so much more!
We hope we were able to help you cross off something from your to-do list – happy wedding planning!
0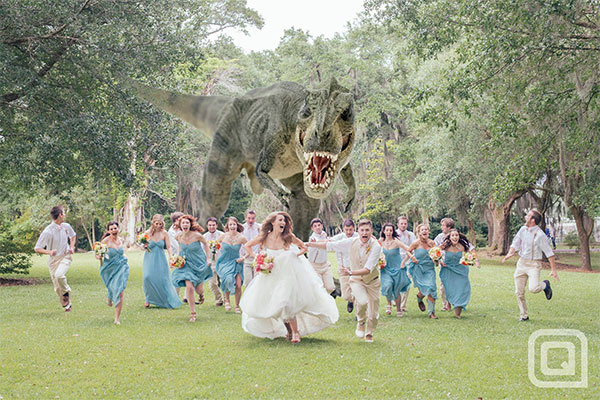 If you're planning a wedding, you know how stressful it can be to put the celebration together. There are a million things to do and it's easy for things to slip through the cracks. Well we're here to help you in two ways today! First, check out this photo-shopped wedding photo we came across on Pinterest at left. Hilarious, right? Hopefully that made you smile and laugh and you were able to forget about wedding plans – even if it was only for a second

.
Now that we've helped you de-stress a little bit, we're here to help you with one of the items on the wedding planning to-do list that is often over looked – the wedding favors!
If you visit our Wedding & Anniversary Gifts Store you'll see we have an entire Wedding Favors Department that is full of great favor ideas.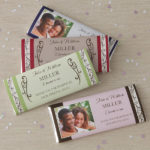 Our collection of Personalized Candy Bar Wrappers are one of our most popular Wedding Favors, especially the Filigree Wrapper design, which comes in different colors and can be personalized with or without a photo of the bride and groom. You can leave one at every seat or decorate a display table that features a sign saying "Love is sweet, please enjoy a treat!" and have your guests take one as they leave the reception! We love the idea of tying in the "Love is sweet" theme – it's cute and perfect for all wedding celebrations! The personalized candy bar wrappers will not only add a personal touch to your wedding, your guests will LOVE the treat, especially because they're sure to be pretty hungry after a night full of fun and dancing at your wedding! If you're a big fan of the candy idea but don't want to limit yourself to just chocolate bars, create a sweet table and personalize the Elegant Monogram Custom Favor Boxes that your guests can fill up with an assortment of goodies!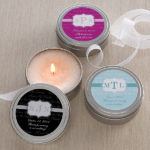 If you're looking for a favor that isn't edible but is a gift that everyone can use, you may be interested in our Personalized Candle Tin Favors - especially the Wedding Monogram design which has become a favorite among PMall fans. They're the perfect size for people to use when they're traveling or at home and they'll be able to think of you and how much fun they had at the wedding every time they use it! Plus, since you can pick out a design to match your wedding colors, you'll be adding a personal touch to the centerpieces or tables at your reception that could otherwise seem stale.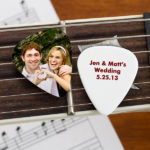 Brides and grooms who are looking for a wedding favor that will really leave an impression on their guests will LOVE some of our unique wedding favor gifts. Whether you or your future spouse are musicians or just love listening to music, our Personalized Guitar Picks are always a big hit! You can pick a design that lets you upload your favorite photo and a personalized message, or pick a simple design that will feature your own special words on either side! They come in all sorts of colors and fonts so you can customize the guitar picks exactly to your liking. Have your wedding band toss them out to the crowd while they're preforming or leave them spread out as confetti to decorate the tables at your reception. It won't matter how you display them – all of your family and friends will love the unique touch and will be talking about them for years to come!
As you can see, our Wedding Favor Department is full of great ideas that you can put your own spin on … we have everything from personalized mini frames to photo playing cards and golf balls! And the good news is if you head over to PMall now and place your order before June 30th, you'll save big thanks to our Wedding Gifts Sale! So make your way over to our Personalized Wedding Gifts Store now so you can save big, stay within your budget AND check another thing off your wedding planning to-do list!
0
If you're planning a wedding and aren't on Pinterest yet – go join now! We find the best ideas from various wedding boards; including our inspiration for this Wedding Party Gift Guide's Bridesmaid Edition post (continue reading for a coupon code that will help you save big on all these bridesmaid gift ideas!)!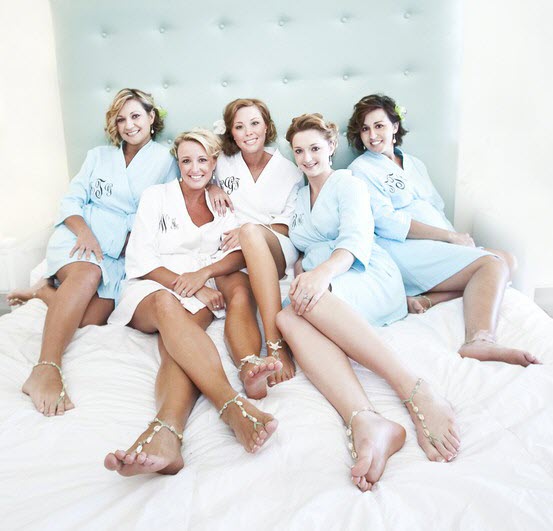 One of the new wedding trends that we see popping up everywhere is personalizing robes as a bridal party gift for bridesmaids and posing in them for pictures before the ceremony - it's adorable and we can't get enough of it!
Personalizing robes is such a smart idea – you're sure to get your money's worth because it's a gift that both you and your bridesmaids will love!
For starters, as you can see from the picture at left which we recently repinned onto our Pinterest board, brides love giving personalized robes as gifts because it creates a cute new wedding photo opportunity that is truly unique! Instead of having pictures taken of you and your bridesmaids in old, mismatched t-shirts or tank tops while you're getting your hair and makeup done, you can have beautiful pictures that look more elegant, girly and just plain fun!
PMall's beautiful and soft Velour Spa Robe is the perfect robe for brides to personalize for their bridesmaids because they not only get to choose from 15 thread colors so the robes will match their signature wedding colors, they also get to personalize them in any way they'd like! The kimono-style robe can be custom embroidered with the word "Bridesmaid" or you can choose to use your bridesmaid's first names, monograms or initials … you even get to pick having it personalized in block or script lettering style! The robes usually retail for $59.95 but they're on sale now for only $44.95, better yet - you can get them even cheaper if you act fast because as a "Thank you" to our A Personal Touch Readers, we're offering the coupon code "BRIDESMAID" which you can use at checkout to save 25% off all of PMall's Personalized Bridesmaid Gifts now through the end of May!
To really make your fun bridesmaid photo pop, be sure to personalize a matching robe for yourself that says "Bride," customize one of our Mr. and Mrs. Collection© Embroidered Robes so that it says "Mrs. (future last name here)," or look through PMall.com's wide selection of robes for robes in different colors and designs that best suit your wedding style!
Your bridesmaids will be truly touched when they see that you personalized a gift just for them and they'll be thrilled to receive a gift that they can use for years to come! Let's face it, after all the help they've given you with planning the wedding, bridal shower and bachelorette party, they deserve to be pampered with a luxurious robe so they can relax and be comfortable the morning of your wedding (especially because of the uncomfortable high heels you're making them wear that night!).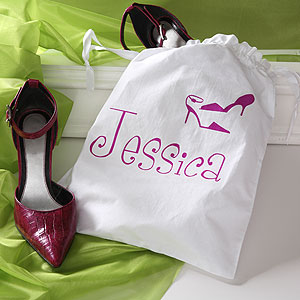 Speaking of heels, another unique bridesmaid gift idea is the Just My Style© Personalized Shoe Bag. This cotton bag features a cute high heel design that you can personalize with your bridesmaid's name in one of 8 colors. It's the perfect way for your bridesmaids to carry and protect their heels as they take them to and from their hair and makeup appointments on the day of your wedding and in the future!
This gift is especially perfect for destination weddings and for brides who have offered to pay for their bridesmaids' shoes as a bridal party gift because they can give the shoes to their friends in these cute bags for a memorable presentation! The bags are also great for brides on a budget because they're only $14.95 (save even more by using the coupon code "BRIDESMAID" we mentioned earlier in the post)!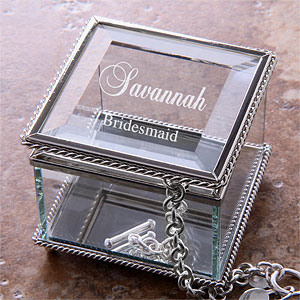 Another trend we've been seeing is brides giving their bridesmaids the jewelry they will wear at the wedding as their bridal party gift. This is a nice gesture for helping cut the cost of being a bridesmaid for your friends, but what we think would make it even better is by presenting the jewelry inside the Wedding Reflections© Personalized Jewelry Box! The exquisite box features glistening beveled glass within a shimmering silver-plate that can be engraved with your bridesmaid's name and any 1-line of personalization, such as "Bridesmaid," below. While the jewelry is a great gift, this beautiful jewelry box helps convey your appreciation and love for your friends who are helping you celebrate your big day. It's an impressive and feminine keepsake that she will treasure through the years – just like your friendship! You can personalize the jewelry box for only $26.95 or use the coupon code "BRIDESMAID" before May 31st and get 25% off the retail price!
We hope you enjoyed our Bridesmaid Gift Guide and that you take advantage of the "BRIDESMAID" coupon code which is worth 25% off all PMall's Personalized Bridesmaid Gifts before the code expires May 31st and check back here at A Personal Touch for the next edition of our Wedding Gift Guide!